My cellphone charger!!! I can finally blog!! XD
February: Sunday the 26th
My glasses are so coveted by everyone X3
Kenjiiiiiiiiiiii
Ahaha Kenji was about to punch Keigo. Isn't Keigo super kawaiiiiii~~??
Our token white boy. Ahahaha! Morgan is so heepsterrr
Oh my god I cannot stop dying every time I stare at this!! The lighting is perfect and everything!!! And Nick's position changing every frame and Kenji just passing by like "wtf?" in the last one. Oh my god AHAHAHAHAHA!!!!
Oh my gosh these kids are too silly!!!!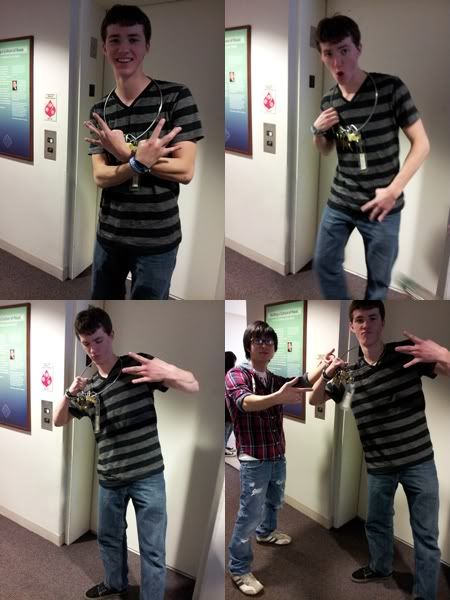 Key ring bling is the most gangster of them all
I took a 4 hour nap after practice. I only woke up cause of:
Can't let that go to waste!!
Wednesday the 29th
Boring outfit but I love my sneakers >.>
We had a joint class cause the other improv teacher was sick.
March: Thursday the 1st
It's a new month so that means:
New phone theme!
I also went to visit Champaign!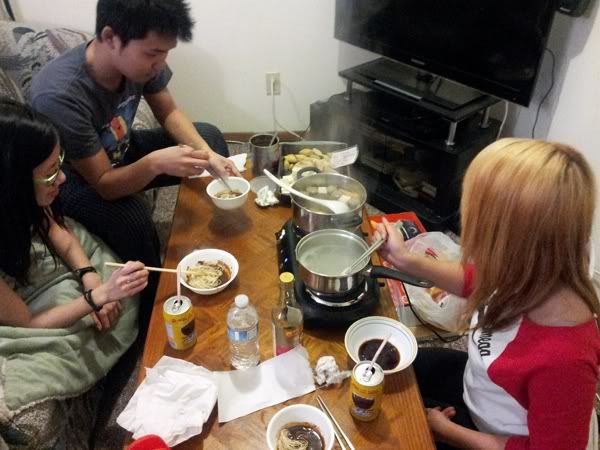 Hot pot with Kevin, his girlfriend Connie, and Tina!!
And then three episodes of Game of Thrones!! I never really have the patience to watch things again unless a long time has passed but for Game of Thrones I can! And in super super HD and surround sound!! Heaven!!
Back at Tina's where Tina did some homework and I caught up on the internets :D
Gohan!!
I think hedgehogs are the cutest when they're on their backs!! Wah!! >w<
Friday the 2nd
I woke up to this the time I was there.
It was gloomy so I was craving Korean soup.
Her stone bowl pork rice thing (재육볶음) She made a face ha ha ha
My kimchi jji gae
Wahhh she looks so cuuute!!!
Tina and her friends planned an apartment crawl. It was pretty chill and fun ha ha ha
People were taking pictures next to me so I was like "me too!"
Hahaha omg Kevin's face XD Can you tell that I'm about to burst into laughter? It's cause of him!
I met Cary that night!
I also met James!
James took this for me. Should have asked someone else ahaha! The new faces are Tina's boyfriend Enrique and friend Nguyen :3
Went to Kevin's after it was all over.
Pizza and more Game of Thrones!! There's handsome Ned Stark and sexy Petyr Baelish!! <3 *fans my face cause he is too sexy*
Saturday the 3rd
Made breakfast with Tina!
We had fun cutting up our spam into hearts, bus/hippo, batman, clovers, diamonds, and spade ahaha!
Our classy breakfast of spam, bacon, my fail eggs, kimchi out of the jar, and Arizona out of wine glasses while watching Skins ahahaha!
Went to friends' apartments after and played there for the rest of the night XD I didn't take my cameras so no pictures :(

I left in the biggest rush on Sunday morning cause my bus time had changed which they failed to tell me about!!
Fun weekend! Thank you so much Tina for letting me stay over! <3