I've been feeling really strange for awhile this month. I just haven't been happy with myself and not motivated which is probably why I started this post two weeks ago and haven't come back to it till now. But I gotta finish talking about February so here we go~
Sunday the 17th
Spent all my pay from that day on things from the makeup shop and "groceries."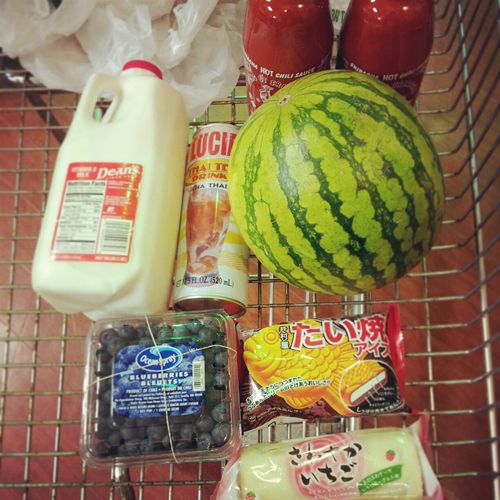 Monday the 18th
This new place opened up right across the street from one of my school buildings.
The atmosphere is really cool with all it's wall decor and the hip people who work there. Apparently it's becoming a small chain!
I walked in cause I felt like it was time to get bangs again after three years!
Woo! Back to covering my ugly forehead! The only thing is that the girl didn't cut it straight or evenly so that it doesn't start from the middle of my head. There was way more hair on one side.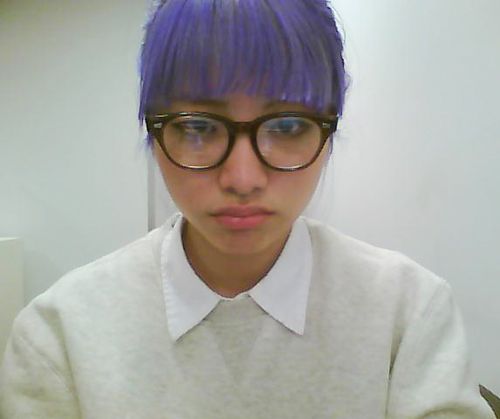 She also didn't dry it properly so I spent the next five hours looking like an idiot with idiot bangs.
Kyle came to the library because I had to print my paper for my U.S. History class and I needed to use his ID.
Kyle and Autumn with everyone's schedules trying to figure out rehearsals and such for the next couple months!
Tuesday the 19th
When it's not too cold, I'll get lunch from Trader Joe's for a healthier option.
In Character & Ensemble, we're reading
An Actor Prepares
by Stanislavski. There's an exercise that the characters in the book do where they look for a brooch and the point is to genuinely look for it because that brooch means something therefore you aren't acting like you're looking for a brooch. We did the exercise in class and the boys took the first turn of looking for their "brooches."
It was funny but I also felt bad and then I got a little scared because Greg was starting to get really agitated and he ripped the floor mats up. A side we'd never seen in him before!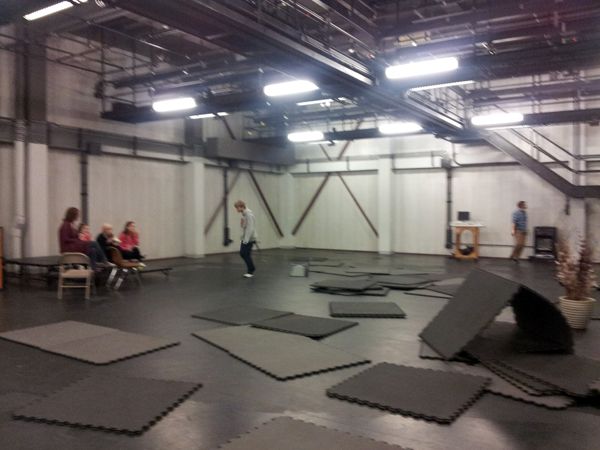 Yeah we stayed a little after class putting the room back together. Those mats are the most annoying things because they're puzzle pieces and you actually have to match them -_-
Met up with Kyle, Alexis, their friend Luke, and Hannah after. We grabbed dollar burgers at Bar Louie for dinner.
You pay extra for whatever toppings.
Came home to find my last subscription issue of Vogue on the couch waiting for me.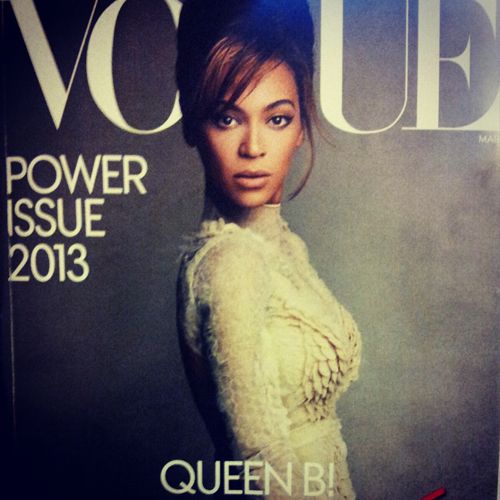 My goddess was on the cover for my month so I was happy.
Wednesday the 20th
I usually go straight home after finishing my one 9AM class on Wednesdays but I stuck around to watch some performances by my fellow classmates!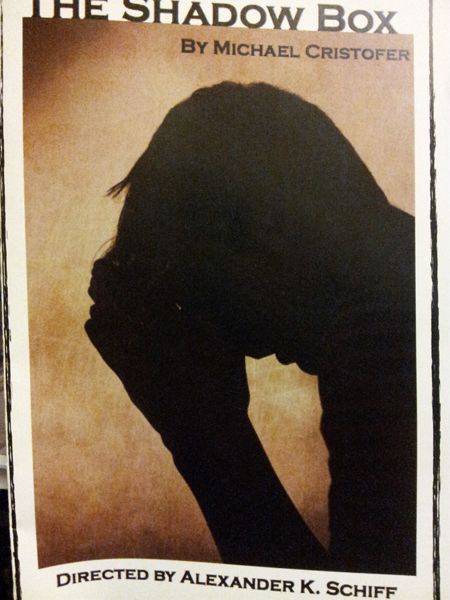 So so sad.
I always saw people from high school using monologues from this play but I never read or saw it so it was nice to finally see it done.
Headed next door to the main stage theatre as soon as that ended to catch: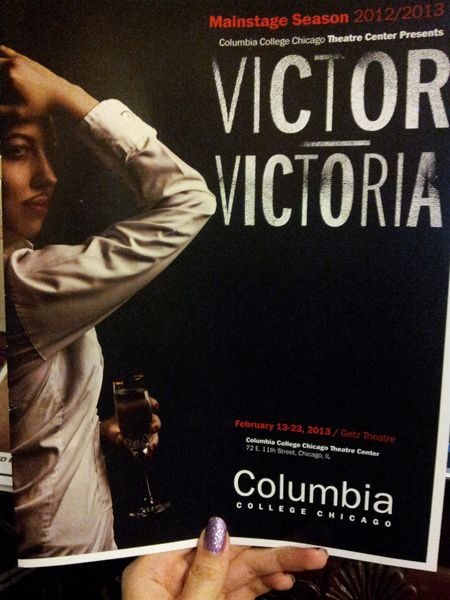 Such a wonderful musical! Definitely the best main stage production I've watched in...probably all my years here. I dunno why Columbia always picks so many bad main stages.
Got home way late cause the show was so long and I missed the last yellow. I was still hungry so I cut up a snack.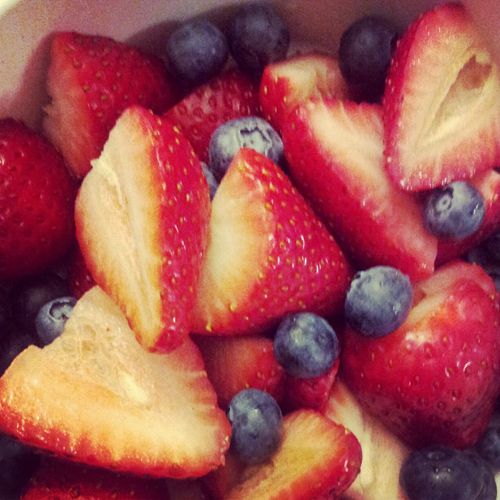 The strawberries weren't sweet. It would have been good if I had whipped cream. The blueberries were really good though.
Thursday the 21st
Desperately trying to finish the fruit I've had in the fridge. I always forget about them until too late! Didn't want to do the same this time.
Saturday the 23rd
I'm quite sure I eat pho and pad see ewe more often than Viet and Thai people do so when my dad and I went to Hoahn Long before work, I ordered something different.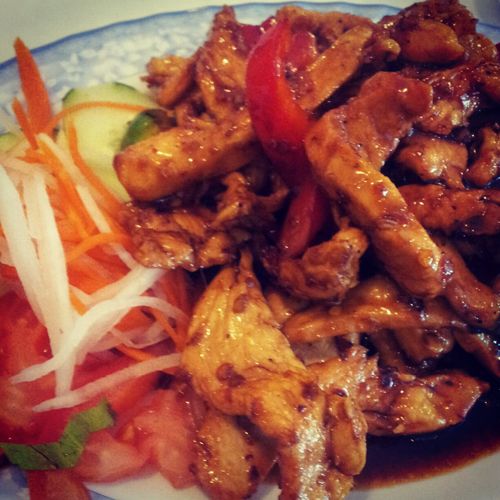 Lemongrass chicken I think it was.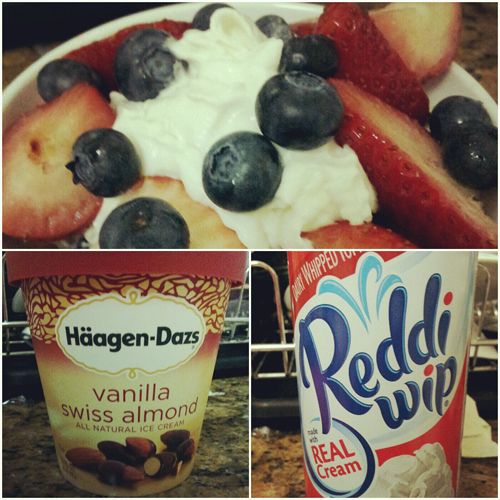 Made sure I bought whipped cream for the fruits. This is the first can of whipped cream I've ever bought for myself!
Monday the 25th
I
finally
finished my Benefit Bella Bamba! Well, kinda.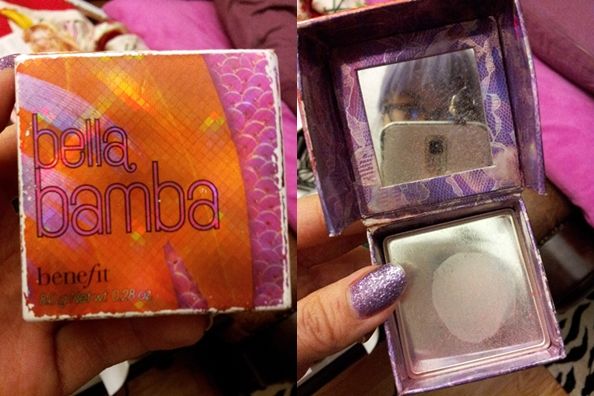 I've been trying really hard to use it all up so I'd purposely swish a ton of product off of it and tap it all off. It's a huge waste but I was so tired of it. I did the usual thing that morning but it broke on me and fell out.
Quick lunch in the library from 7eleven.
I didn't want to spend a ton of money at Panera for their salad but maybe I should have. I hate carrots in my salad.
Midnight snack.
They were going to go bad so I wanted to finish the rest of the pack hence the blueberry ridden nutella bread.
Wednesday the 27th
Took my last chance to claim my Sephora birthday gift which I actually claimed for once. They were offering those sugar lip things for the longest time so I'd never bother getting them.
I still need to try the mascara but the highlighter was whatever based off the first and only time I've tried it so far.
Now we can move on to first two weeks of March!
Saturday the 2nd
Table reading for the webisodes!
Dior, jerk Levi, Alexis, Will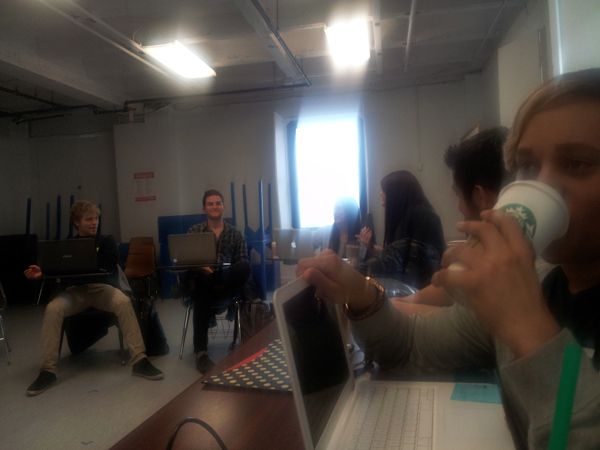 Trevor, Michael, Maggie, Abby, Andrew, and Kyle.
It's a really great looking cast and then there's...me. -_-
So after the reading, I was supposed to see Major Lazer with Andrew and Levi. Well, to sum things up, I didn't get to see Major Lazer. In fact, I didn't even get to wait in line to get into the theatre to see Major Lazer which I paid $30 for cause Andrew got more than piss drunk and could barely walk but insisted on going which was not happening so I took him to the really good taco place across the street from the theater cause Levi walked off leaving him with me. Levi is his room mate and "best friend". I've met Andrew less than like five times. Yeah. He couldn't even get the fork to his mouth. I ended up dragging him into a cab which neither of us was carrying cash for and took him to Alexis's because he wouldn't be let in his dorm fucked up as he was. Alexis lifted and CARRIED him in to her bed where he slept like a dead person while Levi doesn't answer the calls and texts I send him with Andrew's phone. This was was the first time I've seen someone so messed up and the first time I was in such a situation so I was super overwhelmed. The first part of my night was ruined so Kyle would not let me stay watching over him and made me party with him and Alexis. So lo and behold, it was my first time partying at my school. Lulz.
Dior and Alexis are so freaking hilarious.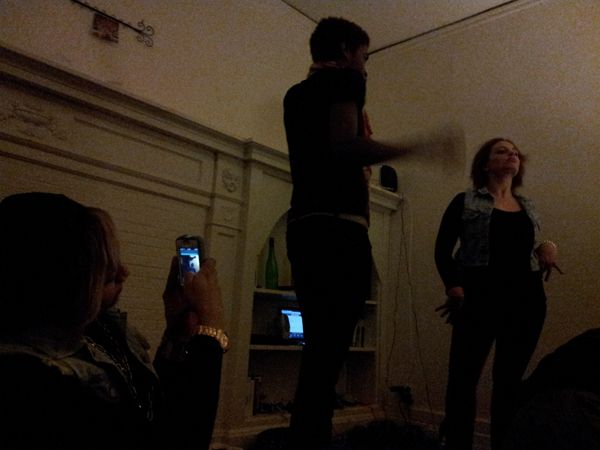 Having a dance party on their own. Sober. And Kyle vine-ing it the whole time.
Then we went to another party and then we went home to watch Sailor Moon and Family Guy.
Sunday the 3rd
Breakfast at Eleven City Diner!
Maggie works there and she gave us a nice table with these awesome chairs upstairs.
Freaking Alexis can never take a bad picture.
Her sandwich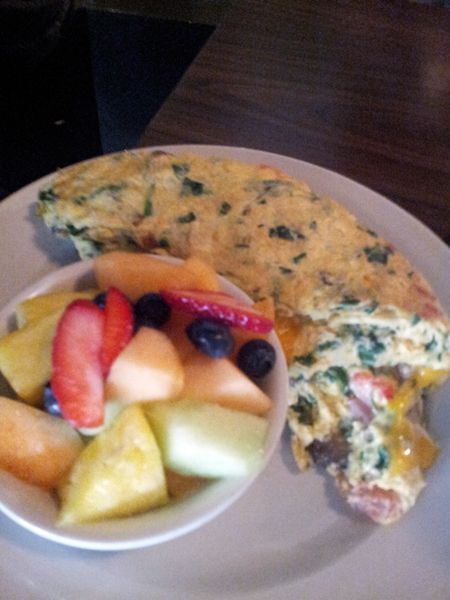 Kyle's omelette.
My amazing french toast
and side of bacon. Oh my gosh it was SO GOOD!!
Back at Kyle's sending hein selcas to Kyle as he lays next to me playing Fun Run.
I'm just gonna accept my hein-ness cause I've just been hein these days.
Tuesday the 5th
Had Sarpino's for the first time in forever.
Thursday the 7th
Pita Belly with Kyle for dinner after class.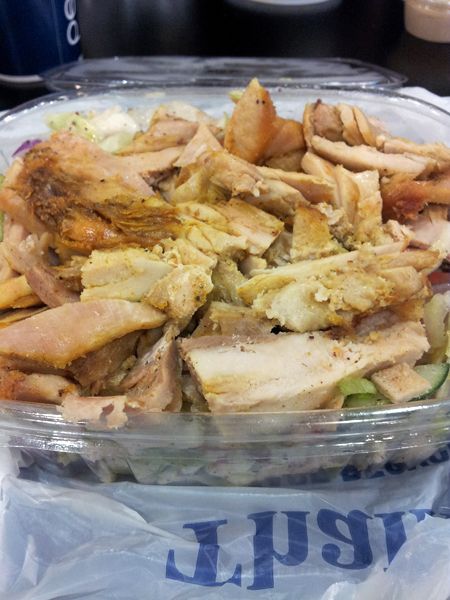 I asked for a fatoush salad with chicken cause there's no Pita Inn around. It was all chicken and onion. No lettuce.
After sitting around Kyle's room for a little bit, I headed off to the opera house.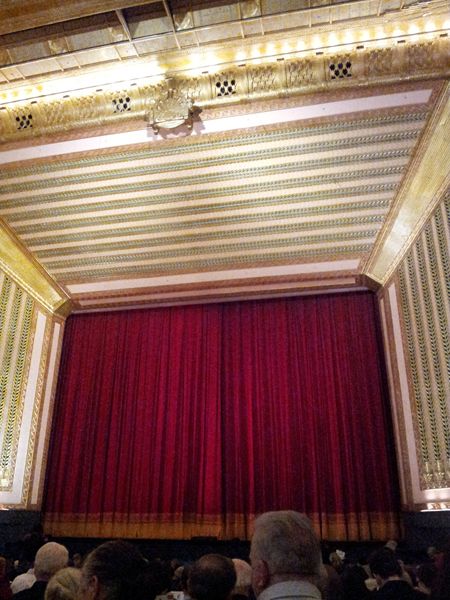 Spectacular seats. They were worth $250 and I got them for $25 because I was watching for my theater history class and my teacher works there.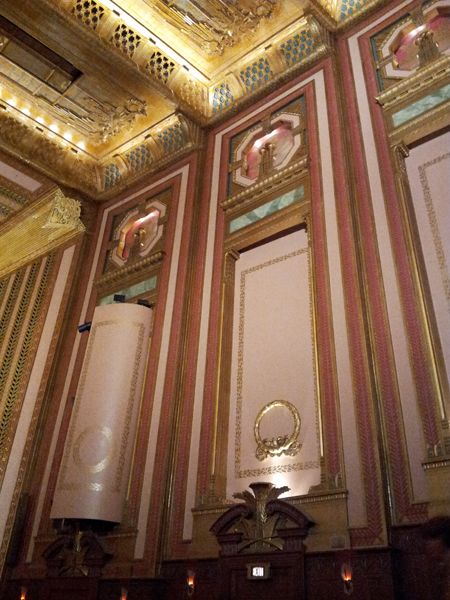 Such a beautiful theater!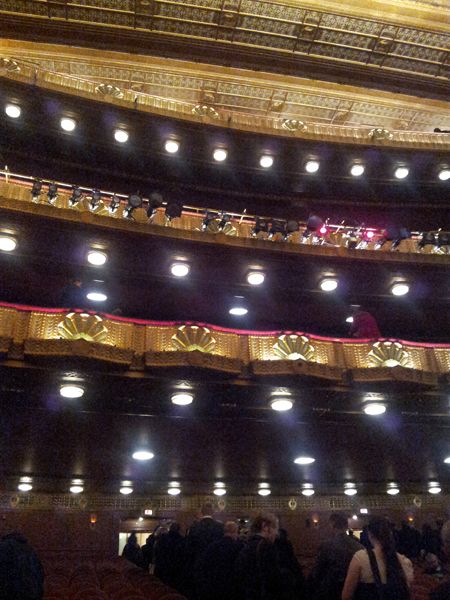 My second opera. The first time I saw an opera was in like 2nd grade and we watched La Boheme (worst idea for a little kid field trip) and I thought it was the most boring thing so I wasn't looking forward to it but I actually really enjoyed it!
It was three hours long and I wasn't going to make the last train home so I slept over at Kyle's with Alexis.
I don't know why but we did the cinnamon challenge.
I really thought I'd be able to do it but omg it was so horrible.
Friday the 8th
Took the train home and had to walk over hills of snow, mud, and puddles. It was annoying. And then I got home and I didn't have my keys. Couldn't take a shower, couldn't get my laptop, and had to wait for over an hour for my dad to go to work.
Thank goodness for all the podcasts I downloaded. I've been really obsessed with the Radiolab podcasts this month. They are soooo interesting!
Saturday the 9th
Orange chicken with pork fried rice and blueberry smoothie for dinner before work.
Sunday the 10th
I've been passing the little dispensers on the way to the bathroom at work and eyeing these Simpson's phone chains for awhile and I finally got one!
They're so creepy but I couldn't resist.