Last weekend was probably the most tiring, longest, painful, amazing, and awesome weekends I've ever had in my life! I went to my very first Lollapalooza! I was supposed to go last year but Tina got unlucky and had a final on that Saturday so we had to sell our tickets. :(
So we swore to go this year and we did! It was SO.MUCH,FUN! *Special thanks to Tina for letting me use her camera all weekend!*
Started off the day with breakfast. This is probably the first time I've had breakfast at breakfast time in a realllllly long time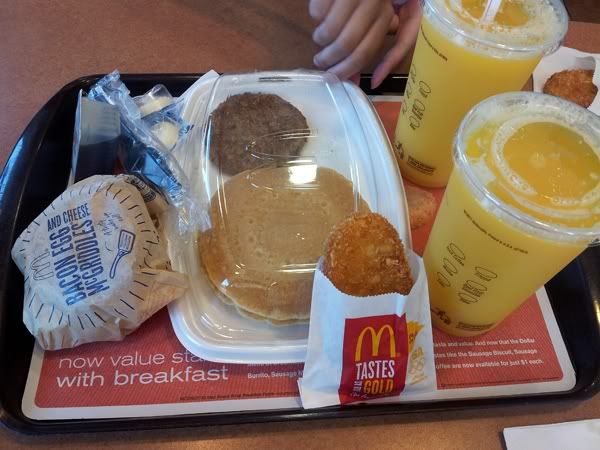 I've never woken up in time for McDonald's breakfast!
I frikkin love McGriddles so much. I wish they were available 24/7!
We were there early and the performances we wanted to see first started at 3 or later for all three days. Tina and I just sat around listening to whoever was performing at that time.
The White Panda were performing at that time. It was funny because it was so bright and sunny out so the lights weren't having any affect and lights are like half the show for DJ's!
Our awesome Camelbak water bottle that kept us alive all weekend. We refilled that thing so many times.
So this strange elderly gentleman was the same strange elderly gentleman that Tina, Eva, and I saw shoving other people at Pitchfork! It was funny cause we were the exact same distance behind him as we were at Pitchfork and he was wearing the exact same outfit!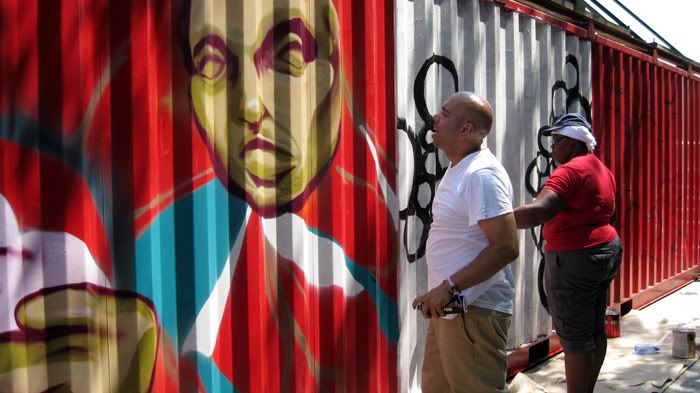 While we were walking down to another stage after the White Panda finished, we saw these artists painting a storage thingy.
The War Agaisnt Drugs. Tina and I didn't really know them so we just sat around again. Tina was falling asleep so we left XD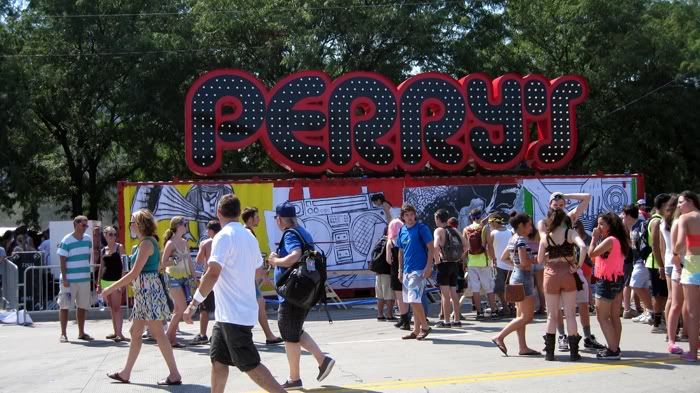 The storage thingy with the paintings completed!
We still had over an hour and decided to just camp out for die Antwoord. The ground was slanted so we sat under the banister things to get out of the sun as we waited.
Our boots ready for stomping and protecting our feet from getting stomped. Too bad mine freaking failed me terribly! They killed my ankles for some reason and I was tempted to just crawl by the end of the night. I was in so much agonizing pain!
Sharon Van Etten playing before Die Antwoord
After she finished Tina and I went to stand in our spots for another hour. We were second row! :D We watched/listened to Metric while waiting.
You know it's starting when the screen starts showing the audience!
Finally! Been waiting all summer to see them!!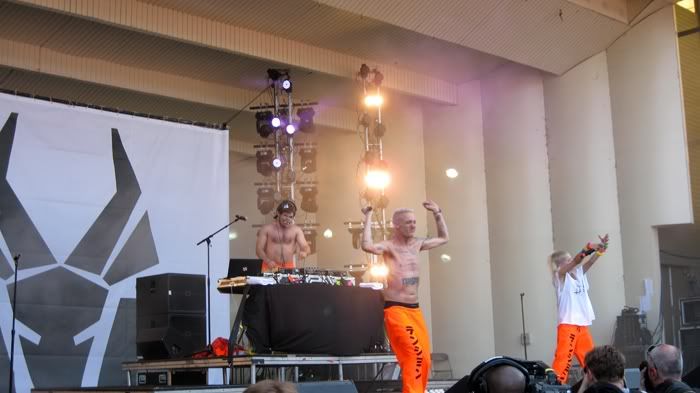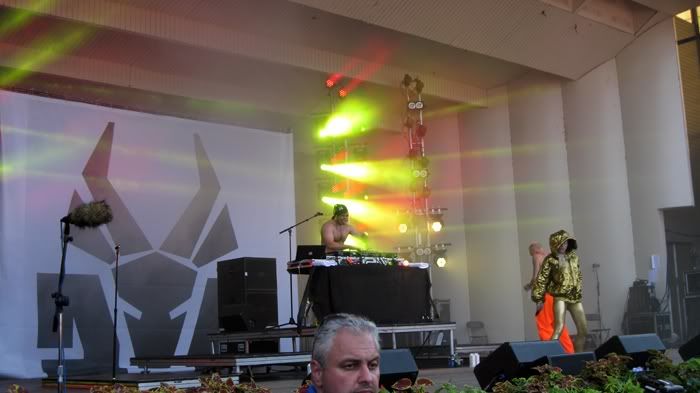 Those infamous Pink Floyd boxers and Yolandi telling the VIP audience on the side not to "steal her fucking jacket." Haaaa!
Ohhhhh my goshhhh they were freaking AWESOME!!! They are so crazy and fun! Ninja came down from the stage and crowd surfed and then kissed a girl on her cheek while getting up! Jelly! And Yolandi is frikkin adorbs even with all adaptations of "fuck" coming out of her mouth like every five seconds X3 They are so powerful and being that close to them and feeling the bass pumping in your chest, frikkin amazing live! Especially "I Fink U Freeky!" I LOVE THEM!
Like my Pitchfork post, I will include their videos :D
Mm~ cannot decide between my three top favorite songs so I put all three! :D
We rushed over to Passion Pit right after but there were sooooooooooooooo many people. We couldn't get close.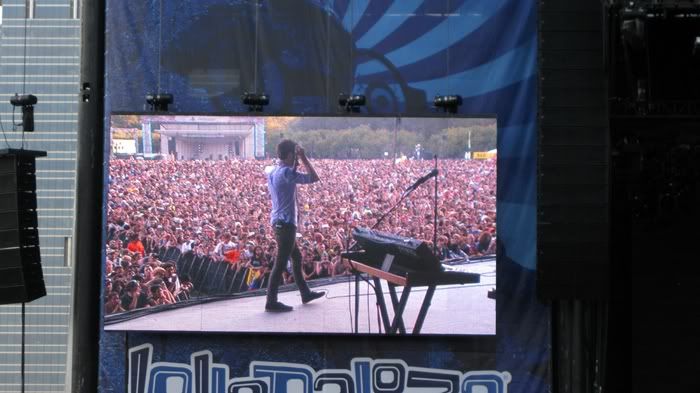 Do you see all the people?!
The best I was gonna get.
This will always be my most favorite song from them. ALWAYS.
The last performance of the day: The Black Keys!
Tina and I aren't hoppers and we watch till the end and camp out early for good spots so we sacrifice a lot D; Didn't get to see Tame Impala, Madeon, and M83 ;( Waited like an hour and a half ~_~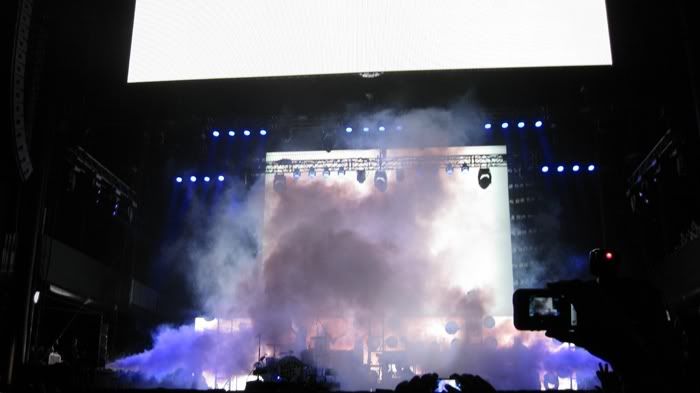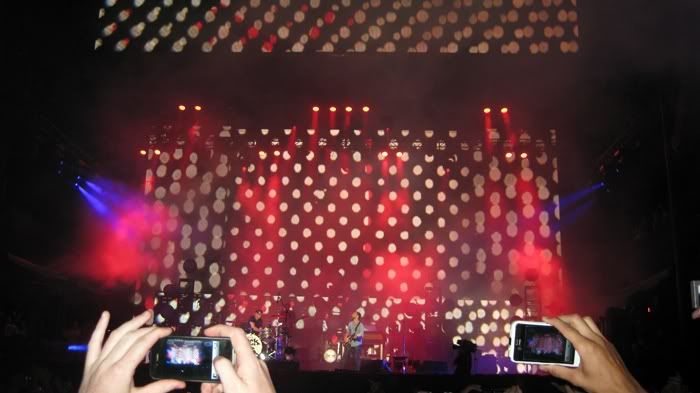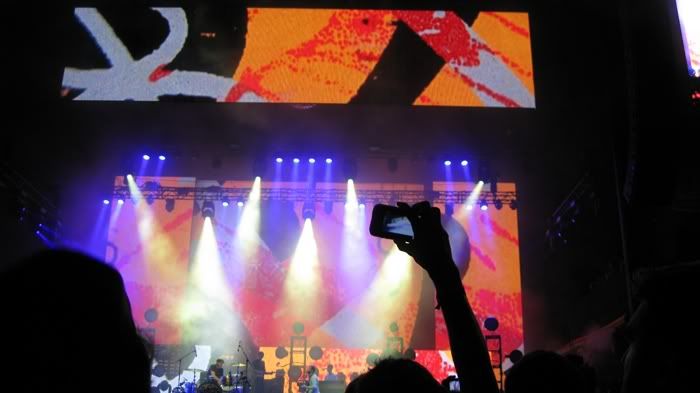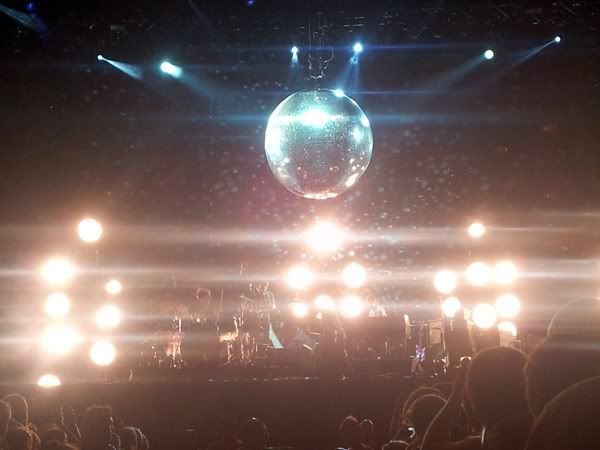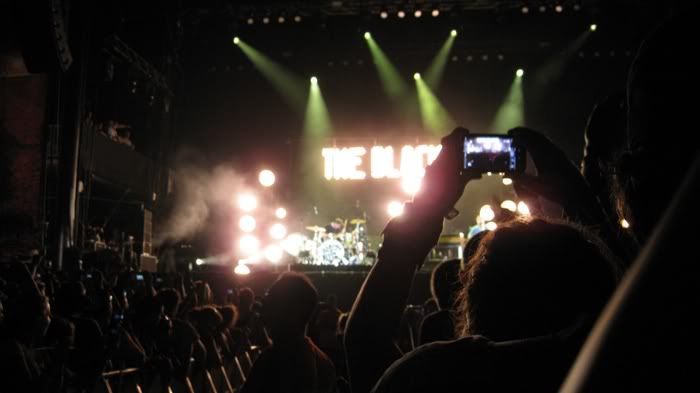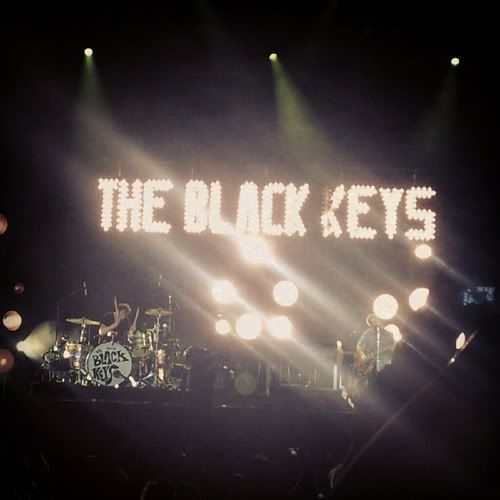 Amazing amazing amazing!!!
Not only is this song awesome, the music video is adorable and hilarious! I think this is the one that really got them famous?
This is my favorite song of theirs. It's the one they played in the pictures with the huge disco ball. It was so sweet live and the disco ball reminded me of those old school school dances for some reason XD
And how awesome is it that this is all happening in front of this amazing view?!
They have fireworks going on while the headliners perform too but you can only see on the screen if yer closer to the stage. What a wonderful place!
Tina and I were STARVING since we hadn't eaten since breakfast. We had no time! So we went to: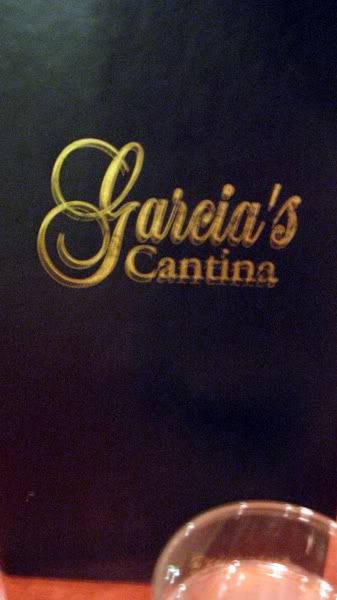 These nice paintings all over the walls and those things (Sorry I don't know what they're called. Someone educate me!) all across the ceiling with super loud music. We had to shout to hear each other XD
Oh my god this is the best authentic salsa I've ever had! I only ever liked the ones in the jars but I could seriously have just drank this salsa! I dunno if it was cause I was starving but it was SO GOOD! Especially the tomatoes which is strange for me!
Hugest and most perfect horchata ever
Tina's blurry tacos with so much cilantro D: I hate cilantro
My burrito that was as big as my wallet. And I have a big wallet.
This place is so good but the service so hilariously bad! XD
We were so tired already after only one day!
Lunch with Tina's friend Jelly and her boyfriend at a vegan place. My first time ever!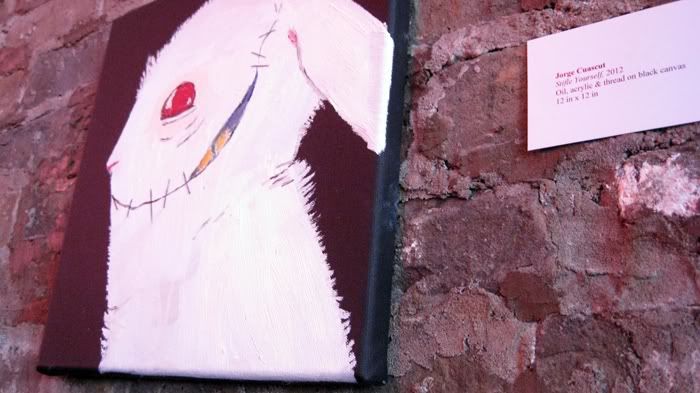 Strange paintings hanging above every booth.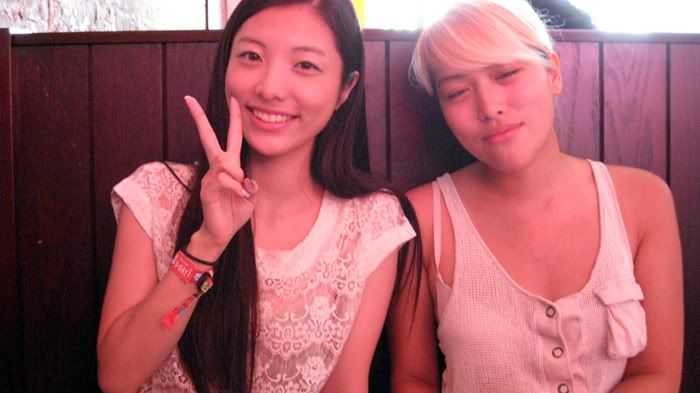 Two for day two! She's still pretty in the middle of blinking wtf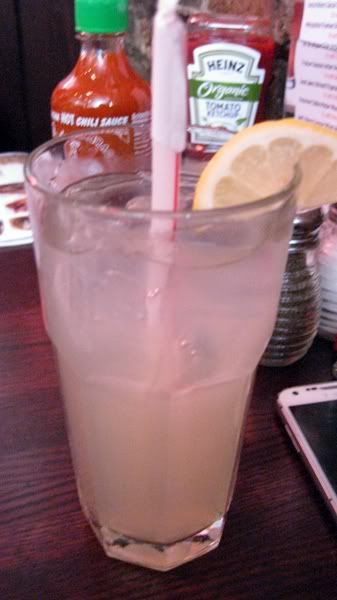 I don't advise getting the lemonade. The one thing that wasn't good from what I tried.
Tina's Southern. OH MY GOD IT WAS SO GOOD! I even liked the greens!! Wut :X
My pancake combo or something. Also soooooo good!! I'm so in love with this place! Their meat substitutes are soooo yummy!
The first performance Tina wanted to see was Neon Indian.
We stood in the blazing sun in the baseball field for like 40 minutes and it with the sun blazing! I normally don't sweat easily but I was sweating so profusely by just standing still!! Sweat would just run down every part of my body even though I was wearing the most lightweight lace see through shirt! Oh my gosh I have never sweat like that in my life!
They are so good and the main vocalist is super cute! But 30 minutes in, the vocalist told us he had to stop after a couple more songs cause there was a huge storm coming! Everyone was like D: D< People were so mad because they were evacuating everyone! People were so angry and I felt so bad for the people who paid for one day passes.
Do you see the dots in the streets? Those are people! It looked like that all three nights at the end.
There was an evacuation center in the underground parking lot for the metra but a lot of the people just waited under building like us.
People were like "WTF IT'S NOT EVEN RAINING!" and then...
It got so dark and it starting raining like crazy! Like, torrential! You would never have believed that it was super clear with the sun blazing an hour earlier! People being stupid and rioting in the street and blocking cars and stuff.
Cute rainy couple. Ha ha ha Jelly got a garbage bag and ripped holes in it for a poncho.
People still being stupid.
It finally cleared around two hours later so we all lined up and waited a hecka long time to be let back in.
People were crowd surfing and chanting to be let back in and then this guy climbed a traffic light ha ha ha. Oh can anyone explain to me why people chant "USA" at Lolla?
So due to the storm, things got cancelled or pushed back. Waited extra long for the Weeknd.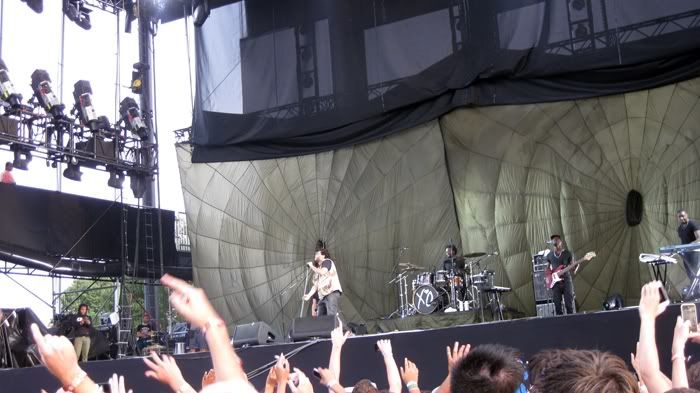 Tina and I stood in between the worst people >_> Tina was standing next to this group of high schoolers and one of them was pretty thick and had the biggest backpack. He would not stop moving and hitting her with his backpack! And he would do the most obnoxious shaking dance move thing with his huge ass backpack! And he also somehow smuggled in an industrial sized bag of pretzel sticks. Like WAT. LMAO. Then I was standing behind this really drunk girl who could not stand on her feet and kept leaning back on me and thought she was his biggest fan and then her friend who really wanted to get in her pants and grind with her kept grabbing her waist and pulling her into him but since I'm right behind her, he also pulls her into me. =___= He also had to add his commentary and sing along really loudly the WHOLE performance! And I'm just like T___T "why must you be the stereotypical black person right now..."
But anyways, the Weeknd, mad singing. So good!
The headliners Tina and I died for that night: Red Hot Chili Peppers!!
I thought Pitchfork was bad but it was nothing compared to this. I seriously was getting crushed to death! So painful. So hard to breathe! Converse completely soaked through and ruined in the mud. Mean people and messed up people and stupid people who don't understand that they are not going to get any closer and still keep pushing. Half the hair on my head probably got pulled out even though it was tied so eventually I just held my hair. This for forty something minutes just to be near the front. Omfg. I must look really scared at these things though cause people would keep asking me if I was alright. I even got a "sorry little Asian girl!" Ha ha ha!
Could barely get pictures cause I couldn't move! But I somehow got separated from Tina in the middle of it ha ha ha
People finally accepted where they were so I finally had breathing room and could rock out with them!
Fucking great as always. TOO AMAZING!! And still hot! :D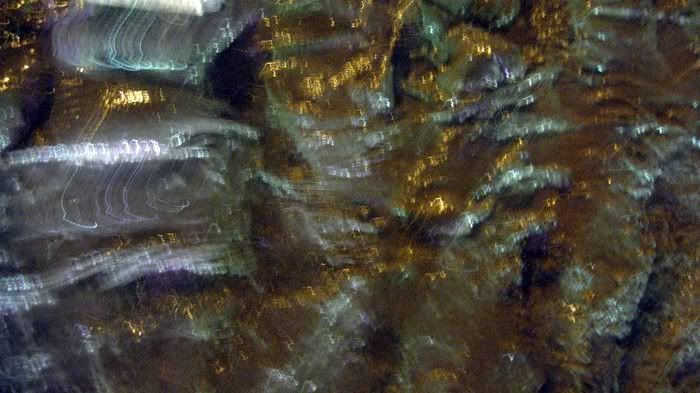 The mud. It was the worst leaving. Omg everyone's feet would get stuck. So many people lost shoes ha ha ha ha
Tina and I were even more tired than the night before. We just kept getting more and more sleep deprived everyday so we decided to just go home and eat our leftovers from Garcia's XD
But oh gosh, in the middle of my shower, my calves just cramped sooooo bad! I could barely stand and had to hold onto the bar! I could barely walk cause it hurt so bad! I have never been in so much pain! I have flat feet so standing all day kills me.
Sacrificed performances: The Tallest Man on Earth, FUN., tUnE-yArDs, Franz Ferdinand, Bloc Party, Avicii, Santigold, and Frank Ocean DDDD;
Eva joined us for the last day! April had won free three day passes that she had to reject because she wasn't in the state to accept and then she won again for Sunday passes! WTF! She seriously wins everything! She gave em to Eva and the extra one was given to Keigo :3
Went to the vegan place again cause Eva is also vegetarian.
We got the outside seating in the back!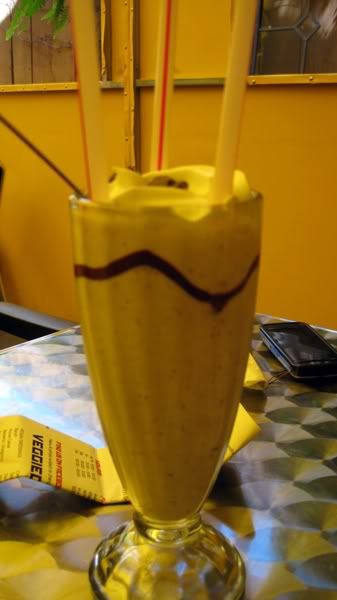 Ohhh my goshhhhh the best milkshake I have ever had!!!
Got a radical rueben this time with the most amazing sweet potato fries ever. I'm a person who needs sauce with fries but these are so perfect exactly how they are! HOW?! It doesn't make sense how good they are!
Tina's portabello something.
Eva got what I had the day before so I didn't get a picture XD
We were running a little late for the performance Tina wanted to see so we separated for a little so that Tina could catch the end of the set while Eva and I joined by Julia and her friend sat and listened to Sigur Ros.
This song gives me goosebumps!
I didn't know about them so I didn't go with her but after listening to some stuff, I really regret it!
Tina had the camera and I didn't think of using my phone so I didn't get a picture of Sigur Ros. Stupid. But UGH they make such beautiful music!
The first song of theirs I heard thanks to Eva! Gorgeous!
Tina found us in the middle of Samskeyti and then we had a bathroom break after.
Three for day three! I look stupid but hey it kept the sweat out of my face!
But it just got in the way later for At the Drive In.
They're one of Tina's favorite bands so Tina really wanted to get close. I followed her and Eva left us for Toro y Moi cause she didn't want to get roughed up and the pools of mud were crazy.
The crowd for these guys were even worse than for Red Hot! I was already sore and tired from the first two days and people were like ten times rougher! People were stomping on my freaking ankles! (I later discovered that I was bleeding under my toenails on both feet >_>) The audience wasn't calming down and I was in so much pain and I thought I was gonna pass out so I had to leave.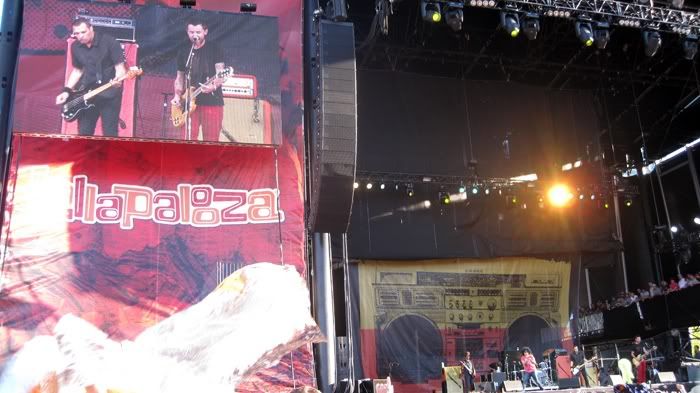 Watched/waited for Tina from the middle. They were really fantastic though!
The audience went especially crazy for this song.
Miike Snow went on after Toro y Moi so Eva got to be in the front! JELLY! They are soooooooooooo AMAZING!
Reunited with Eva, bathroom break, and then headed to Justice! Only, we went to the wrong stage!! We went to Jack White and it took us so long to realize. We were just like ".....this isn't Justice...." and then finally went to the right stage! Ha ha ha ha!
OH MY GOSH! The amount of people there was just.... incredible. I have never seen sooooo many people in my life!
They were FUCKING AMAZING!!!!! OMG!!!! It was sooooo crazy!!! Everyone just did not give a fuck and were dancing and moving and it just felt soooooo good! I couldn't help myself but scream sometimes cause it was just so overwhelmingly good! Ha ha ha ha!!
:)
Everyone has at least heard this song once in their lives
Please listen to this live if you ever get the chance. It is UNBELIEVABLE!
Missed Toro y Moi, Florence + the Machine, and Childish Gambino but Justice was the perfect end to it all! UGH can I just live in that moment forever!? XD Cannot wait for next year and the next and the next!
Upon Naomi and Rena's request, I have made a video of my thrift finds. I was too lazy to take pictures of individual items so I just showed them all in one moving picture. But it's really long cause I have a lot of things and my voice is annoying. I'm also a terrible speaker and I slept for 30 minutes the night before so I sound even stupider than usual. I say "like" "I don't know" "so.." like a million times. If you think you can stand me for 14 minutes, take a look >_> I apologize in advance!