i dont know how or why but i ended up with a LOT of pictures of myself this week;;;
i apologize in advance
FRIDAY the 7th
i had to spend the whole day at work cause my dad wanted me to help him recruit some people from some massage school. they close at 2 in the afternoon so i had to leave home like 5 hours early and wait 7 hours for my shift >.> thank goodness i had my laptop
would you still like me if i smiled like this?
pedo smile C:
heh. doing that actually made my smile better lulz
lulz bored cause i ran out of things to do during my shift
SATURDAY the 8th
work. but always food with dad before my shift. we went to an american place for the first time in a long time. theres a place on the way and a lot of people like it so i guess he heard about it from his friend and so he requested we go there that day for his first time. the place is called L Woods Tap and Pine Grill
their bread always smells so good
the soup we both really didnt like. he wanted broth but there were no soups with a lot of broth
their calamari is still good as it was like 10 years ago
their ribs changed! they were so huge! but burnt :(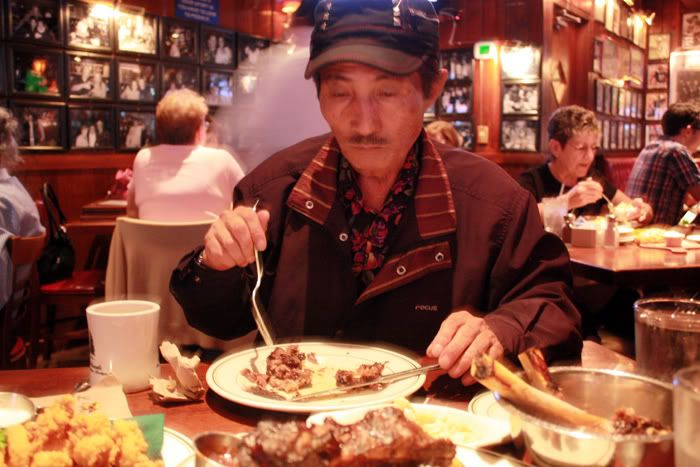 blurry picture of my dad and his caterpillar mustache
so i think this place has a thing against asians. their service was really crummy! worst ive ever experienced cause ive never gotten bad service. the waitress would pretty much just throw the plates on the table, she didnt check up on us even once, she wasnt friendly at all, my plates were taken away before i was done, when she gave and took away the check she didnt even look at me or say anything. when i got change, i only got big bills and not enough singles and i wasnt about to wait another ten minutes to get my bills broken so i just left the ten and left even though i only wanted to give her the seven that was the regular percent. the hosts werent nice either. there were four of them in the front and i had to leave from behind them. they were too busy gossiping to even give me a "thanks for coming" or "goodnight." its not a big deal but it just felt weird cause its the first time thats happened. i was telling my mum about how crappy their service was and she told me that it had never been good. the last time shes been there was years ago. so i looked it up on yelp and everyone seemed to have had fine service. but most of them werent asian. so yeah...
back to work
so i tried french twisting my hair again and this is the result. non heat curling methods dont do it for me :/
MONDAY the 10th
skipped school and just worked XD
waiting for le father
TUESDAY the 11th
a crap day. felt like crap. looked like crap. hair and makeup crap. oufit crap. crap.


hate my first class: intro to lit.
my scene partner was sick so i couldnt practice our scene either. sadness.
just wanted to go homeeeee.
TODAY
it rained all day. i never think its raining so i never take an umbrella so i got rained on all day. it was an ok day. more lit but at least my scene partner was in class. but i did bleh as always.
erm.. my piano was taken away today! it was kinda sad cause i had it around more than half my life.
wah this is a bad post again...sorry. but i know the next one will be much better for sure! ill actually be doing some stuff! :D ill make sure less of my face is in it too XO