it is sooooo much better than the last post! thank goodness! i had an eventful weekend/couple days this week so this post is way longer than the ones ive been writing. nothing like my old ones with 1-300+ pictures though XD
anyways! too much talking! lets start the post!
FRIDAY the 23rd
met with april for the first time in FOREVER cause she chose to take me to the chris brown concert she won tickets for! :O wahhh thank you so much april<3 omgah. it was my first american concert ever so i was excited!
i met her at her school and she bought me joyees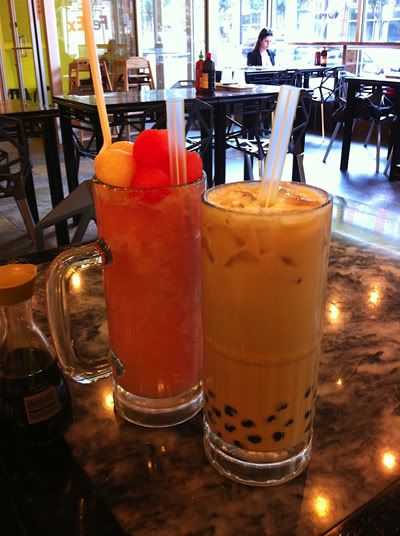 her watermelon lychee and my almond milk tea
my pineapple and chicken and shrimp fried rice and her unagi fried rice in the back
this joyees is wayyyyy better than the one in evanston and china town! the pineapples were actually sweet and juicy!
waiting in front of her school for her mum to pick us up! i met her mum for the first time and she was pretty and really outgoing and funny!
oh, i mistakenly thought that i couldnt bring my camera so everything that day was taken with aprils iphone. i was so sad when i found out i coud have brought it all a long!
i didnt know that it wasnt just chris brown until i saw the first performance. it was the F.A.M.E tour. tyga opened the show but we missed that because we were late. its ok cause i dont know who he is and supposedly isnt that good? XD the venue was SO FAR! it wasnt even chicago anymore so it was funny when the performers were all "hello chicago!! im so happy to be here tonight!" when we were in the middle of nowhere lulz
we arrived as the next stage was getting ready and it was kelly rowland!!! (destinys child) sorry, no picture. i thought april took a picture but i guess not? a girl was crying when she came out! ha ha ha aww! she was soooo good live! actually, all the people i saw were really awesome live. great performers! apparently jennifer hudson and michelle williams were there to watch and support too!
t-pain after. you wouldnt expect it from all his autotune but he was really great live too! his singing voice is really nice! like i can see him singing oldie stuff! i also think he had to learn how to dance since the main is chris brown! lulz he was shuffling and stuff. hes got a sense of humor. i liked his part
you cant really see well but those streaks are rain! in that one area of the roof, there was a waterfall and it was falling onto the seats! poor people who had to move! but even poorer people who had lawn tickets because their "seats" were literally the lawn! and it started raining! and they werent allowed to bring in their umbrellas and had to buy ponchos from the concert gear stall for $5! we had pretty nice seats for free tickets so lucky us! >.<
whilst waiting for the main stage. it took a while. april was like "oh man im getting anxiety." cause chris brown was about to come out! ha ha ha ha it was cute
ive recently come to the realization that i look like a dinosaur. i have such a big mouth and teeth! ha ha ha!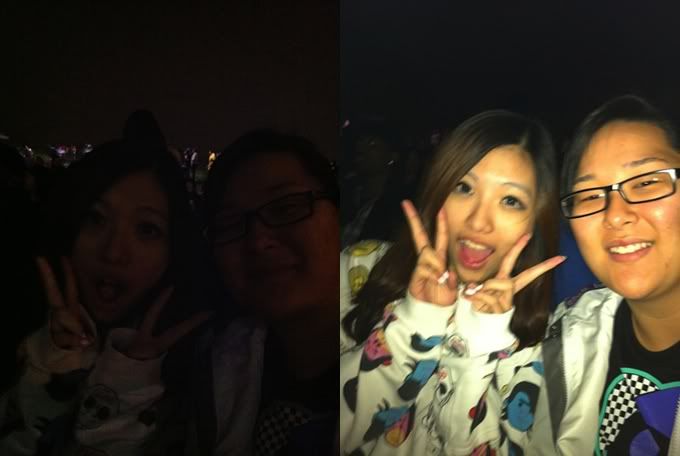 hate flash
a couple videos of chris brown. i like the second one better. its the finale and it was AWESOME!
light suits! the stage lights through out and the suits at the end were soooooooo pretty to watch! it was nice cause i really like lights and sometimes, i watch the lights instead of the performer lulz
but man chris brown is incredible! he danced soooo much soooo well but he still sang live realllllly well! he didnt sound out of breath or anything! amazing! and speaking of dancing, the backup dancers were amazing too! i dont know how its possible for bodies to move like that *O* great great great show! had so much fun! me and april stood on top of the seats! ha ha ha ive never done that cause i dont want to be a bitch and block people behind me but i did and i felt bad and couldnt turn around >.< but when chris brown came out, everyone was doing the same ha ha ha
so at the end of the show april decided she was gonna buy a sweater so we waited in a big blob around the stand getting squashed by angry people who wanted their concert shirts. it was crazy! there were four people serving like 100 and they took their sweet ass time! these people must not know about customer service or something because it took a ridiculous amount of time to get one person to walk up to a shirt, grab it, take your money, and give the shirt. like wth. the blob was getting loud and rowdy. so much swearing and sass. it was quite funny. but come on! getting a shirt should not take 20 minutes!
at home
ate my leftovers from joyees and watched stuff. went to sleep at like 8AM. twas a good night! <3
SUNDAY the 25th
went to the culture center with sandy for:
he looks much better in person ha ha ha. mr.garrison had lots of good things to say but i kept zoning in and out. i was so sleepy. woops
so that day was originally when we were supposed to have jessicas birthday dinner but she wasnt feeling well so we rescheduled. sandy and i went to water tower to get her present instead.
we were sooo hungry so we got baos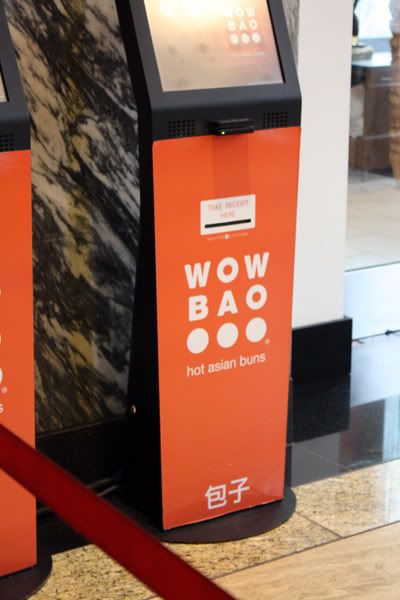 gotta get them hot asian buns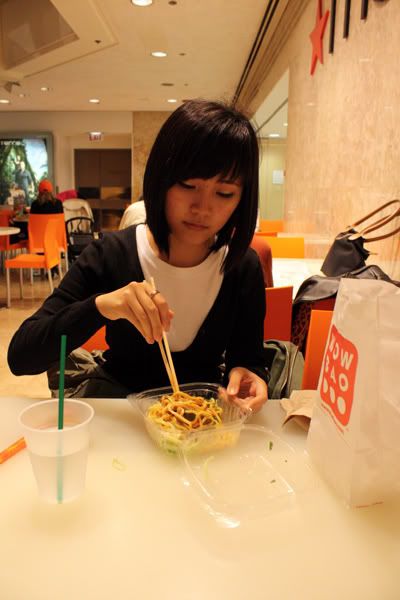 sandy was craving noodles so she got peanut something noodles. they were so cold but pretty good. just so cold ha ha ha! they tasted like a thai version of jjol myun
i got five baos and a hibiscus iced tea. the tea was disgusting. i cant even explain the taste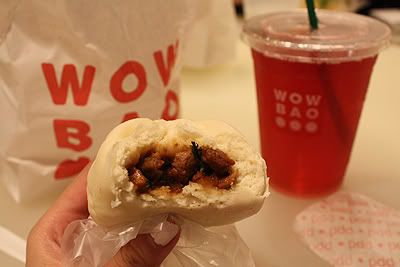 bbq pork
teriyaki chicken, mongolian beef, kung pao chicken, and thai curry chicken
i like the curry chicken and bbq pork the best. mongolian beef would be up there with the two but it had too much cilantro.
so awhile ago i was raving on twitter about how excited i was about topshop finally opening in chicago and when it actually did, i totally forgot until i walked into it! ha ha ha!
i didnt buy anything that day but i finally decided that i will go back to get a pair of pants i was eyeing that day >.< this store makes me so sad. i cant wear trousers cause my legs are so damn short! even for the petite sizes! i dont like rolling the legs up and i dont wanna spend more money on a tailor. sadness D;
also found out a forever yogurt opened right on the way to water tower! so i finally got to try it!
the place is sooo small so it had less flavors and it smells like wet rag >.>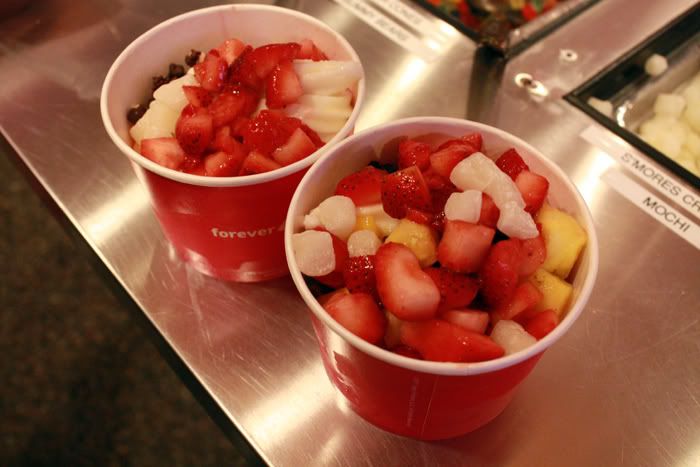 lulz ours looks the same but i barely get any yogurt but max out on the fruits. this is how i get my fruit intake. sad. and pricey!
eating/waiting for the train in the station
lulz its just a fruit salad with melted yogurt topping pretty much
forgot to write "in train station". she made my face look ginormous!!! grrr
so i tried to have revenge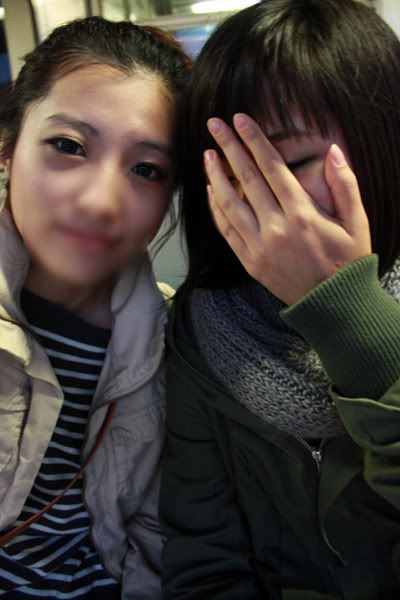 but her face is fawking tiny so didnt work out
my eyes were insanely uneven that day too;;;;
home
ha ha ha ha my feet
oh so on this day i think i decided that i would join her and eva at the AIDS run & walk this saturday!
they wanted to be more involved in school lulz. its something important to me and i really liked my experience from a breast cancer walk a couple years ago so i wanted to do it too! im posing as a loyola student >:) would anyone like to help? do you have any change or an extra dollar to spare? if you want, you can click
this
and you can donate that! you just have to click the "sponsor me" link, check "other" and put in the amount! a dollar or even a penny is good! i would be so thankful! <3
TUESDAY the 27th
jessicas birthday dinner was rescheduled to this day. we all met up after school
the essentials of acting class: blocks!
i got rained on (i never carry an umbrella) so my hair went flat :(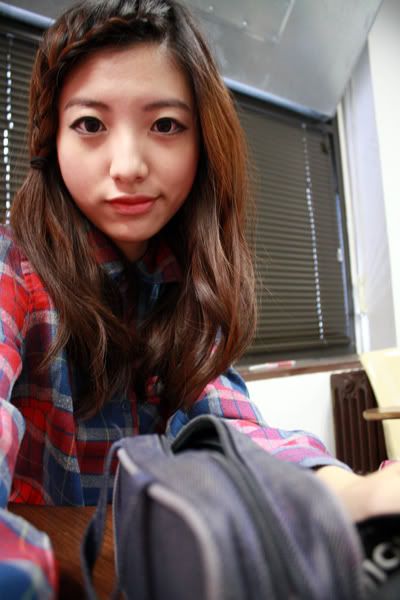 smirky smirk
so i ended early and i had like an hour before sandy and jessica would get downtown so i went to argo tea!
my green tea strawberry creme! it was incredible the first sip! then it was just good after ha ha ha
view from where i sat
and finally!: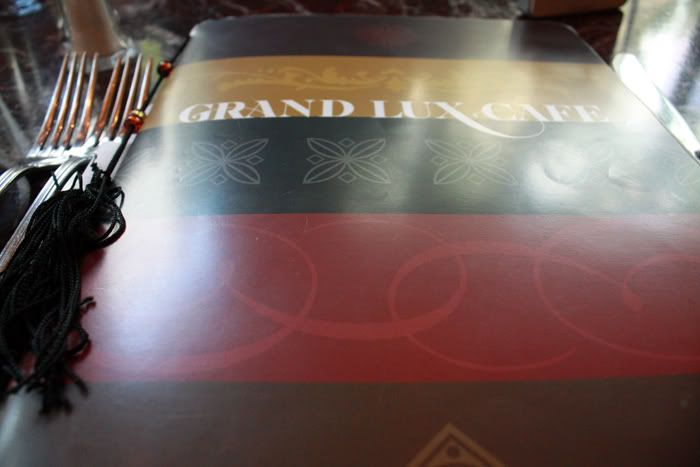 my first time there! it was so big and nice and pretty!
we wanted that big windowed-lit up space but didnt get it. at least we didnt get seated in the dark!
my citrus something. tasted like orangina so i was a little disappointed
jessica is 21 so she can order cocktails! her strawberry margarita. she took forever to take a picture cause she kept shaking even with the auto focus! lulz fail. she also didnt like it. it was strong.
but sandy! youre underage! ;P
jessica didnt want it and neither did we so she one shotted it! XD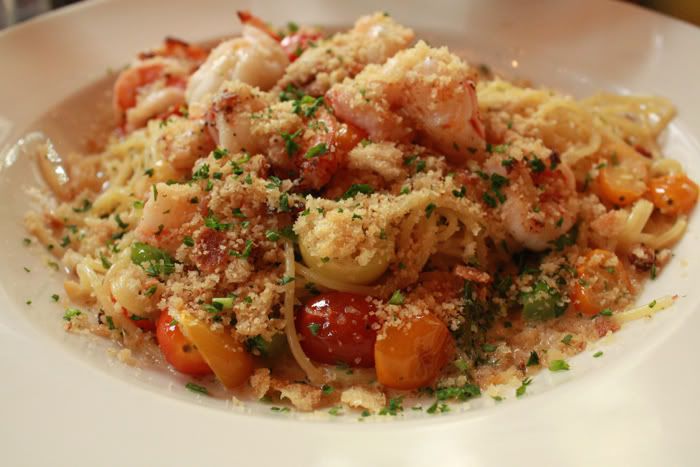 my garlic shrimp pasta thing
jessica and her shrimp scampi which she had to get to replace her favorite dish which was taken of the menu. sandy got the same thing. i dont have a picture of her woops. but its ok, its jessicas birthday dinner! ha ha ha ha
le cake. white chocolate mousse
it was funny watching her cut and plop the slices onto the plates
this is the most genuine smile ive ever seen on jessica in a picture lulz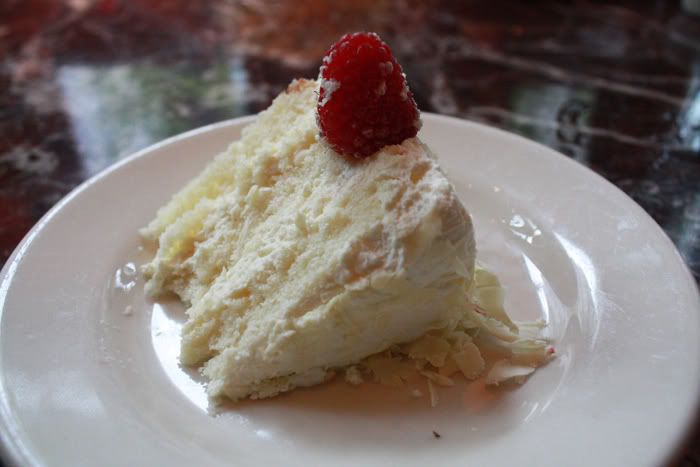 my slice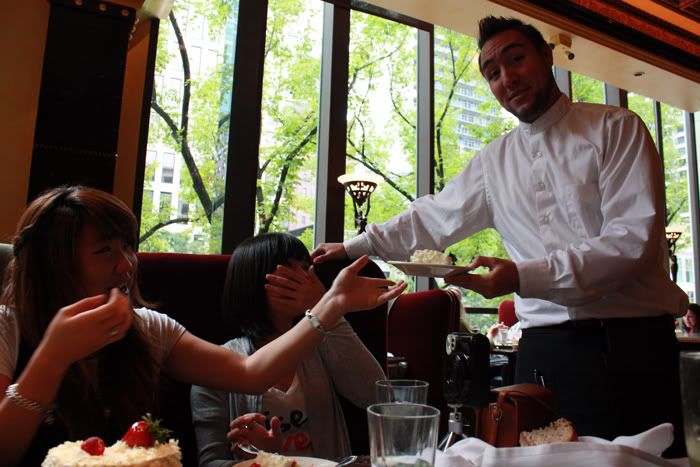 our waiter came over to check on us and saw the cake and was like "thats a pretty nice cake" and seemed like he wanted it so we gave him one lulz
jessica was being a lame and wouldnt take a close up with me and sandy so we did a cross over thing so i looked at sandys camera while she looked at mine ha ha ha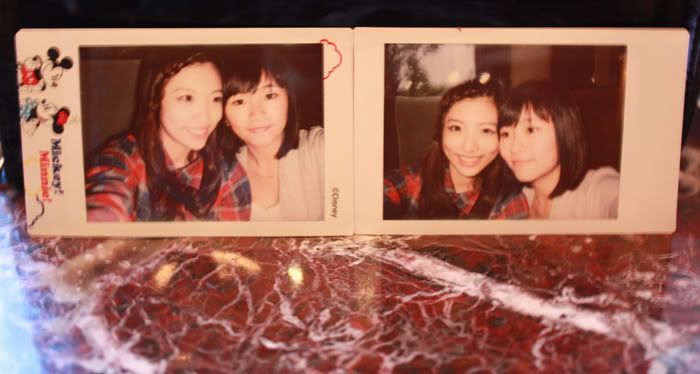 woops table color reflecting onto the polaroids. i look scary!
sandy was taking the pictures of the two and jessica was like "hey, im not in it." so she stuck her two in the middle so we were all together! ha ha ha ha ha
my face shape is so...weird and disproportionate;;;
group picture! gah i suck at decorating polaroids OTL
sandy and jessica bought stuff and then we went to forever yogurt again. we were originally supposed to go to the pinkberry that recently opened in chicago as well but it was back near grand lux! 12 minute walk! we were really tired so we went to forever yogurt instead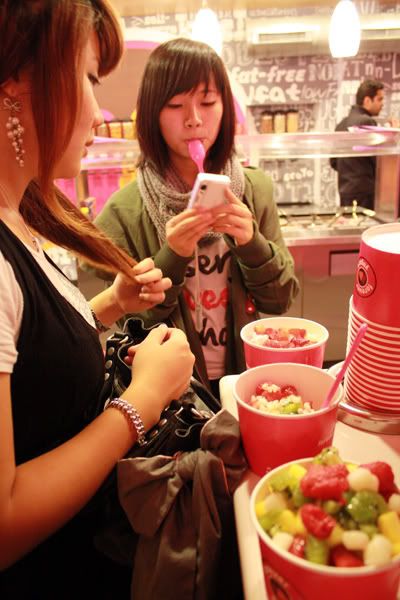 LMAO look at mine! maxing out on the fruits man. this time even i think it was a bit much. but i think this is my fave yogurt place. their mangoes are real good!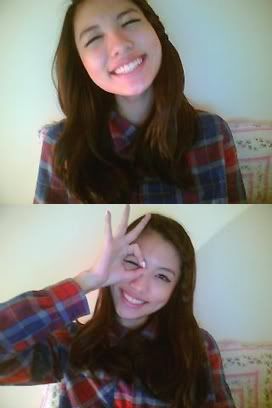 the day was filled with a lot of laughing! twas another real good day!
well this is the end! i feel that this made up for the last post! i hope you all do too! well, i have to sleep nows! see ya next week!
stay healthy, happy, and always smile~!