my fat face? :D
ahahaha sorry loves! i meant to post much earlier but i was sick for a week! i was on antibiotics and they were kicking my ass (>.>) i just started feeling better like yesterday but here i am! i rushed the editing of the photos and stuff so theyre even shittier than usual. sorry! in return, ill post again soon with photos that arent my own! theyre pretty interesting looking so i hope that makes up for this crummy post :D
THURSDAY the 7TH
food and practice after class
on the way to the cuban sandwich shop i wanted to go to i saw this car again
a bunny car! it even has whiskers! XD
lulz at the license plate and cyndaquil rearview mirror deco
26 E Congress Pkwy
Chicago, IL 60605
try them out! they have really good cuban sandwiches! i hadnt been there in so long!
i havent actually bought gaterade to drink in like 10 years until that day lulz
my chivito sandwich. bacon, steak, ham, mozarella, lettuce, tomato, and some good sauce! yums!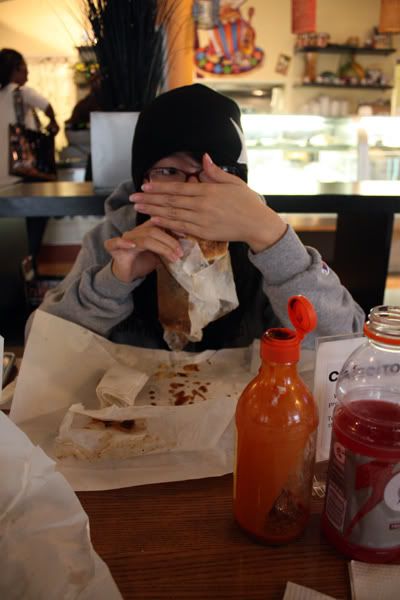 sandy got the guava-q. messy but real good! one of my faves from there!
FRIDAY the 8TH
buffalo joes with jessica and sandy! we went to the one at howard. the food was good but the place itself was a little run down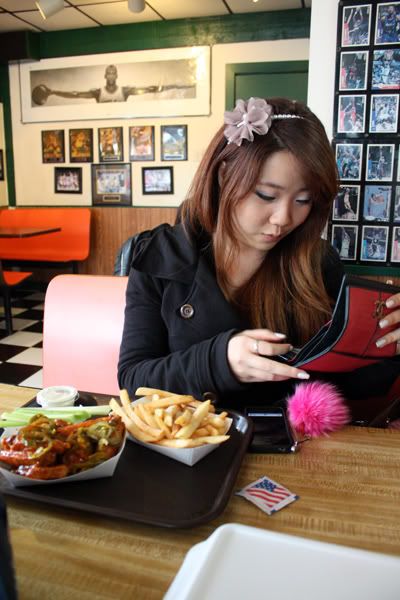 jessica and her suicide flavor. she was soooo upset that she didnt get her buffalo chips. makes sense cause the cashier lady didnt say anything about that one not having them until after she paid and received regular fries instead. the receipt itself said buffalo chips though!
sandy with her mild and cheese fries
my spicy flavor. not spicy at all. i wasnt sure what i had gotten when i went for the first time so i just got that. but honestly, mild, spicy, and suicide taste the same. lulz. oh and they were selling kool aid! lulz! it was THE BEST kool aid ive had in forever!
red mango afterwards
lulz look at them
so i was taking off my jacket when sandy was like "YOUR WEARING RED TOO!?" jessica pointed out earlier that our bags were similar and we were both wearing uggs, so we were pretty much twins unintentionally. lulz. so of course, we had to take a polaroid
i was gonna wear light colored jeans that day but i changed! i guess the contrast and different colors work XD
"couple look~"
"twins?"
"with ddarling"
we then asked a girl at the table next to us to take a group polaroid for us
sandy taking her "copy" lulz
i came out better in both of jessicas :/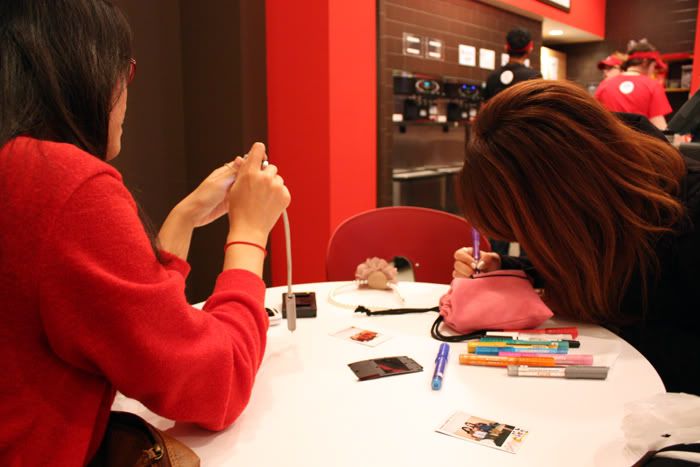 jessica always decorates her polaroids really nicely so i forced her to do mine while she was with me lulz. i cant decorate anything to save my life. shes so artistically gifted!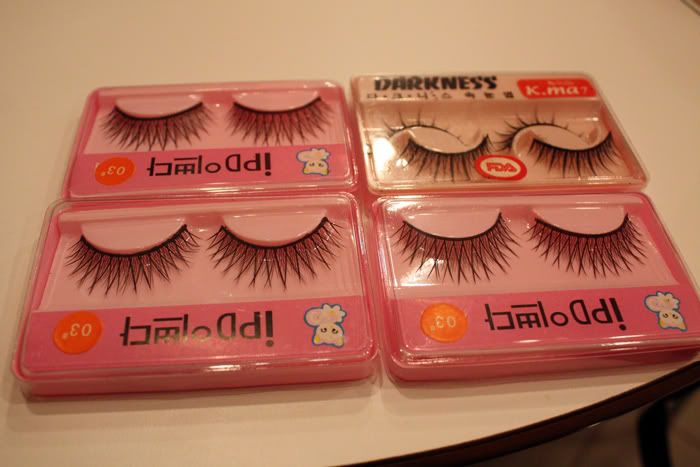 oh i took a picture of the lashes jessica gave me while waiting lulz
the finished product: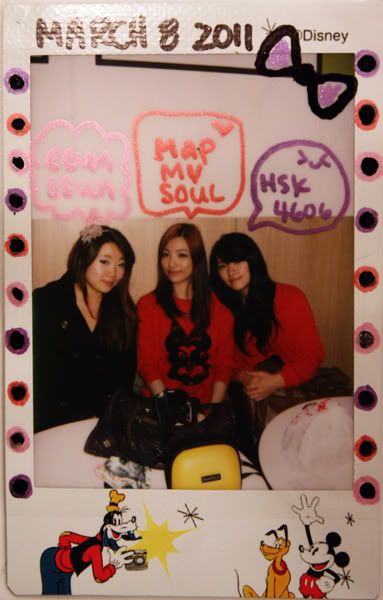 i just realized i forgot to get jessica to write on the back;;;;;
on the way back home, sandy and i were too cold to wait for the bus so we just walked to jessicas house which happens to be really close to the train station. she did our nails :D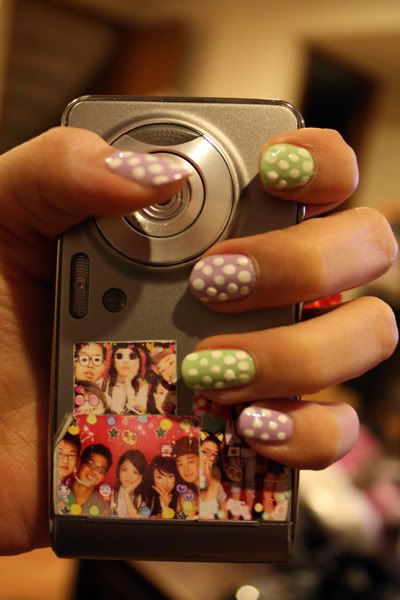 my green and purple polka dots. they remind me of shrek for some reason lulz
sandys zebra print. she did these with the regular brush! i need to use the thin brushes to do zebra print but shes so pro :O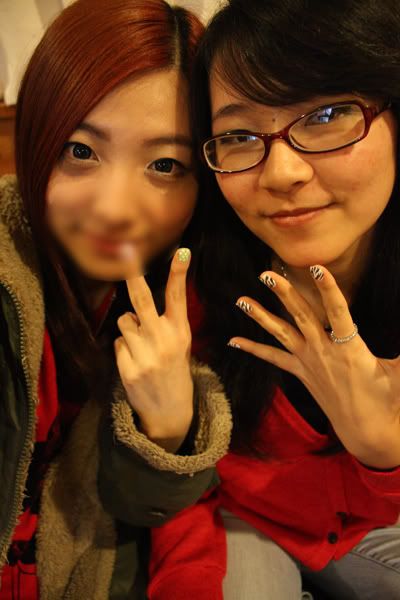 ugh my red eyes and serioso eye bags and dark circles;;;; i was sooooo tired. we stayed there for hours
TUESDAY the 12TH
on the earlier friday, i was on the search for these awesome cream puffs at dominicks but they didnt have them! i was sooooo sad!! so on sunday, nick bought the last one at his dominicks for me cause sandy had told him how miserable i was that i couldnt get them and brought them to sundays practice. i was too sick to go so sandy took them with her so i could just pick them up. i felt to sickly to get them on monday, so i got them on tuesday!
sorry, its so blurry but i really wanted to hurry and eat them! they are THE BEST FRIKKIN CHOCOLATE DIPPED CREAM PUFFS EVER!!!!!! OMGAAAAAAAH!!!!!!! i finished them in like two seconds
THURSDAY the 14TH
i had a private lesson with sandy because no one decided to come to the practice. performance is next week. lulz. fail. die.
but anyways! before that practice, sandy and i tried the crappiest restaurant ever!
*all photos are stolen from sandy cause i didnt bring my camera that day*
614 s wabash (i think)
doesnt matter anyways cause you DONT want to go there! i wanted to try it cause its right on my campus and i pass it everyday and i always saw people there. shouldnt have :/
service is soooo crappy. the ladies sitting next to us were complaining the whole time lulz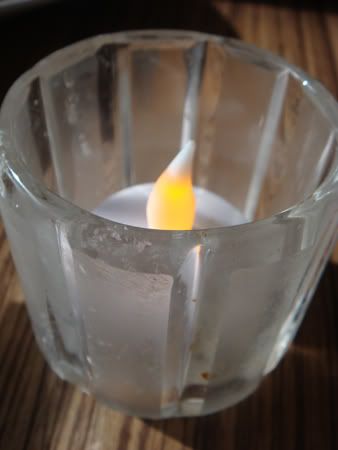 the fake candle they set at our table. the frikkin glass isnt even clean! and the fake candle trying to look real by flickering was annoying so sandy just pulled it out, turned the switch off, and set it back LULZ
sandys messed up napkin. the plates are even chipped. not once but several times. actually, not even. LOTS of times! and mine was like that too! like really?? youre really gonna serve customers with chipped plates? isnt that a hazard?? and the place is damn expensive too! so wtf man?? get new plates!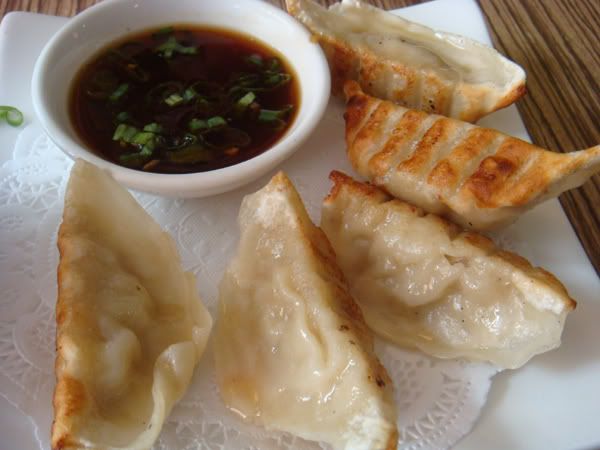 our gyoza. too oily and just meh. sadly, it was the best out of the dishes we got.
yaki udon. like yaki soba. its just a little salty and its a taste that you get sick of as you keep eating it. like panda express lulz. the only positive thing i can say is that the noodles were cooked well. huh.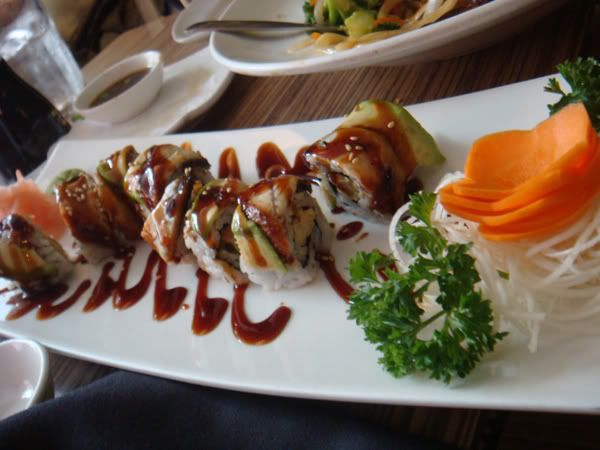 biggest disappointment. the smallest, shittiest dragon roll ever. i didnt know you could make me dislike a dragon roll but *applauds* this place did. it was soooo small and totally not fresh (which i understand cause its chicago but still!) it was like the eel was freezer burned but cooked anyways and the avocado was just no. tempura was so sharp! it like stabbed my mouth and sandy almost choked. i mean, i dont have high standards for sushi. i really dont. im even fine with the crap sushi i get from h mart but this place is just....and it was $15!!! THE FUH?! wasted so much money on that place..ugh
tried to ease our woes and fill our stomachs with caribou coffee after
her americano, my chai tea latte (really cinnamon-y but watery. wha? paneras is def. the best!) and our cookies. :D
SATURDAY the 16TH
so i was opening my milk a couple hours ago and noticed:
hee hee the price and the expire date is the same! i thought it was funny.
wow what a crappy post. you can totally tell i rushed... so sorry!
i will see you loves in a couple days with what i think is a cool post! until then,
stay healthy, happy, and always smile~!