So I've failed updating every day, but that's ok cause I've still been consitent this week, right? XD I totally forgot that going out also equals not being able to blog. Anyways, here is my last entry of 2012! Sorry that it's so rushed! I rushed home after work and am now trying to make it before the clock strikes twelve!
I don't mean to start by bombarding you with myself, but I just had these pictures from the shoot I had in November laying around and I want to get all pictures from 2012 out and blogged before the new year or else I feel like there's no point which is why these last posts are so monstrous! XD
Excuse my face and awkwardness. It was the first time letting someone really take pictures of me. >__> We took over a hundred pictures and I only look decent in 14. -_____- These were all taken by Ania Sodziak. I was the worst subject but she's able to capture colours so beautifully! Must get on her level! *_____*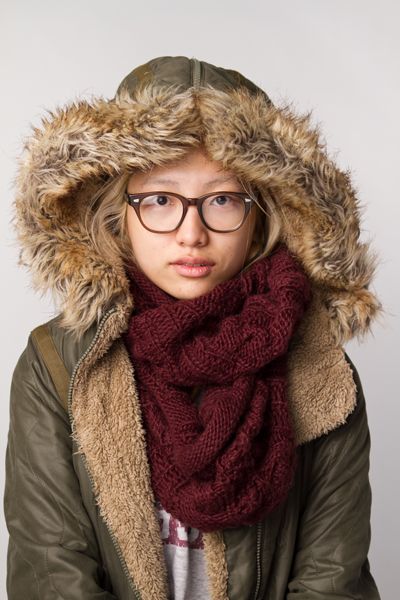 LMAO excuse my heinous-ness. This was not one of the fourteen. Before I started putting on makeup she was like "Wait, wrap yourself up again! I want to take a picture of how you looked like right when you walked in!" I think it's funny seeing the before and after is so I think it's appropriate to put it up! Have a laugh with me~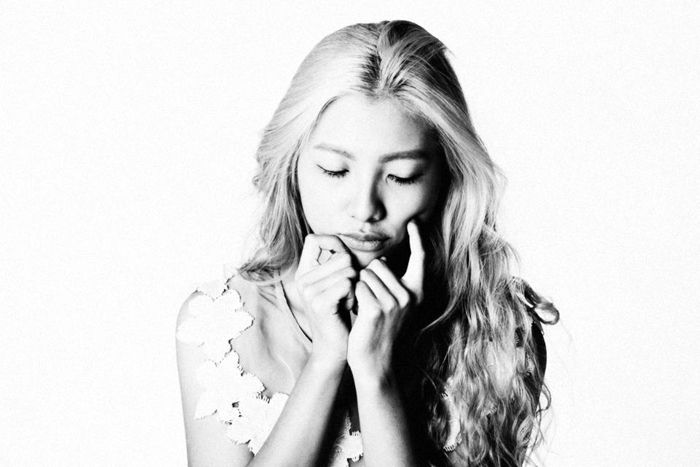 The only black and white and one cause I love her colours and I look absolutely hein in the other ones in front of the white.
Ania's balcony. She asked me to close my eyes or play with my hands or look like I lost my lover a lot ha ha ha.
Ahh the light and colours in this one! Her studio apartment is so awesome.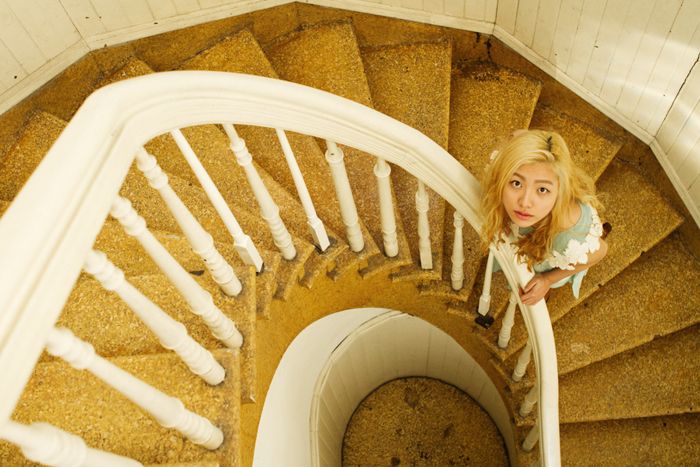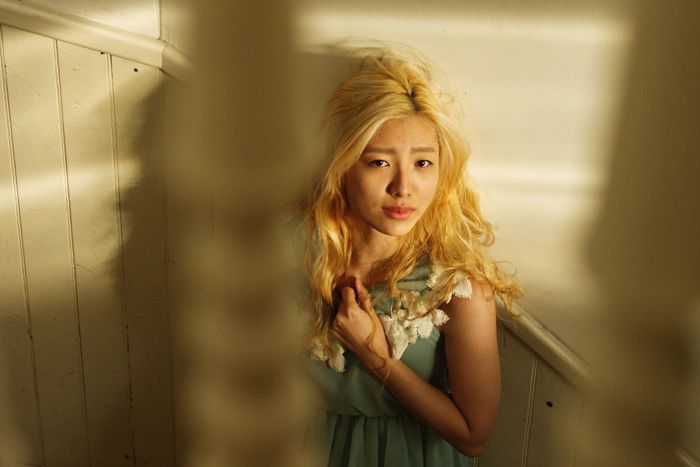 "Pretend you just fought with your boyfriend and broke up!" Ha ha ha ha
Then we just walked around outside looking for cool locations.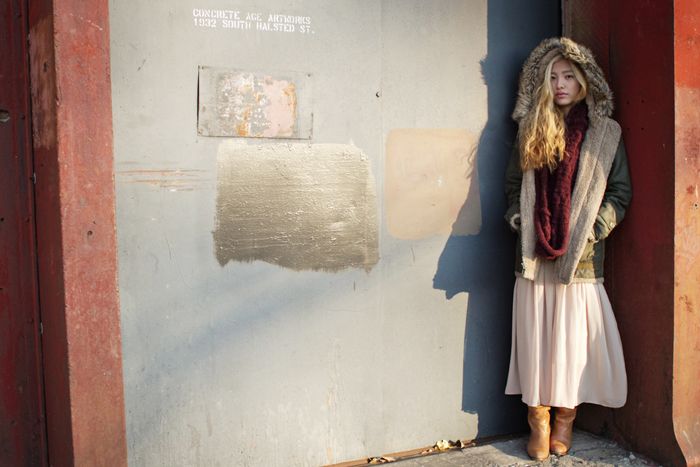 This one is my favorite even though I look like an elvish monkey. The gold colours from the setting sun is just so pretty!
Alright that's done with! Sorry! >_>
I had planned to get to campus early to see Hannah off and then watch the puppetry class' final and a showcase but I was a fail and overslept. I flubbed all my plans for that day so far I had to fulfill at least one so I did!
At Osaka with Kyle, Kyle's friend Nick, and his boyfriend!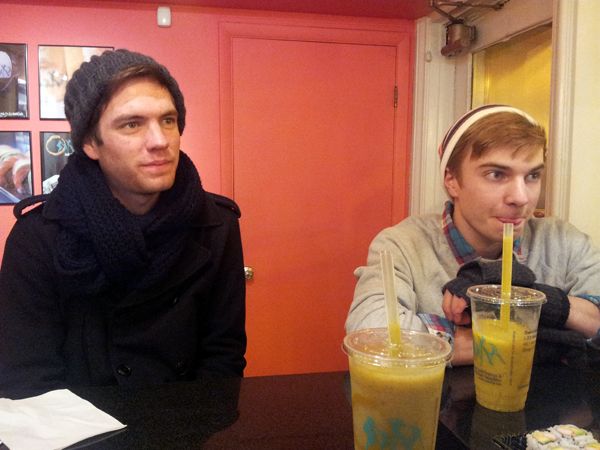 Finally saw Eva and Sandy after forever for karaoke! I got to meet their friend Shannon.
Milk shake dedicated to Kyle XD
Met up with April because we had important business to attend to. Finally tried out the Bongo Room for lunch!
Their fans only have three things! Are they called wings? What are they called?
They have such cute lighting fixtures too.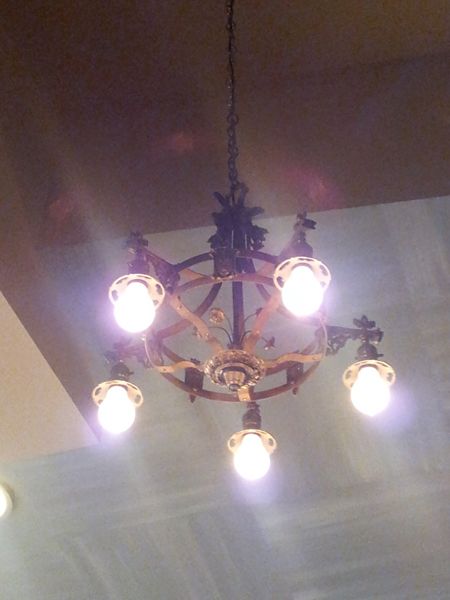 Their food was yum! But a bit pricey.
After eating, we continued on to important business which was...getting inked!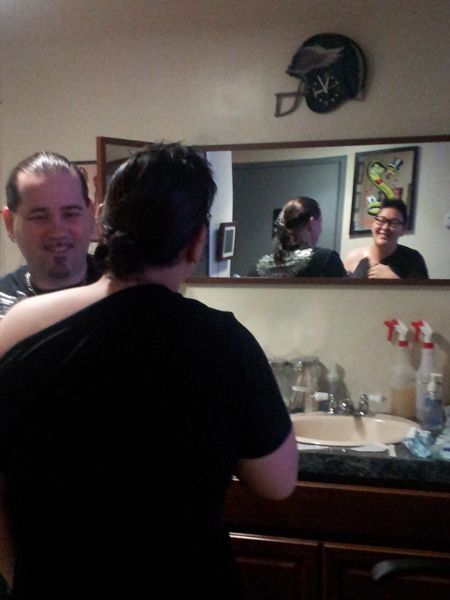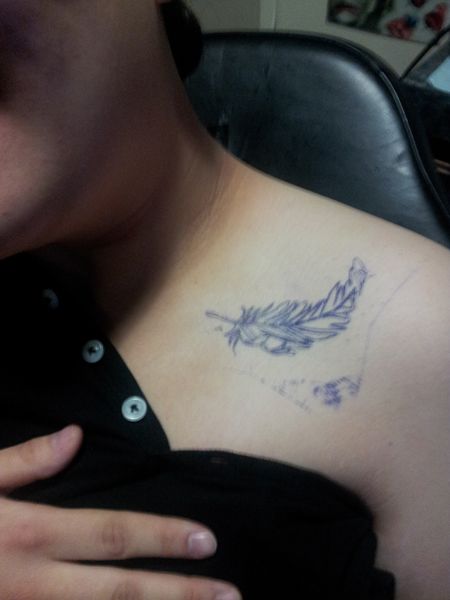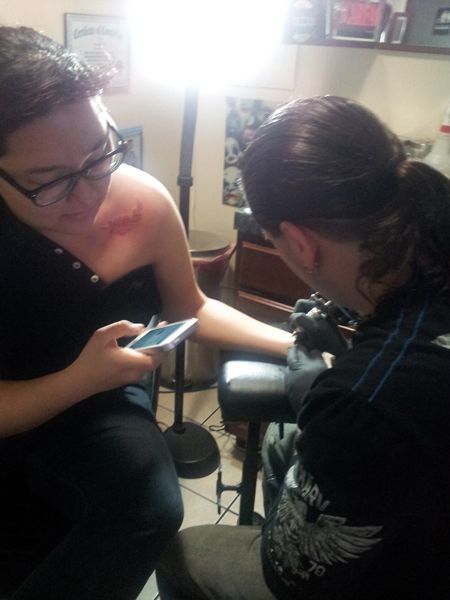 Getting her first tattoo touched up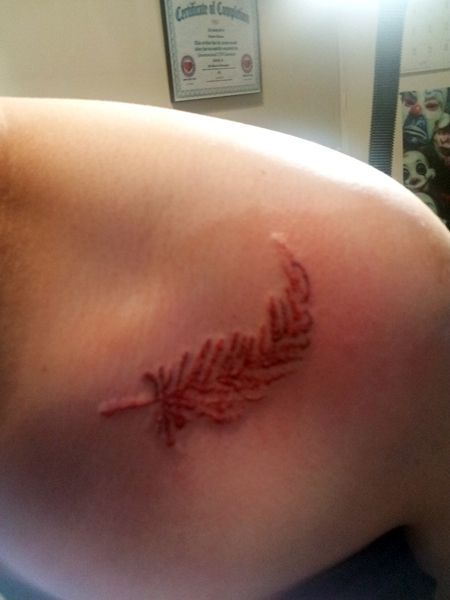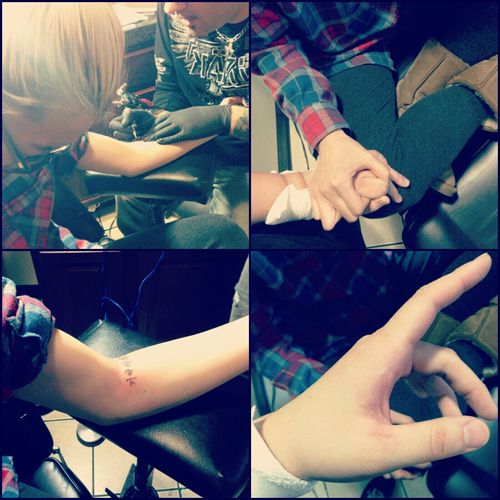 I was dying from that tiny thing lmao! I have the lowest pain tolerance ever so I was half screaming and yelled at the tattoo artist "Why am I paying you $60 to stab me a million times?!?" Good thing no one else was in there. I also squeezed the crap out of April's hand. I didn't know my nails were digging into her cause I was in so much pain! D: It felt like getting a million flu shots in the same area to me.
It's not as crooked as it looks in real life. I do have to get it fixed though -_____-
Our tattoo artist was Jeremy from Infamous Ink.
We don't recommend him cause he rushes his tattoos. We didn't get exactly what we wanted. We were under the impression that we were getting our stuff done by the guy April went to the first time but that wasn't true. I know I should have waited but I was already there and I knew I wasn't gonna be able to bring myself to get there again so I just did it. I do like it though! I'm just glad it wasn't a super intricate one that wouldn't be able to get fixed. I'm mostly annoyed that I have to go through the pain again. But I already want my next one! :3
Huge dog we saw while waiting for the bus in the rain.
I finally brought the DS I borrowed from April like almost two years ago and I forgot to give it to her again! Fail -_-
The triple/double battle stuff is so annoying in the recent Pokemon games.
Death by sushi with Jessica, Kevin, Tina, and Julie!
We went for lunch time cause it's cheaper but it's too early for me. I ended up pretty much feeding Tina half my plate!
Fake smiles. We were dying!
I was craving Wings Over Evanston.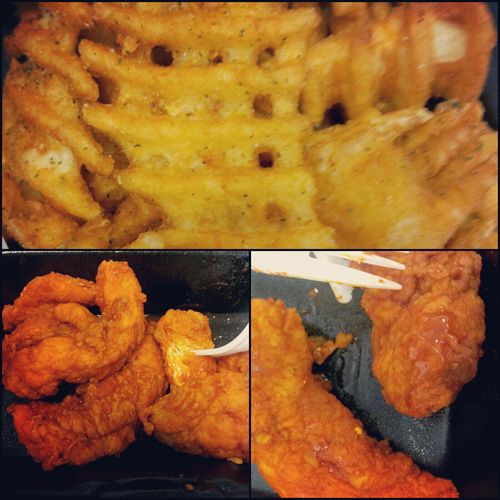 Our chickens look the same.
Getting bubble tea from the Joy Yee's at Evanston has just become our thing.
Went home to get ready for a reunion party with all the theatre kids from high school.
Can't be a theatre kid without a beret according to Tina XD
Tina was kind enough to drive me to Olivia's. It was a little strange and awkward because I was over thirty minutes late but the third one there but as more and more people came, it got really interesting and fun! I haven't seen these people in like four years!

I was going to take pictures with everyone but after getting Leah, Fisch, Fiona, Aleks, and Ani, my phone died. -_-
It was sooo nice seeing so many old faces after so long! I had a lot more fun than I thought I would! :D
I went to the party not knowing how I would get back but Steven was nice enough to take me home even thought it was the first time we met! He started doing theatre after I left. I remember seeing him in one of the shows. Jessica is friends with his brother as well!
Steven singing popera(?) hahaha! I had totally forgotten about my camera until he pointed it out. It was a really fun drive back. He would freak me out on purpose with his crazy man driving and then he sang Italian, Tagalog, and Japanese songs. It was quite the interesting night! I loved it! XD
Longest day of work ever. I don't know why time passed so slow! It usually goes pretty fast.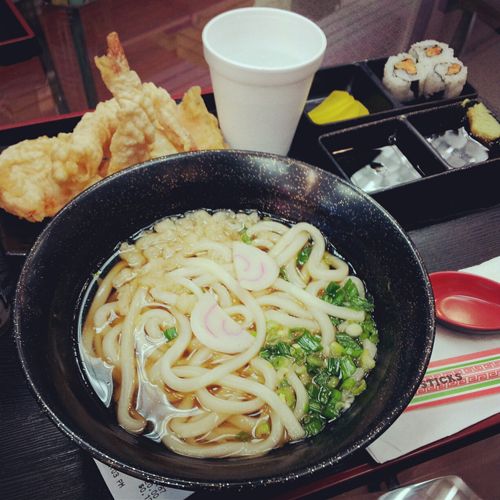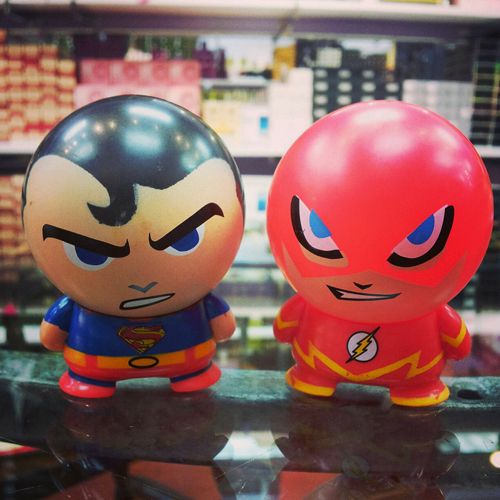 I freaked out when I saw that there was a new series in the quarter machines as I was walking by to go to the bathroom. New friends! Yay!
Headed to Sandy's after to finally celebrate her birthday which was in November :X
I walked in her room to see them drawing this. Creepy Jigglypuff.
Sarpino's for second dinner!
Playing the Game of Life at the same time.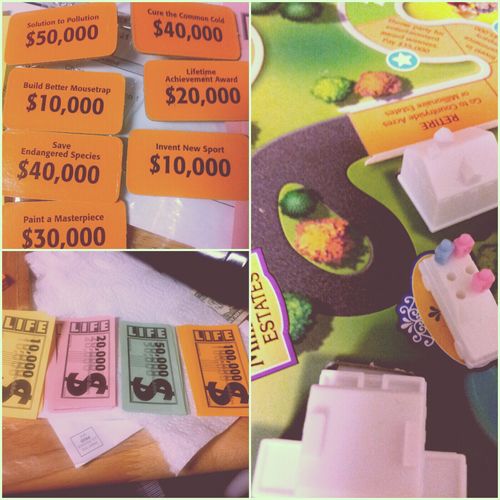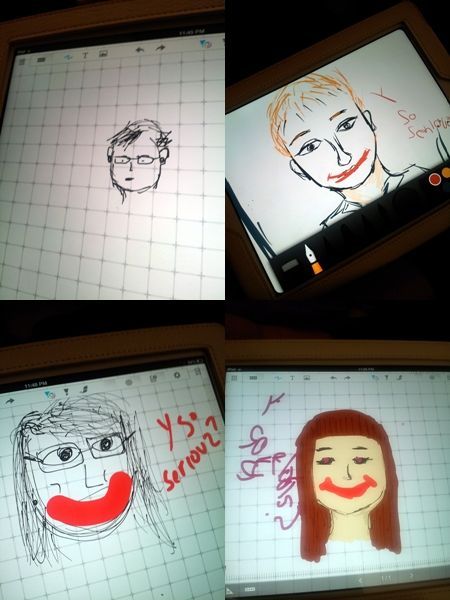 Eva drew April, me, and Sandy and April drew Eva. I don't know why we were all the Joker.
Then we all tried to play Anipang on our white phones.

April also took the most fabulous picture of me. She is an artist. LMAO
Alright time to get a little reflective. XD
2012 has been an awesome year for me. In fact, it was the best year I've experienced in my 20 years of life!
Off the top of my head, the things that made them great were:
- Trying lots of new things that I never thought I would do: Improv, African Dance, improv dance parties, etc.
- Trying out new restaurants
- Meeting a lot of new people and developing a few good friendships.
- Discovering the dangerous world of Game of Thrones
- Staying in Kentucky for a month cause I got cast and filmed a freaking feature indie film!
- All the music festivals and concerts I went to. Saw Grimes and die Antwoord twice! XD
- Being cast in my first show at school.
- My closest friendships staying the same despite not being able to see each other very often at all.
There have just been so so so many good things this year and I am just so happy! I also feel like I've grown the most this year in my craft and as the person I am. I'm still a kid mentally but I've learned a lot about myself and I'm very thankful for all the experiences I had. I'm looking forward to 2013 cause I have a feeling it will be even better! I hope it's the same for you all! Happy New Year!!
Okee enough of my cheeseballz. See y'all next year!!!