Wah I totally forgot and now have thirty minutes to write this but I won't make it before midnight! D:
Anyways, here's what I did the last two weeks of school!
Saturday the 1st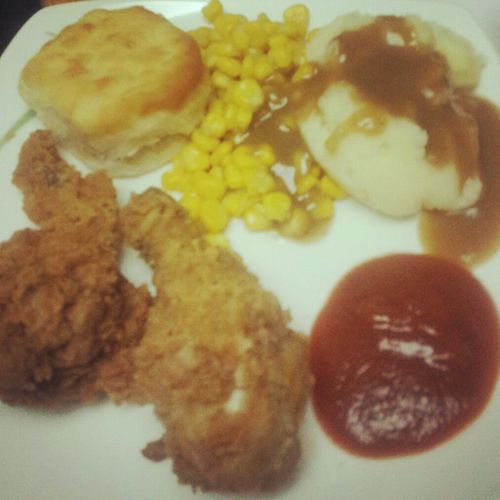 I would start a post with a picture of KFC.
Sunday the 2nd
After starting work at the makeup shop, I've been spending almost ten dollars on bread every week! They're so cute and yummy! D:
Monday the 3rd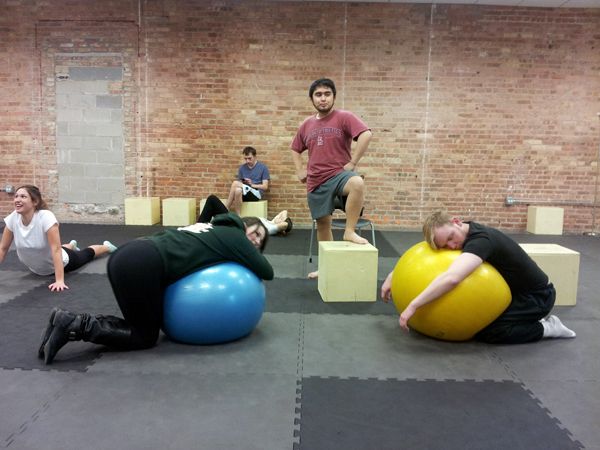 My body class. Wes and Amanda were being a cute couple so I had to take a picture and then Harrison photobombed.
Rushed to work after class so I could grab a quick bite.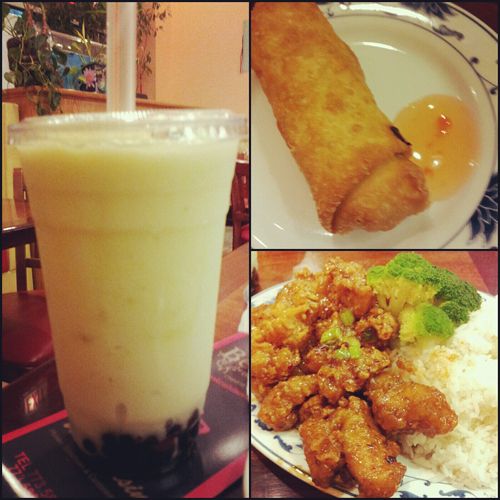 Orange chicken that actually tastes like orange <3


Came home to my Sephora package!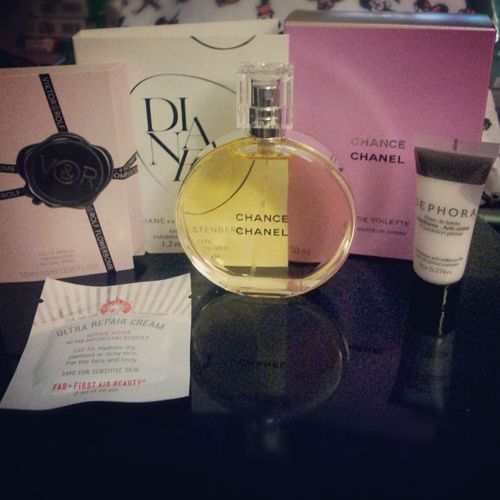 I finally bought myself a new fragrance! I've had my bottle of Daisy for I think like five years. I rationed it so intensely it's quite ridiculous. Gotta quickly use that one before the scent changes even more! :O
Tuesday the 4th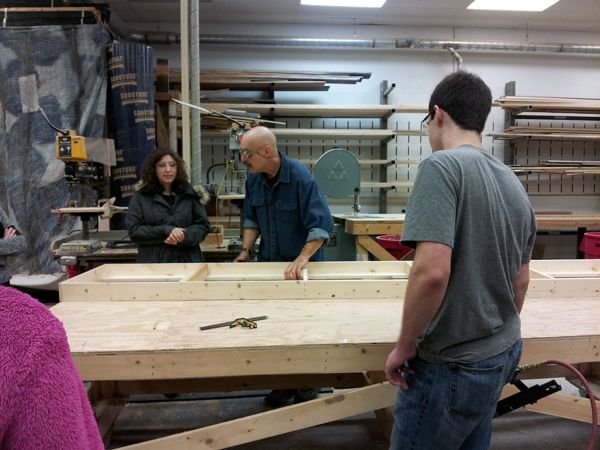 Built studio flats
Staple guns are scary
So I was looking though my in class essays and I felt bad for my teacher because I think I may have blinded him throughout the semester.
I write kinda small. I'm guessing I got good scores cause he couldn't read what the hell I was writing. Of course, my school isn't famous for the academics but still, I wrote crap.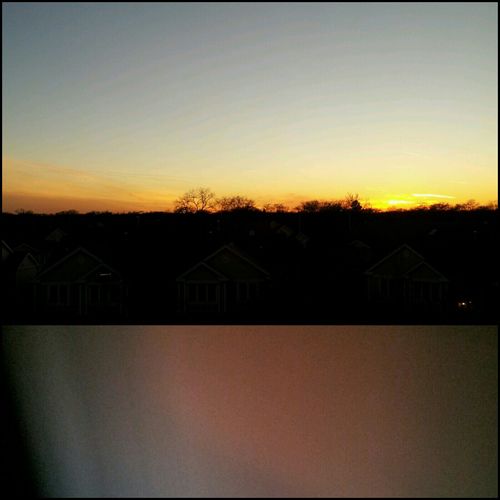 I was walking to the bathroom when I noticed the colours on my wall. It was pretty so I took a picture :3
I was just sitting around when two men burst through my front door with this: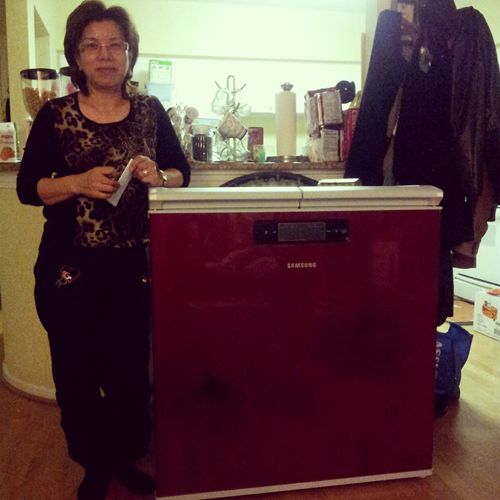 Ha ha ha she's so happy about her kimchi refrigerator! I can finally enjoy homemade kimchi again!
Late night chow with my mum
Wednesday the 5th
I realized that I only had like a week left of class and I still hadn't finished my sewing sampler from the first unit of my stagecraft class!
I finally went to finish during my hour break. Woo!
With the show over, I decided I would start being really productive and finally start on the 15 papers I had pushed off so I stayed in the library for like six hours.
I spent like two of those hours eating and browsing the internets -______-
Thursday the 6th
Met with Hannah and Kyle after class cause we had decided we needed to have a sleepover!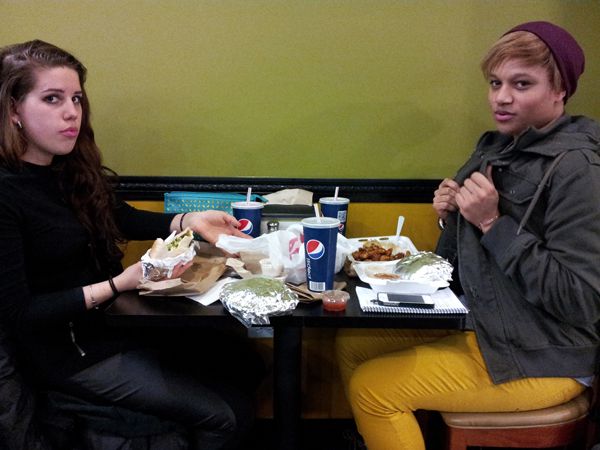 Fierce ladies at Pita Belly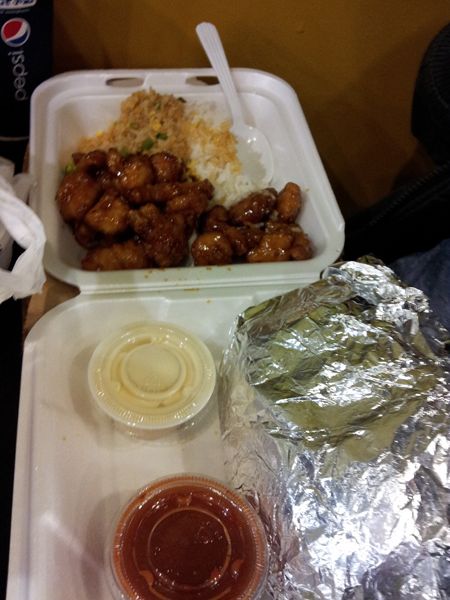 Kyle finally ended his ridiculous juice diet and to celebrate, he got the two things he craved the most: Panda Express (gross) and schwarma!
After dinner we walked back to the theatre building to watch our school's production of Chicago. The play. I don't even want to talk about it....
After milling around at Kyle's we went out to grab a second dinner this time with Rachel.
Ah my favorite kind of sign~
We were trying to eat at Bar Louie cause I wanted to try their chocolate cake which is supposed to be really good but it closed early that night.
So they took me to this really cool place!: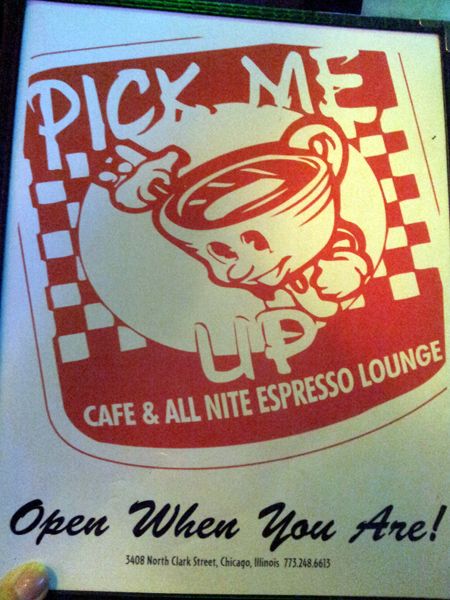 This was our table: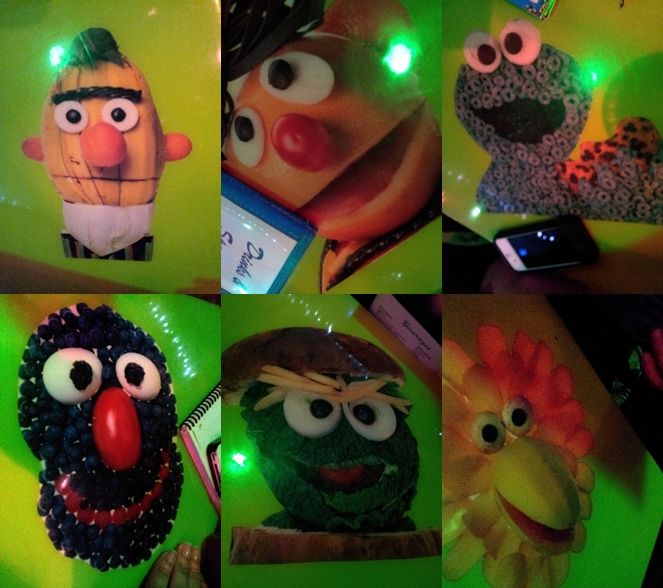 So awesome cause they're all made out of food!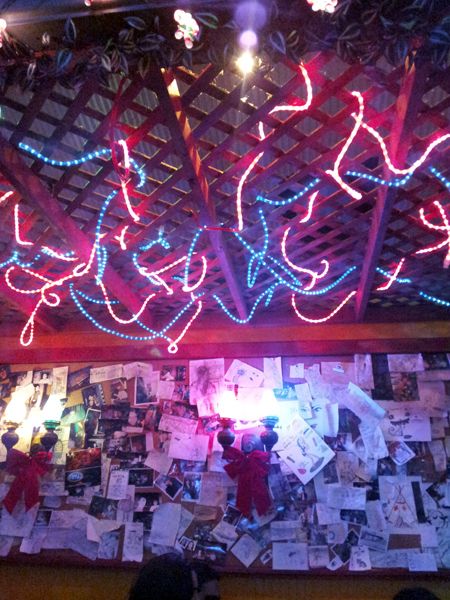 Ugh such a cool atmosphere and good food. Love it!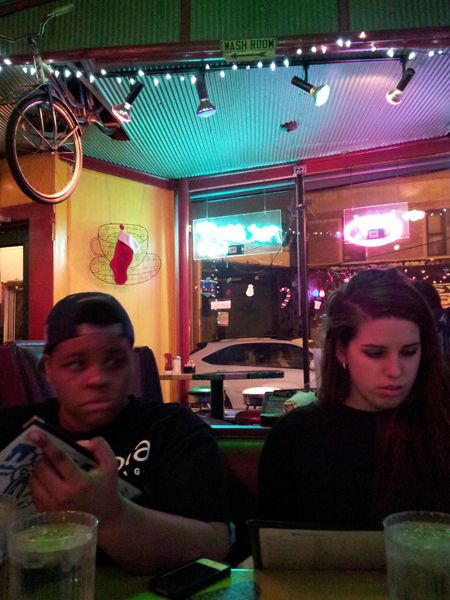 My iced chai. It was a little watery :(
Hannah's ...some kind of tea
Woooooo
And dessert which Rachel so kindly paid for
So the waitress told us we could just initial the things we ordered but it ended up looking like a hot mess so Hannah wrote it all and even explained which cards were whose! Ha ha ha ha so thoughtful!
We went back to Hannah's to pick up her air mattress but when we came back down, she was too tired to leave with us! Booooo! D:
Kyle shaking his head at my difficulty with blowing up the air mattress. I couldn't find the switch on the air thing!
Woohoo! Filled! Only to deflate by morning...
This polaroid should have had three people!!!
We stayed up till six talking and watching a good quality bootleg Dark Knight Rises :D
Breakfast in the morning. We totally forgot about the food we bought at Trader Joe's the night before.
I hung around for a few more hours and then went to boring ol' work.
Saturday the 8th
Skipped work to spend another night with Hannah and Kyle.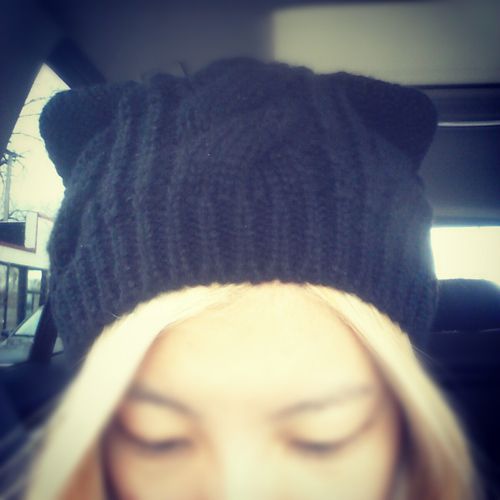 My new ears.
Kyle and I had Chipotle while waiting for Hannah to finish doing schoolwork.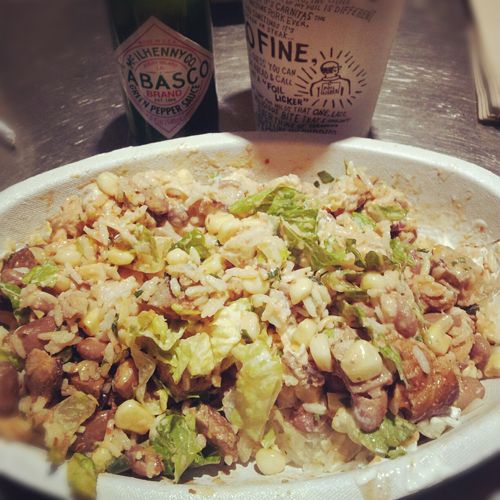 The light looks so gorgeous on his face!
Hannah had three free tickets to this show that someone both her and Kyle worked with in the past was in.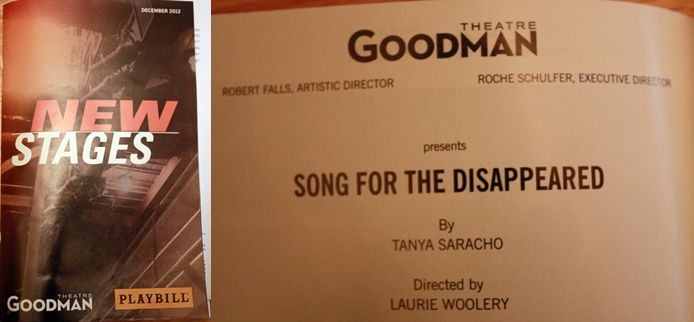 *stolen from Kyle*
Oh my gosh it was soooooooooooooooooooo gooooooooooood!!!! I cried like five times! It was such a welcome sight after seeing what a disaster Chicago was! Ugh all the actors were so good.
Late night dinner in China Town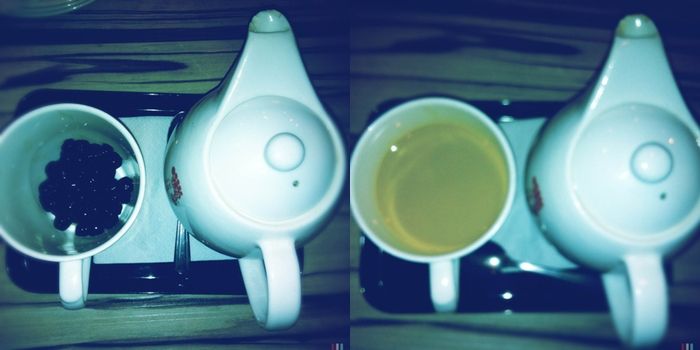 *stolen from Kyle*
It was his first time trying bubble tea!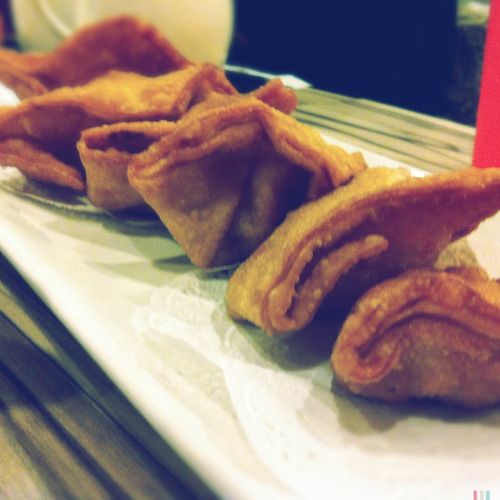 *stolen from Kyle*
*stolen from Kyle*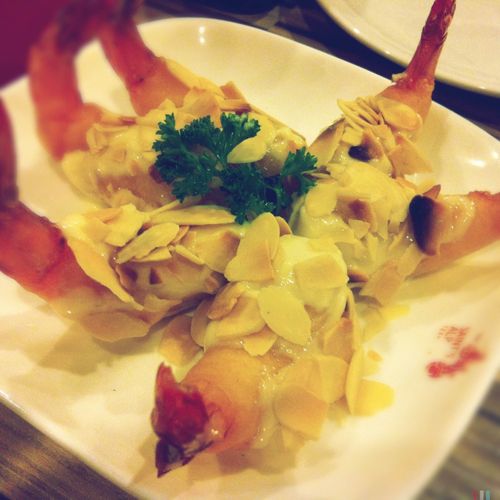 *stolen from Kyle*
*stolen from either Hannah or Kyle*
*stolen from Kyle*
*stolen from Kyle*
I found the most upsetting thing:
*stolen from Kyle*
Knock off sriracha!!
*stolen from Kyle*
What even?! Was soooooo heartbroken.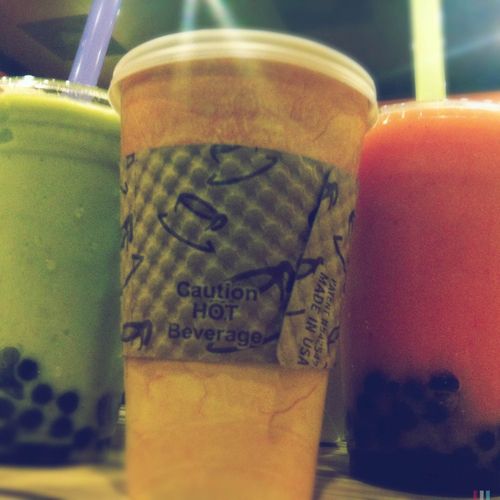 Ha ha ha we got a second round of bubble teas. Kyle is the only person I know who likes the tapioca bubbles more than the actual drink!!! He actually saved them and then ate them with a spoon!!! Hahahahaha!!! What was also really funny and cute was that this was the most "authentic" Chinese place they'd been to so they kept asking me questions about the food. Hahahaha it was hilarious.
Back at Kyle's for some down time. Hannah read my Tarot cards! I learned that it's pronounced "tear-oh" like taro. She didn't correct me until we sat down to do the reading when I kept calling them "tear-rat". I dunno how she kept her tongue >.<
Madame Burt looking all cool and mysterious doing my reading next to the light of the Christmas tree Andrew decorated.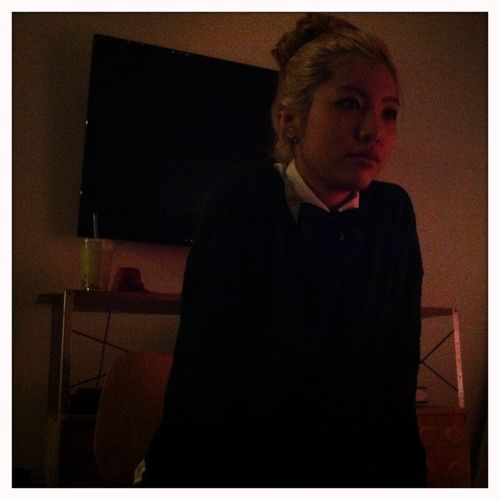 *stolen from Kyle*
Listening so intently to Madame Burt with my newly learned sock bun, big thanks to Madame Burt!
My badly taken pictures of the my cards XD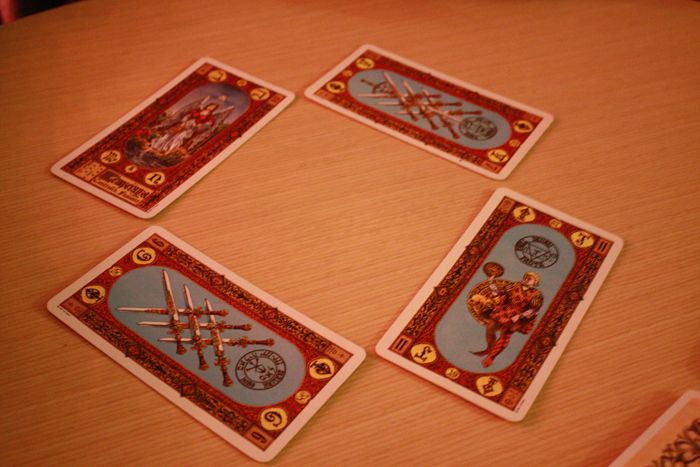 Since it was my first time, we first did a general four card reading.
Then we did a detailed twelve card reading with a question. It was soooooo interesting and fun and shit got real while listening to each other's readings.
And then we went back to into Kyle's room and were really goofy. It was such a good night!


Sunday the 9th
I went straight to work in the morning and when I finally got back home I was greeted by: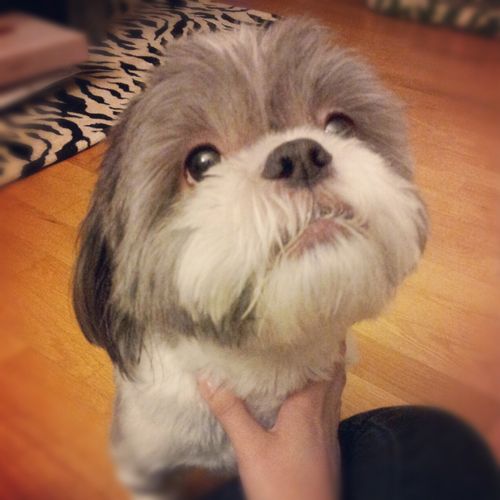 Yoshi was back!!!
All clean cut and soft and just adorable!! I felt bad cause I couldn't really watch him the week he stayed with us.
Tuesday the 11th
Started building bird houses in stagecraft. It's much simpler than I thought! Saws are scary dough.
After scene study, Hannah and I went to go get lunch together when we saw:
So I had to indulge!
It was pretty yummy but too much onion.
I went to the Artist's Cafe for the first time.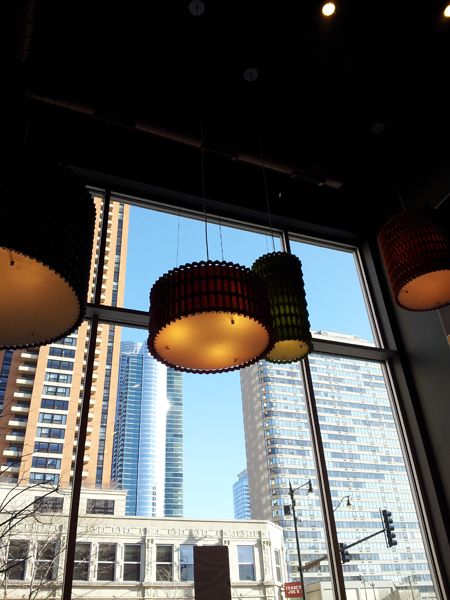 Cool little interior.
Hannah's chicken rice something soup which I ended up eating XD
We were just talking when we overheard the manager introducing that man to people. His grandfather was the man who found our school!
Reluctantly went to dance class after. If any of y'all were ever curious what I did in class, this was the routine:
I meshed the boys and girls routine one after the other. I think I like the guys' routine more.
Oh my gosh I got so mad that day though. There have been one too many times the teacher has gotten me livid. LIVID. Basically he assigned a ten page paper about our "genealogy" which has nothing to do with anything. So we all wasted hours writing this damn paper only so that he could NOT read it and have us talk about it. But I don't like talking about my family. It's personal. I only wrote it because he assigned it but I also wrote a note to him about how it was the worst assignment I've ever done because it's a really difficult topic for me. But lo and behold he calls me up first to talk about it in front of these strangers even though I kept saying no. UGHHHHHH. I wish I just snapped at him but of course I held it in. UGHHHHH STILL SO MAD. He had been making me so mad the whole semester and it was my last chance and I didn't. Ugh biggest regret of the semester. From this I've decided that I'm no longer holding things in. -______-+ Things just need to be said sometimes.
On a brighter note, one of the directing projects they did this semester was The Pillowman. IT'S MY FAVORITE PLAY IN THE WHOLE WORLD!!!!!! If you like dark, black humour, well written, bloody, awesome stuff read it and other Martin McDonagh plays! (He's the director of the movie Seven Psychopaths and he is also genius!) When I saw the audition sheets for it months ago, I freaked out. I was soooooooooooo excited! It was my dream ever since I accidentally found it sophomore year of high school to either somehow be in it (there aren't any girl roles really) or see it done.
There was big hype going around for this show so I was afraid of not getting a seat if I didn't get there early. I HAD to see it especially since I was in such a horrible mood. So as soon as I finished class at 2:50, I rushed over to the theatre building, sat my butt down in the hall, and waited for the 7PM show. Three other people who were almost as hardcore as I was, showed up an hour later. Yeah we really wanted to see this show.
It's really dumb cause they changed the rules again and now students aren't allowed to reserve tickets for directing projects. So we have to show up early, wait, get a waiting number, and hope for the best. -________- SO DUMB.
The four of us made a pact that we would have each others backs to make sure we got our rightful numbers. We expanded this pact with a few more people who showed up early. So many hours pass and it passes the time that someone is supposed to come out and hand us our numbers. So I got up to pee and while I was washing my hands I thought to myself "Man...with my luck, they're probably handing out the numbers now." And of course, when I come out and turn the corner, all these people are lined up so I'm just like ".......no...." but Claire (who also showed up early), stuck her head out from the crowd and told me to run so I ran up the line and all the pact members rejoiced as I claimed my number! Hahahaha!!! They refused the number person when he tried to give them their numbers because "Jin is number one!" So when he said "Well, she's not here," they told him they would wait and they did!!! Oh my gosh it was so awesome!!! SO TOUCHING. MY FEELS!!! One of the best moments ever!!
Had to take proof shot XD
I've never been number one in anything in my life until...!! Hahahahaha
So more waiting until doors open doo doo doo
This awesome band aid caught my eye. Where can I get?! It's me!! A yellow monkey!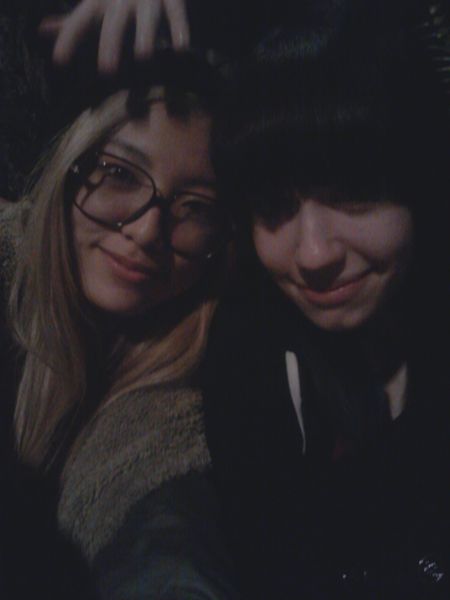 Awesome ex stage manager Claire and Ian's hand photobombing.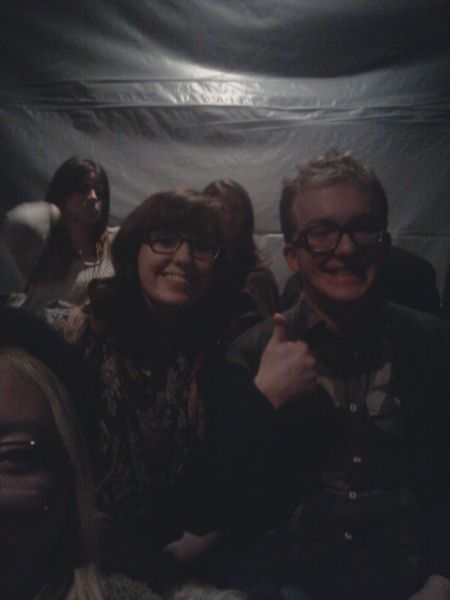 Ian and adorable girlfriend.
He was there the entire time the audience was seating. Totally intense and hard core way to get into character!
Ugh it was sooooooooooooooo GOOOOOOOOD!!!!! There was one minor major little problem I had but otherwise it was SOOOOOOO GOOOOOOD!!!!!! I cried so many times! They used puppets and it was just.... genius. And I totally fell in love with the guy who played the protagonist. Just. UGH. It was cathartic. BEST SHOW OF ALL SEMESTER!!!
Last day of body movement!
We had our final which was the best final ever. It was a performance piece we put together!
Enjoying food our teacher brought in for us as she talks. Oh and random people who watched our final on the left.
Omg the cheese and fruit she brought in were SO GOOD! Trader Joe's man. Trader Joe's.
She even gave us each a flower from bouquets she bought! She is the sweetest teacher ever!! I love her!!
This class was so awesome. I've never felt so completely comfortable in a class before this one. We did some strange, silly, awesome movement stuff in front of each other with no judgment and full support. It was soooo wonderful and freeing. Ugh. Gonna miss those dance parties where we just rolled around the floor. Sigh.
Finished those birdhouses! Complete with a hatch to empty if need be!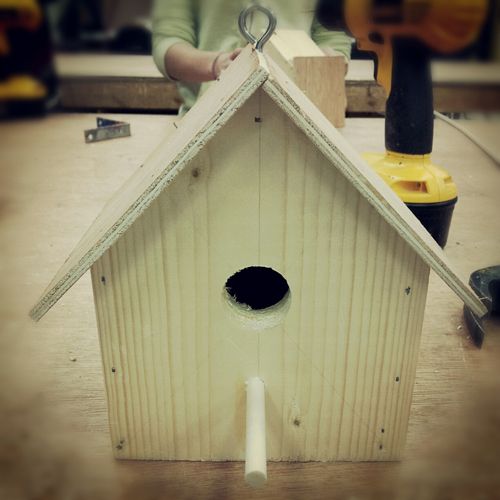 :D Gotta find a time to paint it
After my last scene study class, I ran into Paco on the stairs and he invited me to watch his stage combat final! Hannah and I watched before we went to grab lunch.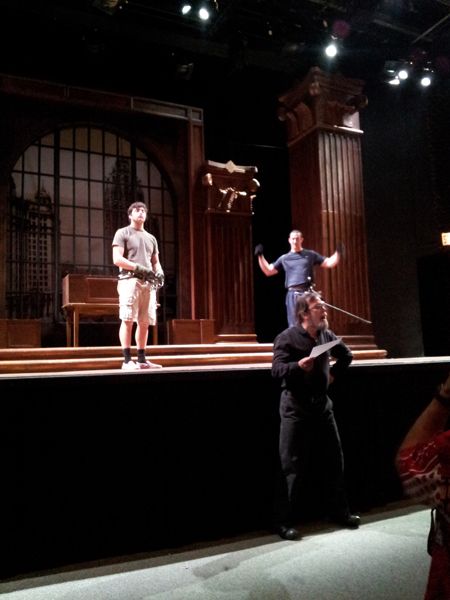 The students get all the same choreography and they put it in a scene of their choice!
In case anyone's interested ;P
I'm so excited to take this class next next semester! I wish I started sooner so I could have graduated certified!
Hannah and I went to Yolk
Poached eggs are the BEST invention EVER!!!! I had eggs benedict and strawberry nutella crepes. SO GOOD! Love this place. So glad it's right next to the theatre buidling!
We parted cause Hannah had to go to class. I skipped my last day of dance. Still mad. But they were only having a party anyways. I was going to try and watch The Pillowman again but I was behind schedule cause of the stage combat finals. I had to stay at school to catch other performances much later in the day so I was just wandering around looking for a place to nap and found:
Hannah. Ha ha ha ha!! They were doing more stage combat finals so I watched those, talked with Hannah when she woke up, and then waited around when she left for her next class thing for Eclipsed: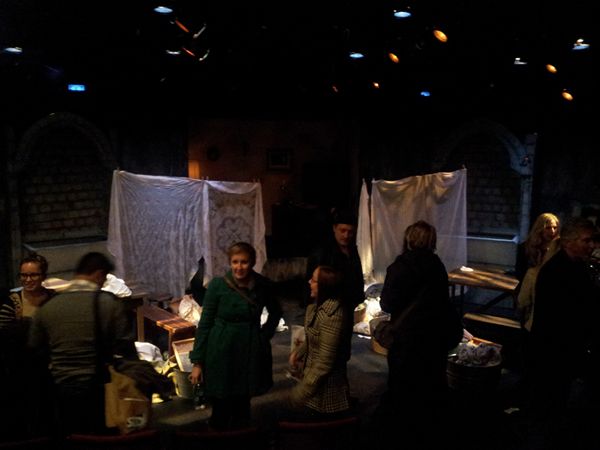 I was stupid and didn't take a picture in the beginning but people weren't clearing out. I was in a rush to catch another show.
Google maps never gives me the fastest route and tells me to take the next closest transit stop. So I waited for a bus that never came and so I just hopped on a bus hoping it would take me where I'm supposed to go (I suck with directions). It did. Kind of. I had to walk across the WHOLE University of Chicago campus. It is disgustingly humongous. But reallllly gorgeous. The auditorium I was watching the show in is fantastic as well.
Badly take pictures of the African dance show.
I was too enthralled. IT WAS SOOOOOO GOOOOOOOD!!!! It was just absolutely fantastic! So much energy and the drums and just UGHHHHH!!!!! My dance teacher might have been really annoying but the man can dance. All the negative thoughts and annoyance I had getting there through the cold disappeared and I was just energized and excited! Some of the girls from my class got up from there seats to dance on stage at the end! It was so fun! Ah~ It was a good end to the semester...only I still had to write the ten papers OTL