After a week of super narcissistic posts, I am happy to finally get back to my regular posts!
.....I say this as I open this post with a selca
Friday the 22nd
Worky work
Ha ha ha I was so tired. I sleep after the sun comes up since it's summer. At least the lack of sleep made my eyes looked nicer than usual XD
Went to the Chinese buffet to eat but I wasn't hungry at all. Bah waste of money. But I did get to see: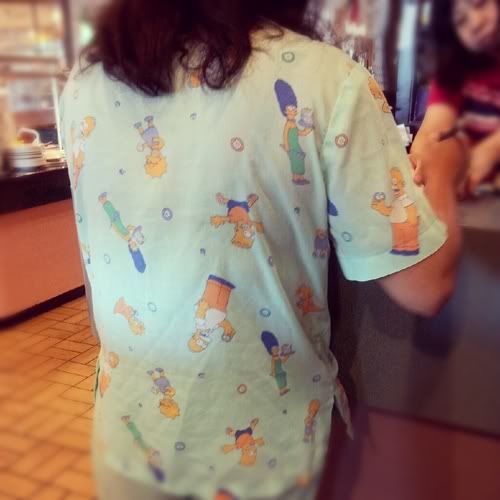 The best scrubs evar.
Saturday the 23rd
Work again
Summer = bi bim neng myun!! Woo~
Oh so my mum recently got a new phone:
The galaxy note. It is humongous!! You can't type with one hand. She has no idea how to use it and keeps asking me to put movies in it XD
My mum also discovered a decent instant dduk bok gi package.
I like it cause they put the clear noodles in it but they also put in little pieces of squid so it's kinda smelly. Especially when it cools!
Tuesday the 26th
A very special thing came in the mail!
YES!!! THE 2NE1 CONCERT TICKETS!!! Sandy, Jessica, Tina, and I are going to L.A. to see them!!! AHHHHHH~~~~ I AM SO EXCITED!!!! I'M GOING TO DIE!!!! I AM SO HAPPY!!!!
It's funny cause this was super spontaneous! This is the craziest thing I have ever done! And everything is actually working out! We just need to get our plane tickets now :DDD
I was suuuuper lucky that I remembered that the tickets were going on sale in the middle of trying of going back to sleep. I was so awake after that ahahaha!
Jessica picked me up at 9:30 to go to the beach with her, Sandy, and Kevin.
I asked that we stop by McDonald's on the way cause I was hungry XD
But oh man, I accidentally left my phone in the bathroom so we had to turn the car around and go back! Luckily it was still in the stall!
This is an ugly shot but it was hard to take in a moving car with one hand! Jessica thought the flash was one of the traffic cameras ahaha
After some talk on the beach and getting kicked out (I swear, I only ever get kicked out when I go with Kevin!), we headed to Champs to eat some more!
My phone ran out of battery, but thanks to Jessica's phone, I was able to get pictures!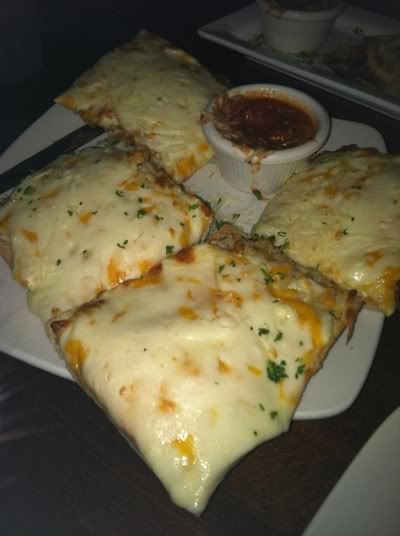 Sandy's crab bread which was pretty much just pizza lulz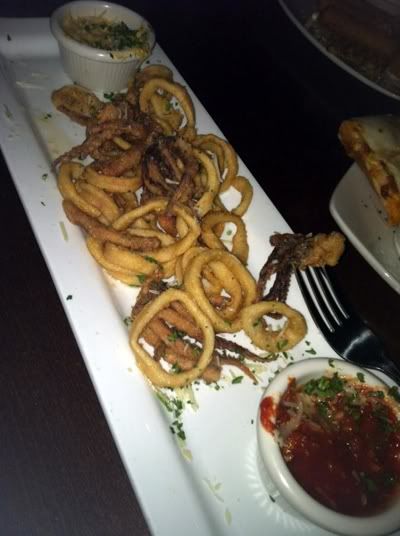 Kevin and I's calamari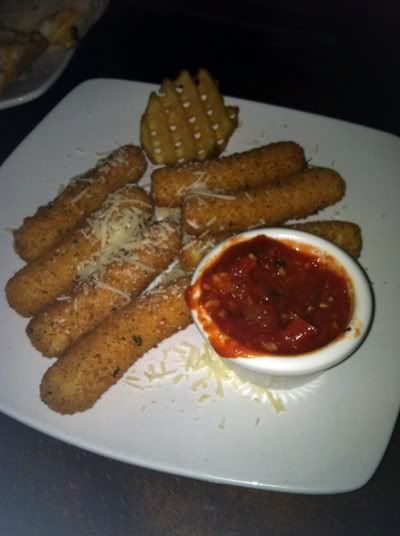 Jessica was saying that she was really hungry but all she got was moza sticks and a cocktail >_>
Lulz at the one waffle fry that fell on her plate
It was like 1 and our waitress just left to go home so we sat around waiting for whoever was left to give us the check. We totally could have just left and no one would have known ahahaha! I finally waved down the lone girl working at the bar and she gave it to us but she had only charged like two of the things we ordered? So we each paid $3.75! Haaaa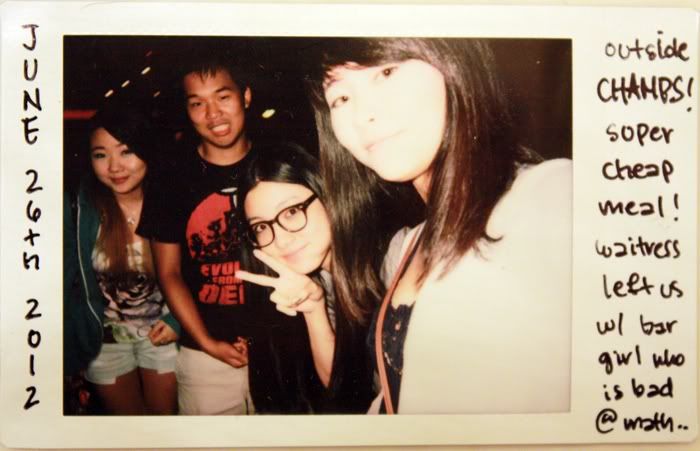 Ha ha ha I still have food in my mouth even after we leave

We went to Kevin's and played Mario Kart for a bit! Omgosh that game makes me swear soooo much! Ahahaha! It's so hard with the wii controller! And I hadn't held a controller in soooo long that my right hand would shake when I held the button down!


Yesterday
Had a date with Eva
Ahh the pleats in my pants all bent weirdly >_> Too lazy to iron or even pick out a proper outfit. It was over 100 degrees!
I tried pin curling my hair again and got and afro again so I had to tuck it into a braid. Pin curling doesn't work on my long hair D:
Picked up Eva and was heading to Jo Sun Ok with my dad when I saw:
I keep noticing interesting license plates these days.
Eva finally upgraded to a smart phone!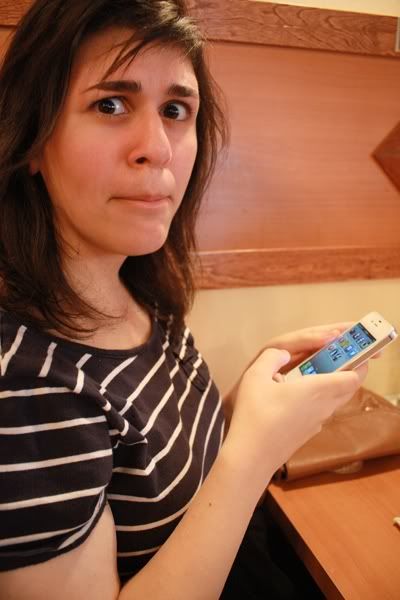 I told her to look happy and this is what she gave me...
Success!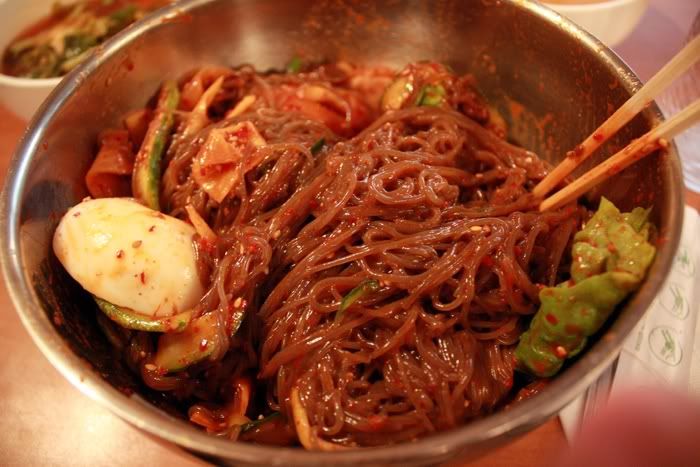 Eva and I got the bi bim neng myun to cool us down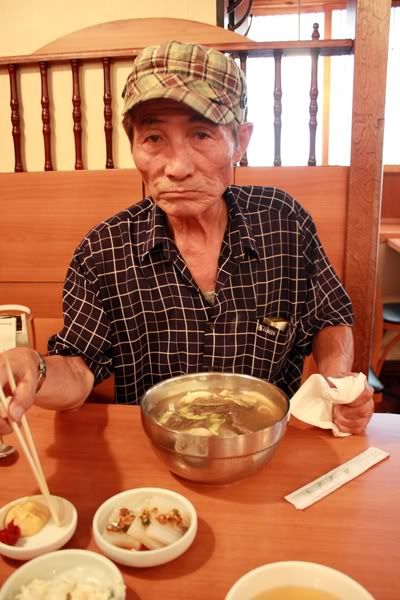 Dad got the water one
After having my polaroid for the longest time, I finally took my first one with my dad!
Ha ha ha the perfect framing wasn't intentional XD Thanks to Eva for taking this!
*Stolen from Eva's instagram*
We finally watched Moonrise Kingdom! The guy printed the wrong ticket so he wrote "Good 4 4:44" but the movie time was 4:40 XD
Oh gosh it was SOOOOOOOOOOO GOOOOOOOOOOOD!!!!! I love it soooo much T______T Please watch it if you can! It is BEAUTIFUL!
Hee hee to me towering over Eva cause of my wedges and my fail decorating
We ate again after the movie
We didn't want to walk around or be adventurous with what we ate cause it was HOT so we just went to Panera. I finally tried that strawberry chicken salad thing. It was interesting XD But oh! I ate so healthy that day! Ha ha ha ha!
Ooh, has anyone noticed something different in the 1st polaroid?
I got new glasses! I think they're the same ones (or at least super similar) that the boy in Moonrise Kingdom wears!! :O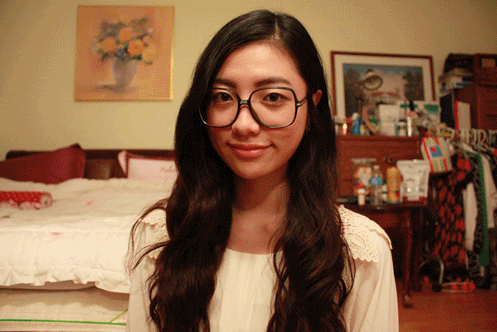 My infamous glasses are now retired. I dunno what to do with 'em!