oh my goodness it has been far too long since ive last made a real post!
but here i am! all the photos have just accumulated so here i am with my old, massive posts. ill start going back to weekly blogging starting next week!
takutz jin is all betters so YEEEEE!!!!
oh and, i wasnt able to get the photos out of my phone last time, so ima post them nows :D
the first photos i took with my "new phone"


LMAO i love how the first photos i show in this post are my selcas. how narcissistic is that??! sorry loves! i swear im going only posting these in chronological order XD



from one of our "happy tummy projects"



i was soooo bored waiting for the bus D:



when eva and i went back to our high school to watch a play. it came out so fail though :C



mitsuwa!! i really like this picture for some reason. gr frikkin brad with his tiny face



train ride home. scary brad (>.>)

on to whats happened since then!
i left the city for the middle of nowhere (champaign) to visit my friends at UIUC for halloween! but before that, i had to get takutz jin fixed! so the day before i left (well, supposed to leave) i went to a camera shop. i asked the man working there "my canon is acting funny. could you please take a look at it?" he was like "sure, lemme see" so i handed takutz jin over and he turned it on and tried to take picture. and it worked. -__________-;;;; he hadnt been working for 2 weeks. i guess the guy had the magic touch. he goes "have a nice day" and hands takutz jin back and i walk out looking stupid;;;;;;
so thursday night was when i was supposed to get on the bus and head down to champaign. i got to the station downtown where the bus picked people up early and everything. i wasnt exactly sure where the bus picked people up so i asked around but no one knew exactly either. so i waited with these people hoping my bus would pass me by. a nice guy made conversation and warned me that i should be more careful, protect myself, that i shouldnt be so trusting. he also seemed to think that he had to add that i reminded him of his ex girlfriend;;; i waited and waited and the guy pointed out that my bus was passing me by so i ran after it to its stop. i was still seven minutes early and this bus departs at the exact time it says it will. when i got to the block it stopped at, the whole block was packed with people waiting in a line. i couldnt see clearly, but i could make out the buses being loaded with luggage so i assumed that all these people were getting on the same bus as me. so i stood in the back of the line and waited more. i checked the time and it was 10:15PM, the time the bus departs. so i thought "what the hell im still in the back of the line" and look up only to watch the bus drive past me and leave me behind...............i am never going to forget that image and the feeling of my stomach sinking.......NEVAR! i was too shocked at how stupid i was to even cry. LMAO oh God..... but i did catch another bus for the next day. just had to pay more =____= i was so paranoid that i would miss my stop, i kept napping and then waking up to check where i was on the three hour bus ride XD but i made it safely so yeeeeeee!!
didnt take that many pictures there though. sorry! (>.>)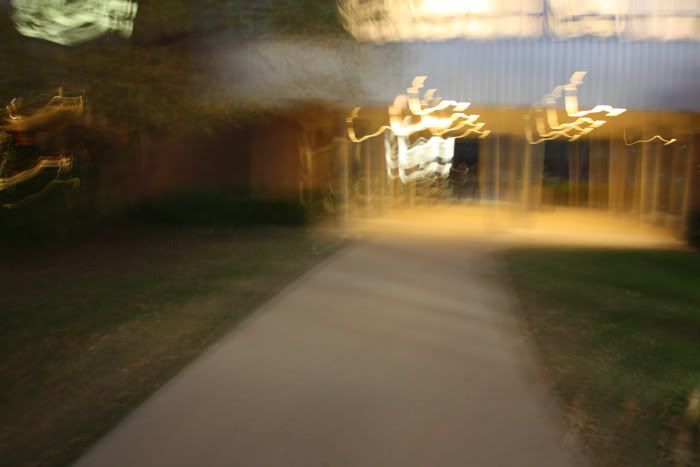 *taken by tinas boyfriend*
i found the prettiest sodie pop bottles!!
quick dinner before the pregames and parties
tina, her bf alan, some girl (lulz sorry), jun
at tinas friends really nice apartment for pregame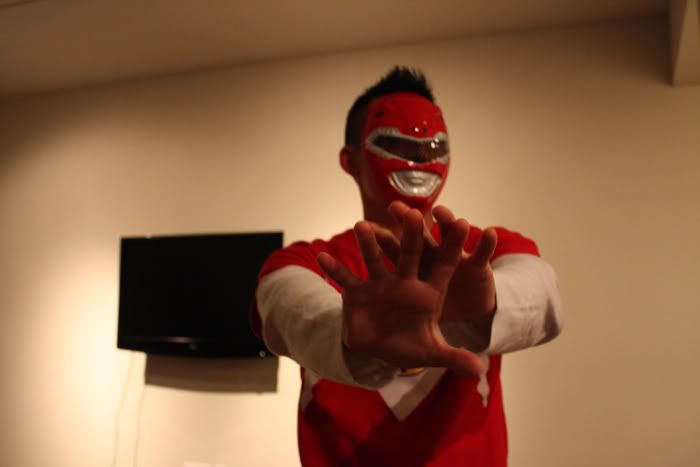 i didnt have any particular costume so i just grabbed some colored skinny jeans and a graphic shirt to be snsd "gee" version. lulz. what did you lovelies do for halloween??
i think hes jasons brother?? (>.<)
that pretty girl is kitty :)
lulz yeah i have no idea who she is either (>.>)
aint it cute??? she was bored waiting for me to shower and get ready to meet another friend for a late lunch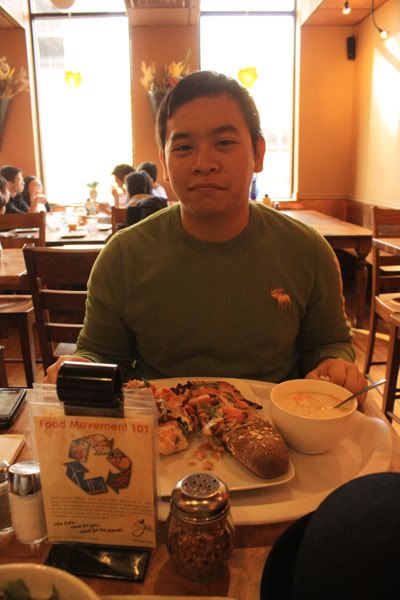 my dear friend alex. nicest kid EVAR!
his strange looking, but tasty panini
and then off to dinner right after for kevins birthday!
my fail star arrangement. it kinda looks like a starfish though?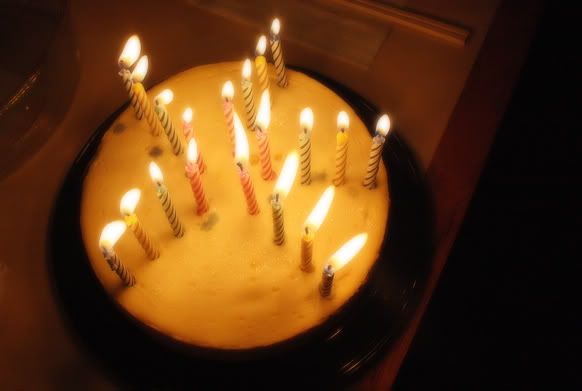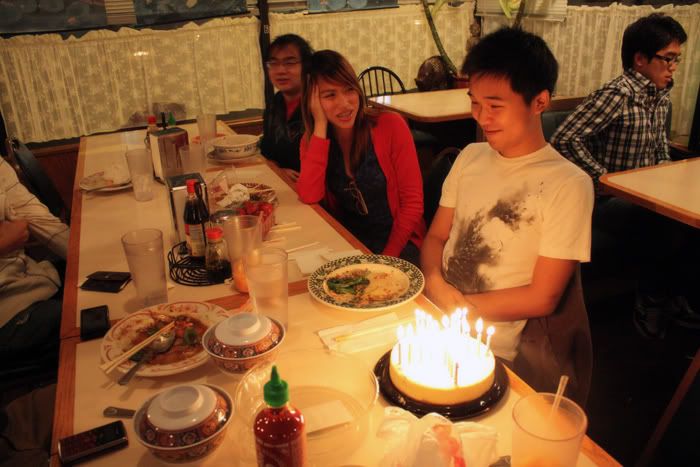 lulz look at his happy ass
my costume for that night was totally impromptu! tinas bf saw my outfit and said that i looked french so tina was like "hey you can just say thats your costume!" i didnt want to change so i drew a mustache on my finger and called myself charlie chaplin XD and like the night before, pregame and then party
slept in, ate a terrible lunch, frozen yogurt, and then left XD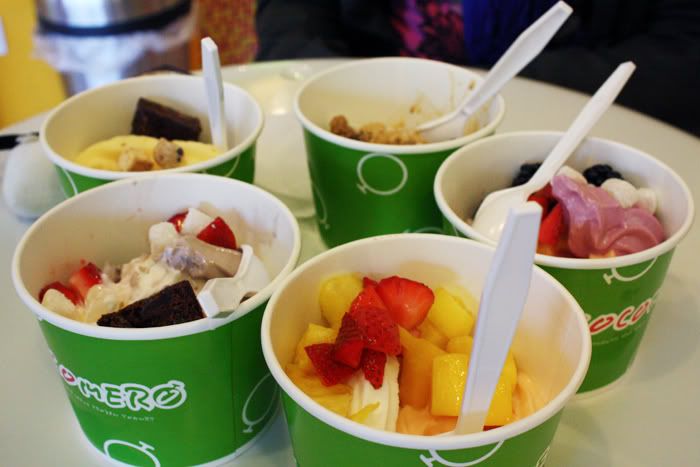 skip right to the froyo. lunch did not deserve a photo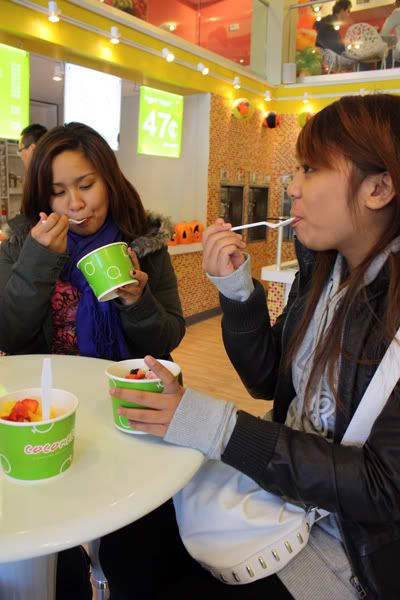 tinas friend on the left, and the friends friend on the right
this place was sooo cute and awesome but i was too cold and tired to really enjoy
i was tired when i got back sunday night so i ditched school monday XD the same night, i met with gorilla and uboat. hadnt seen them in the longest time. dinner and a drive completed the night :D
NOVEMBER, WEDNESDAY the 3rd
just played with brad and keith at their dorm C:
i think this was the best lasagna i ever had. oh and had kool aid for the first time in many many years
after eating we stopped by borders for brads manga. yay~ more shitty quality pictures! :D
whilst waiting for the train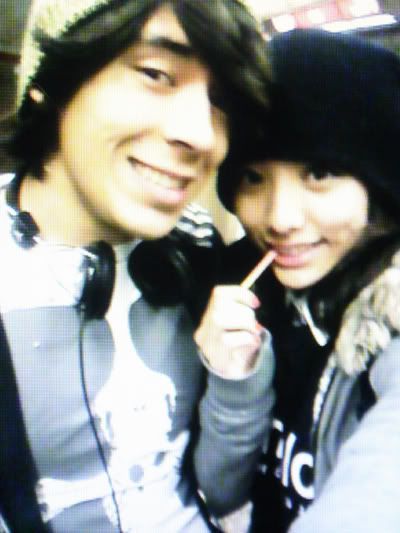 oh and those were strawberry pocky in our mouths
met boris on the train!! he was a senior when i was a freshman in high school. i met him doing theatre. hes super smart and very nice!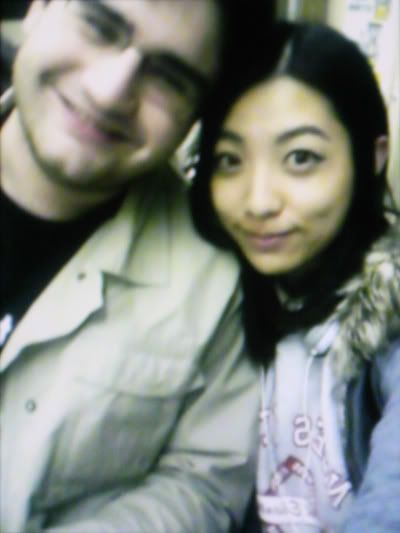 hmm.. now that i think about it, i havent had lunch with the depaulians in a while XD
on the walk to brieths (brad + keith) dorm, we saw flash!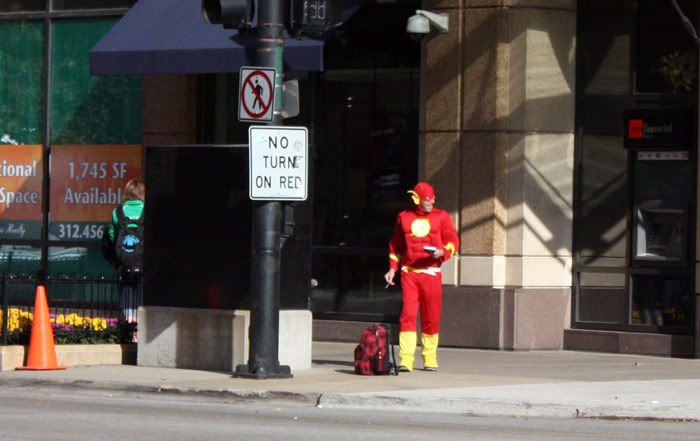 i painted keiths nails and then we went to chinatown for lunch cause we wanted to try ramen at this new place. bad choice. why would we go to a chinese place for ramen??? (._.)
its blurry, but you can still see the hearts shooting out of keiths eyes ahahaha
again, blurry but you can see brad sending those hearts back XD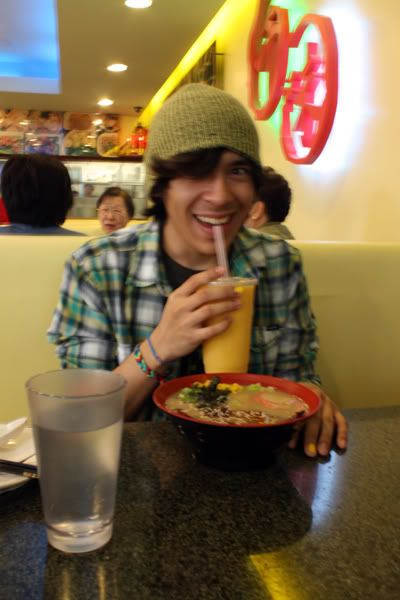 keith is happy with his mango peach smoothie
my tasty city combination ramen. it was meh. much better with rooster sauce added to it! :D the fried chicken was good though. oh i had the worst milk tea there too T___T
so after my last class ended, i went back to their dorm to work on a project. instead:
keith made the background music for his rap
brad angelically read manga while listening to music
i took pictures and then took over brads laptop
they made love. lulz kidding
and then watched the new episode of south park with the rest of the room mates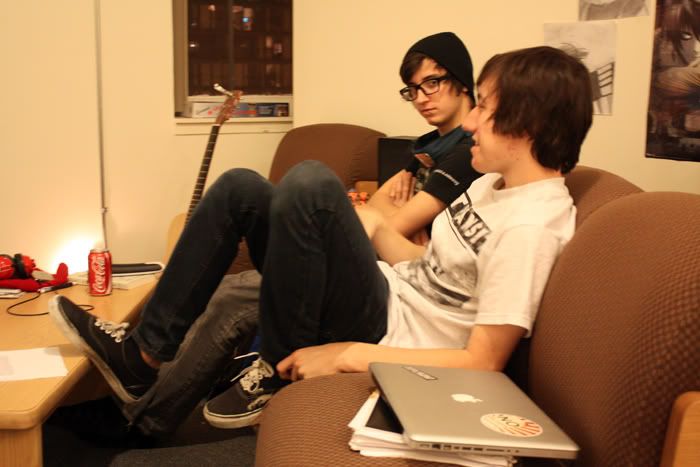 went home getting absolutely nothing done. :D
it was such an easy day. watched a play and then my friend sam came from champaign to chicago to shop and shtuff! so eva, him, and i went to see manny garcia band at my school!
slow dinner at the cuban sandwich shop before the show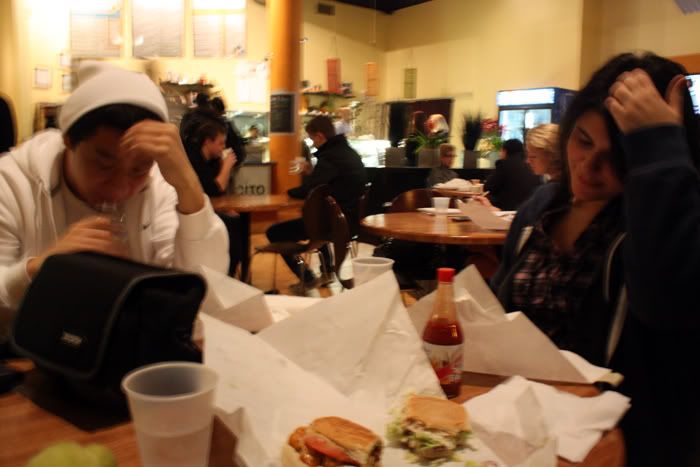 awkward first meeting. lulz aww so bashful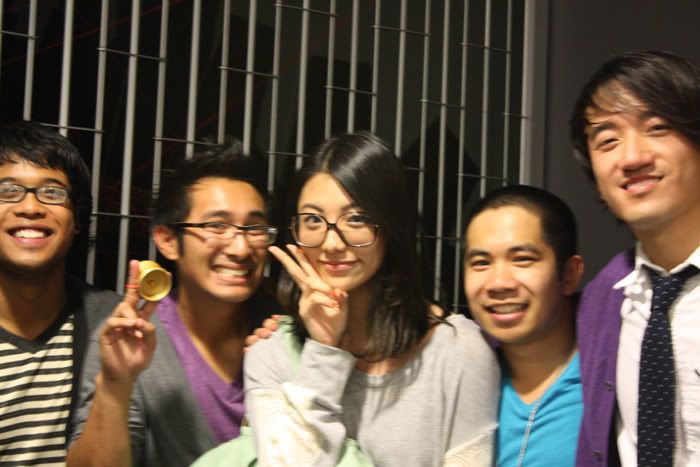 i think i just get uglier everyday;;;;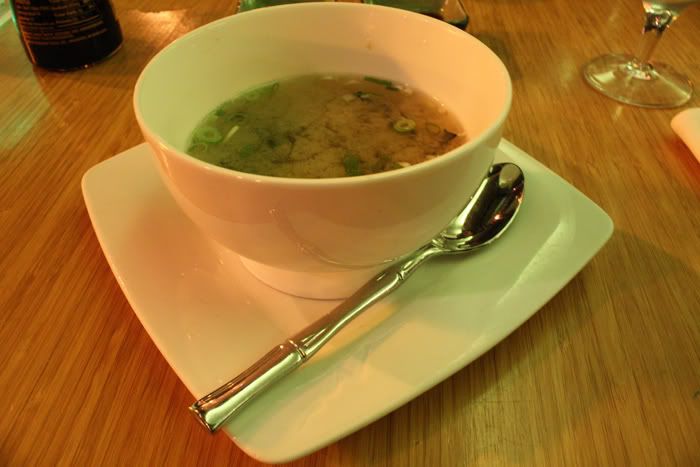 still think janets instant miso soup is the best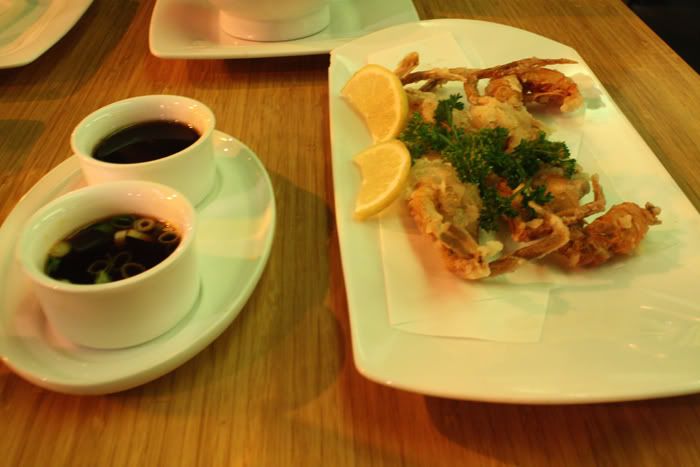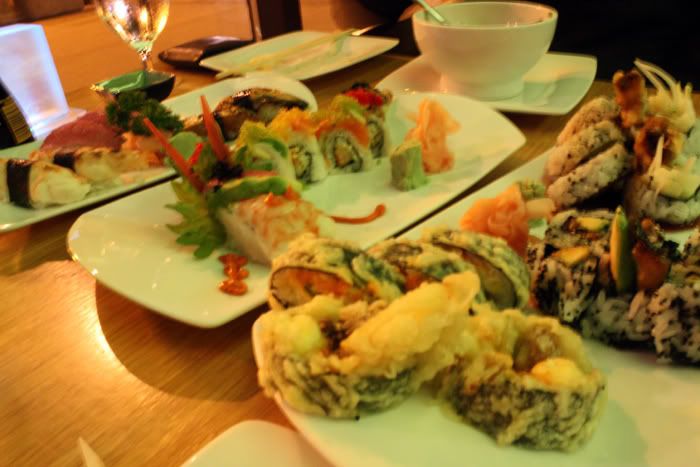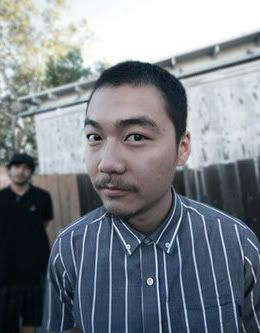 DUMBFOUNDEAD (is that not the cutest picture of him ever?!) CAME TO CHICAGOOOOOOOOOOOOOOO~~~~~~~~~~~~!!!!!!!!!!!!!! WOOOOOOOOOOOOOOOOOO!!!!!!!!!!!!!!!!!!!!!!!!!!!!
he was performing at UIC so OF COURSE I WENT!!! UIC wasnt being stupid this time and let non UIC students attend the way they did with kid cudi and passion pit >:O
just check out his channel. hes just an awesome, talented, witty rapper.
he toured with epik high when they were here in the states and does a lot of fantastic stuff like collaborated with clara chung and jay park for "clouds!" love him love him love him! while takutz jin was sick, i was thinking of doing a "top men i want" kinda list thingy, and he was gonna be on it, but i never made that post, so yeah :D anyways~~
it was me eva and sam again. we got to uic starving cause eva and i were late so we ate ghetto college food. lulz. i felt so bad cause sam only had water and a banana T______T
our sub and chips and cookie we shared
i dont like this one but i think eva liked this one so~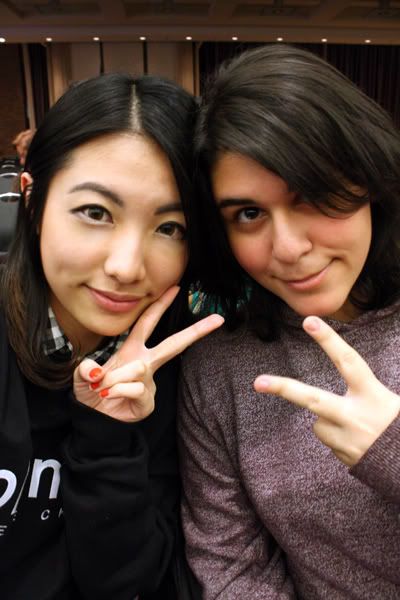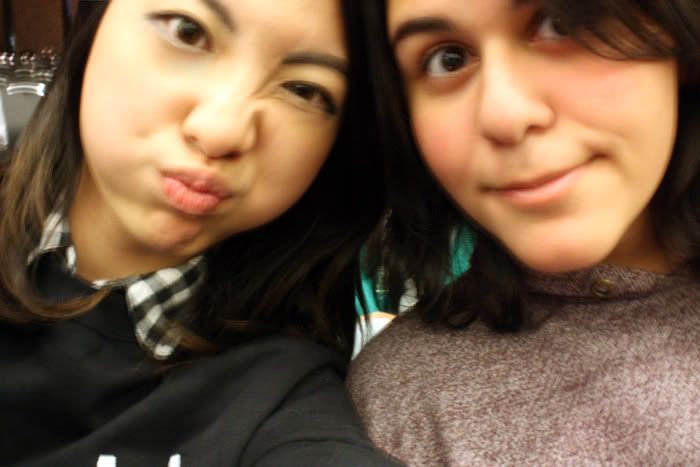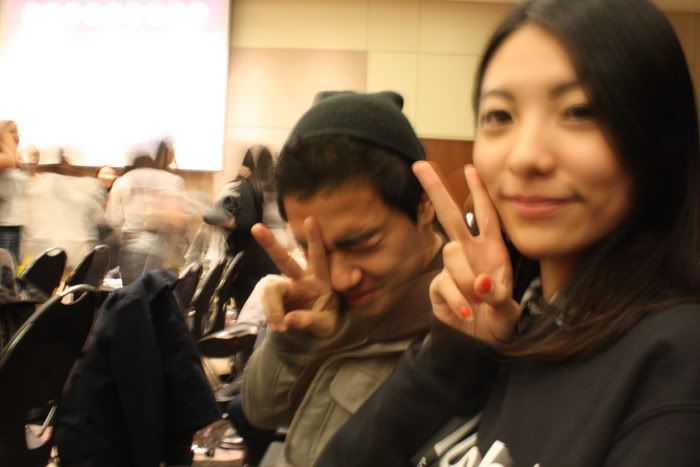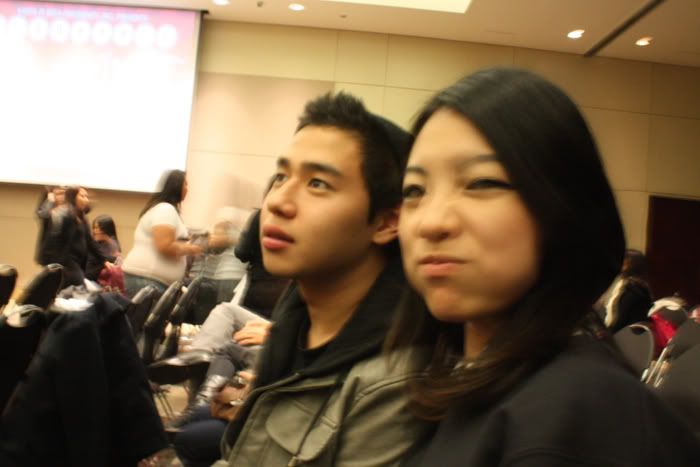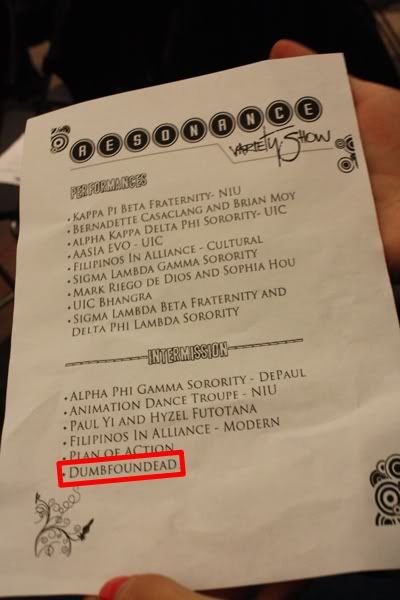 oh. so i was tricked. when i saw the event, i thought it was just dumb that was performing. so i got to uic and got the program and found out that he was the finale and all these asian frats were performing first;;;;;;;;;;;;;;;;;;;;;;;;;;;; sat through two hours of that....... BUT IT WAS SO WORTH IT!!!!!!!!!!!!!!!!!!
lulz someone elses flash interrupted mine
it was so sad. he broke his wrist and had a cast that covered his awesome tattoo so i couldnt see it in person D: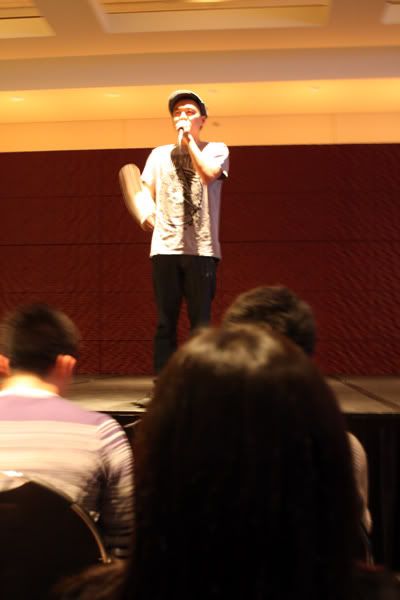 this was the most decent photo i could get of him without flash. he moved around a lot and it was dim~
i was too far to get a picture dj zo doing his stuff but i could get this after!! :D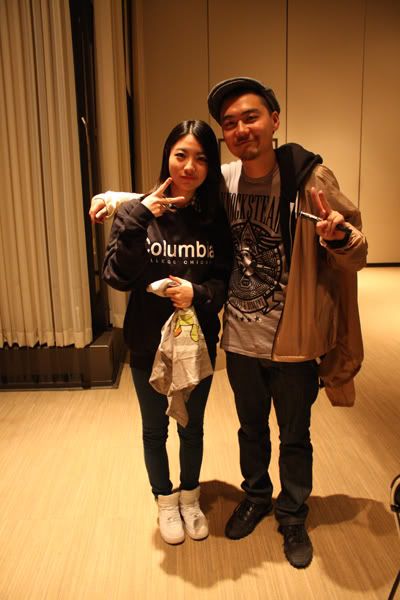 (dont we kinda look alike? XD)
AH~~~~~~~~~~~~~~~~~~~~ my stomach was going CRAZY with butterflies!!! SOOOOOOO HAPPY!!!!!!!!!!!!!!!!!!! feel like such a fan girl (>////////////<) even as i write this or look at the picture i start blushing again! LULZ i skipped all the way back home!!
this makes me really regret not taking a photo with far east movement back then. i only got their sigs. D: STUPID JIN!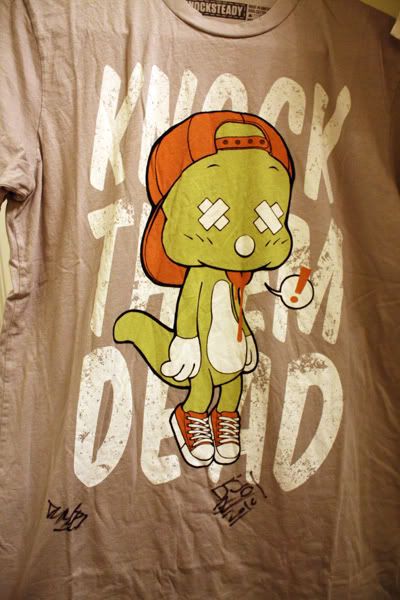 i could only either get the cd or a shirt. i got the shirt. ill get the cd later XD
and for this post ladies and gents, i will end with this. sam got me this:
it is fucking unbelievable. 5 pounds of pure gummy bear. hello diabetes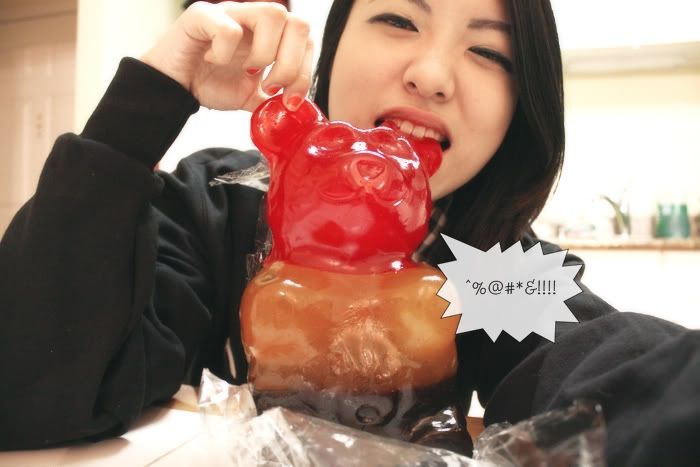 stay healthy, happy, and always smile~!