i want to start this post by apologizing
i know i said i was going to post on tuesday or wednesday but i thought "i still need to take pictures of how i looked from halloween and stuff" and kept pushing it and stuff and then ended up not doing it at all. >< im sorry!
but in return, i give you an even more monstrous post than that last monster post! (at least i think this one is. it has more than 100 photos!)

2nd, i want to say:
i never knew the zebra stripes were that painful to you guys!
you should have told me!
i would have changed it sooner!
ahahaha!
but now its changed and were all happy so yay :D

3rd: i will start the real post with things from today so i dont forget to later, yes? XDSATURDAY THE 15THso today i went to rehearsal. what kind of rehearsal you ask?
rehearsal for the schools play that i am in!
i dont know if ive said anything yet but i am a thespian and i love acting :3
so in this play, i am an ensemble member and it is probably the most funnest role i have ever played!! honestly, when i first saw the cast list i was disappointed. i thought "my "character" doesnt even have a name. have i gotten this pity role because im a senior? do i suck at acting that bad?" but i was so wrong! the ensemble works just as hard (maybe even harder)! we have the responsibility of being two totally different characters! when i read the script for this, i honestly thought it was quite boring. but now that i see it being developed in front of my eyes, it has become one of my most favorite shows! there are sooo many amazing, new things in it and it is just...INCREDIBLE! did i mention that my play production class are the DESIGNERS for this show? yes, we split into set, costume, props, lighting, sound, dramaturgy/advertisement, assistant directing and we are in charge of almost everything! it is 80% student run! i absolutely cannot wait for the show to open!
my knees and left butt bone are totally bruised from todays rehearsal. T__T theres a point where i trip and drop all my books and i started it by falling on my knees (IM SO STUPID!) and i knew i wouldnt be able to walk soon so then i decided to slip and fall on my bum. it worked the first time but when i did it on the second, i slipped and fell on one side! it still hurts like hell! after that scene, we had to stay on our knees and get up and down T-T talk about torture... ah, but i can give away no more! i will write all about it after the show closes~~~
I DONT REMEMBER WHEN BUT:
i was super sad awhile ago because the blood collecting people came to our school. i was really excited because i never got to do it and i really wanted to this year. i made sure to get the parental consent for signed and went ready BUT! i ended up donating nothing. you have to be at least 110 pounds to donate and well.. im lacking 11 pounds. yeah. i was BUMMED.
i also watched: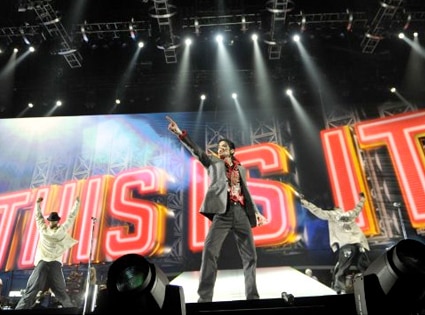 i liked it. it wasnt the greatest movie ive ever seen but it was good. i loved watching all the rehearsal footage. oh! one of the dancers was soooooooooooooo good looking! XD i was disappointed a little cause i was waiting for 'heal the world' but it never came on D: a lot of cool things were gonna happen at that concert. its a shame it never happened. and all those dancers! i hope they still got paid
HALLOWEEN!!
so the last saturday of october was halloween. i actually just stayed home that day but the day before, i did dress up. ive stolen a couple pictures of the costumes i really liked from my school librarys flickr (i dont have much photos of my own cause i was having a bad day) :D guess who they are!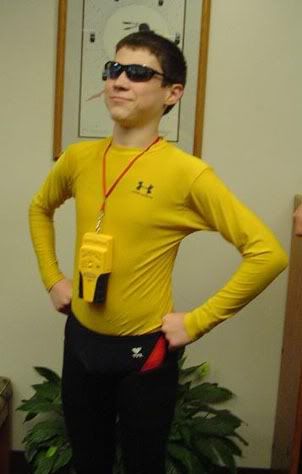 LULZ i chortled for like 5 minutes when i saw jessin. this is kinda obvious. frickin amazing movie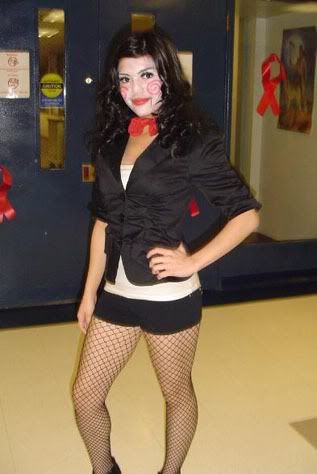 my absolute favorite of the day. i thought she did a great job. way scarier in person. i wish she had a little tricycle with her

one of my own photos:

after school whilst waiting for my ride home:


there was no security guard at the desk which was really weird. i was surprised no one went crazy.



i guess theyre jerkers? cause they kept jerkin



my friend mergen. the obese ninja?



hes gonna blow!!!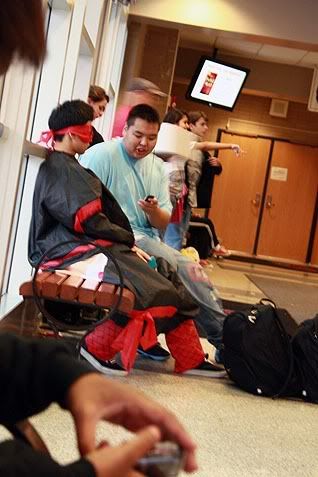 subway diet



mark waiting for his gramma with me. woops wrong white balance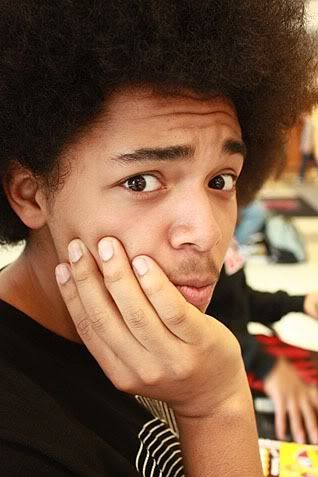 aww better



pretty nicole

so what was i for this day you ask? i was: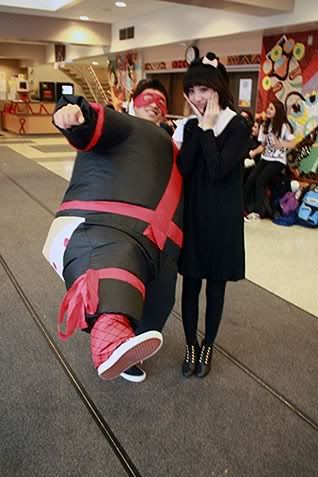 a doll. i stuck crazy long false eyelashes on both top and bottom lash lines. you cant see it well in these shots. thats why i wanted to take extra photos later for you all but~ that never happened.. D:



this was the first time i ever dressed up for halloween in high school. oh and that is a little hat clip on my head in case yer wonderin

so my dad came and i was driven home. BUT! i had no keys!! my mom wasnt frikkin answering her damn phone! i waited for two hours in front of my house and my day had gotten worse!


taken from car whilst waiting

so i thought i would go over to evas house. she was at the library so i got dropped of there where i waited for her sister and her sisters friend to finish their library business and we got dropped at evas. after eating my first meal of that day, my mum finally called and picked me up! bad day. i was so exhausted. i just wanted to curl up into a ball and cry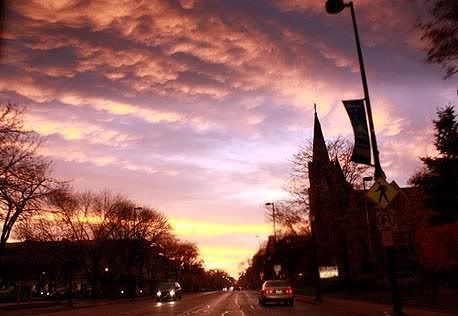 on the way to the library. the sky was pretty at least
SATURDAY NOVEMBER 7TH
that day and the day before, i ushered for my schools childrens show~ james and the giant peach!
heading out, i took some photos. it was the most beautiful day! it was magic after 50 degree weather and rain. it was so warm! didnt need my jacket!


summer + fall




actors getting ready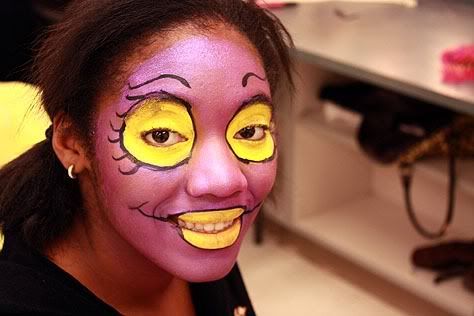 charlie was the centipede



david the spider

these next ones were taken by my friend jane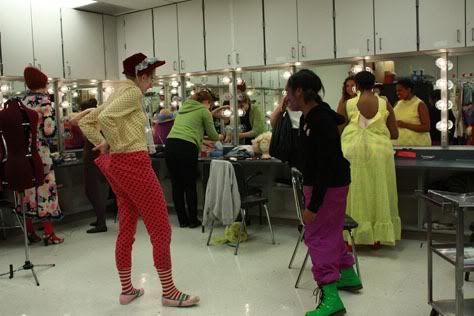 ladybug doesnt have her wings on yet



our twerking aunt sponge



MMMMMMMMMMMMMMMMMMMMMM

and now back to my photos~


glow worm getting ready. she doesnt have her butt on yet



aleks was one of the narrators



left is leah (earthworm) middle is jane right is fiona (aunt spiker)



earthworms head

usher and stage manager waiting for the show to end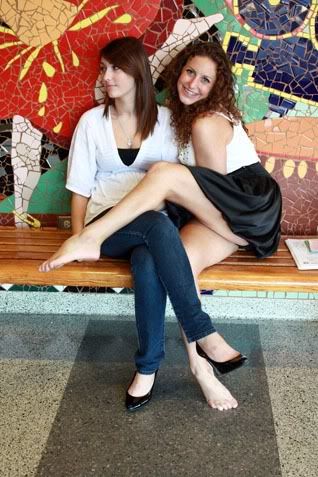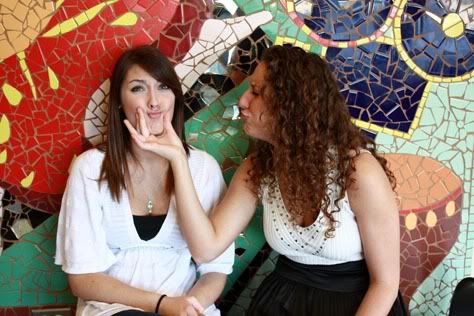 show has ended and actors are out to greet the audience


we had a nice turnout for a saturday 2 oclock show

to raise money for the thespians to go to scotland (were performing this there), people were able to take pictures with the cast on the peach! (for a price!)


the script is absolutely AWFUL! but everyone did a great job of making it a good show nonetheless

after the show ended, i went to the theatres with cardigan to finally watch...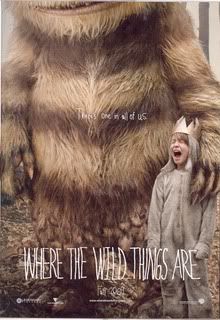 very nice movie. the director made really good choices. music was a huge thing in this movie. it was quite sweet and of course i cried when max left the land of the wild things. it wasnt really for kids. it was even quite scary at times. oh gosh the whole time i was scared that max would get hurt >< i interpreted that the messages were more for the parents that came to watch it with their kids. do watch it! its sweet :)
oh, and have you noticed? the song has changed again. i changed it cause i finally watched wtwta
WEDNESDAY THE 11TH
so the day before was sandys birthday. i never said happy birthday to her because i never see her during school hours. for some reason, i kept seeing her that day and it caught me so off guard, i couldnt tell her. still havent =_= the day after her birthday is veterens day so we always celebrate it on that day. our usual is to catch the train to downtown :D i was so happy to be back on a train and in chicago after a long rehearsal! oh! i also stole many pics from sandy and eva!


LULZ. sandy depressed on her birthday cause she has to wait 930842 hours for me to get to the skokie swift



God im such a creeper

went to chinatown for sandys planner but they didnt have one she wanted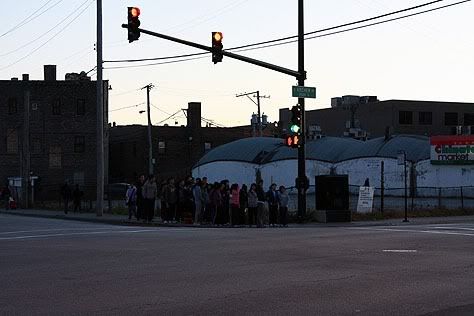 so we were making our way back to the train and we saw this huge ass mob of asians + one white guy



whilst waiting for the train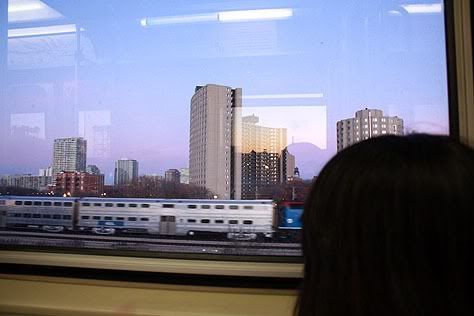 on the road again~

at water tower place:


we are proud GLEEKS!! aww kat looks like emma. i was so annoyed cause i couldnt figure out the white balance for this!



LULZ!! evas expression!

whilst waiting for sandy to finish her sephora shopping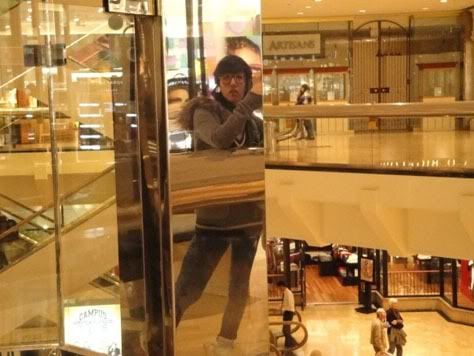 this is what i look like in real life. LULZ omg eva and sandy have the annoying talent of taking the most hideous pictures of me. i hate my friends.


at forever21 for sandys presents. were waiting for her to try things on


im giving her that cardigan shes wearing as part of her present!



sandy: should i get it?
eva: will you wear it?
sandy: but should i get it?
eva: but will you wear it?
sandy: im asking you if i should get it
eva: im asking you if youll wear it
sandy: should i get?
eva: ...



what i wore that day :D




on the way out: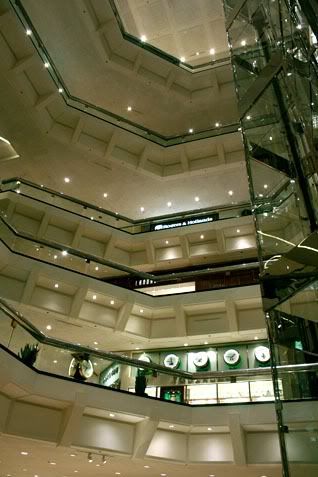 those clocks show what time it is in other countries

at cheesecake factory:


sandy is freaking Jesus. shes too holy to be captured on film. its a wonder were still able to see after being around her.



kat is so white she disappears in flash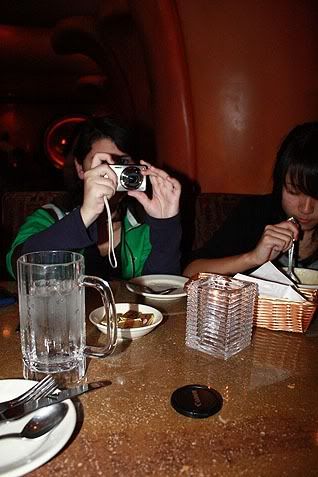 i think if we didnt stop taking photos when we did, some old lady would have come and slapped us cause of the constant annoying flashes in the darker bar area (yes! we sat in the bar!)



sandy and her soup



sandy and her water

onto quick shots of other peoples food and then mine :D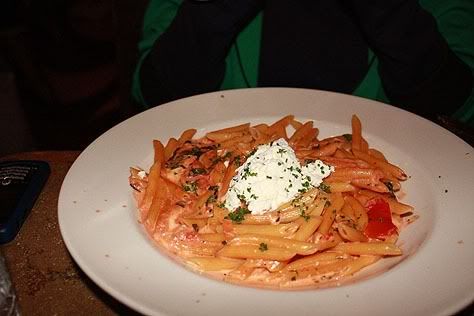 evas four cheese pasta like always



sandys carbonara



kats pasta with meat sauce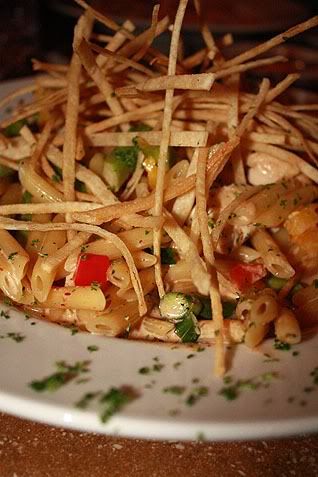 my chicken chipotle something something

oh have you guys ever thought that i have very little pictures of myself? (wow that sounds incredibly narccisistic) well heres when im not photographer! i am le model! LULZ!


lulz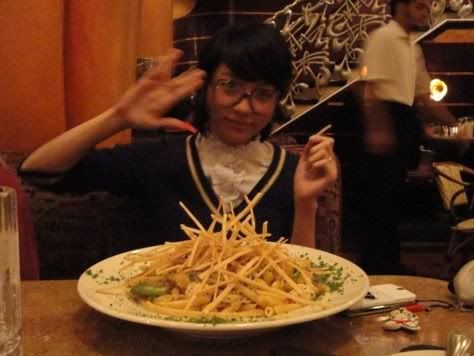 i am alien. i come in peace.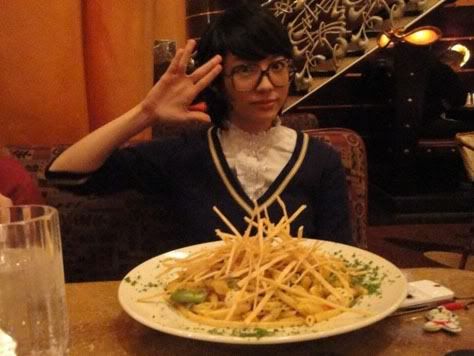 i love how the food is bigger than me.
oh and i forgot to say i got new glasses. my red ones broke after my laptop fell on top of them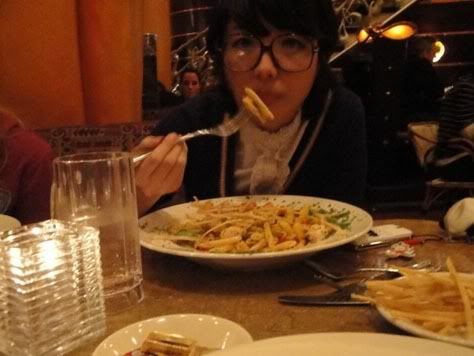 this little piggy..

eva wanted coffee so we stopped by starbucks on the way back to the red line


ORANGEN!!!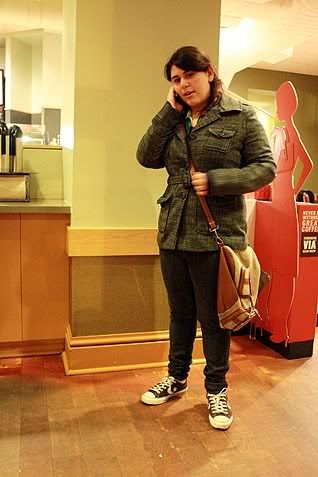 eva lying to her parents

the road home


under that heat thing waiting for the skokie swift

off the train and waiting at the swift for a ride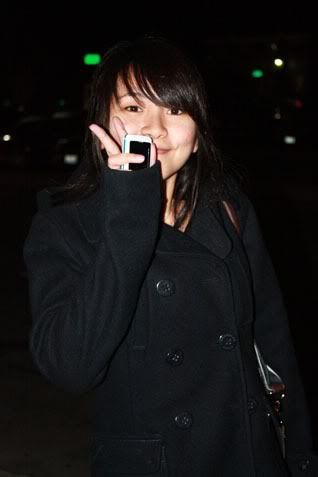 kat getting us a ride home



alien: FLAAAAAAAAAAAAAASH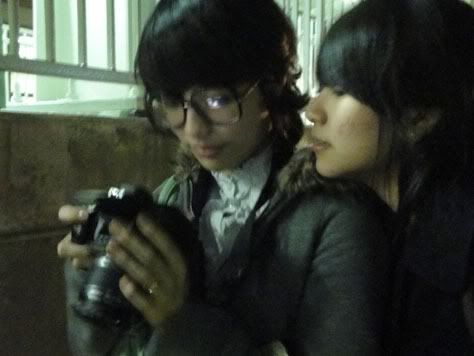 lesbian moment #1

eva trying to get a new profile pic and making everyones heads look big by standing in the back. bitch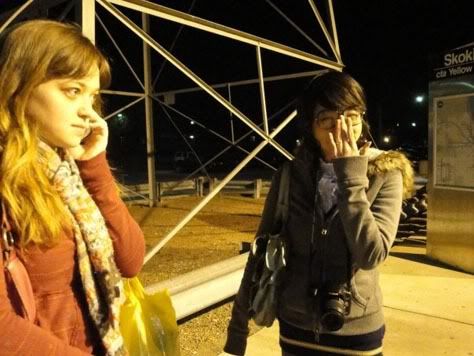 this has to be the most asian picture of me. my eyes go -w- i was actually pushing up my glasses while laughing



nerd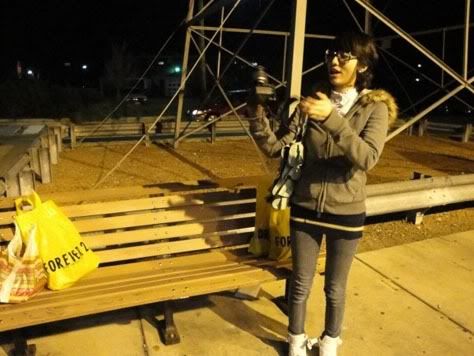 i like talking to takutz jin.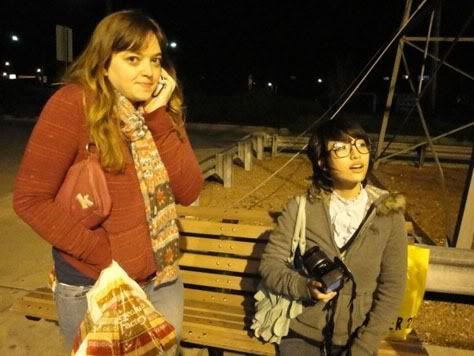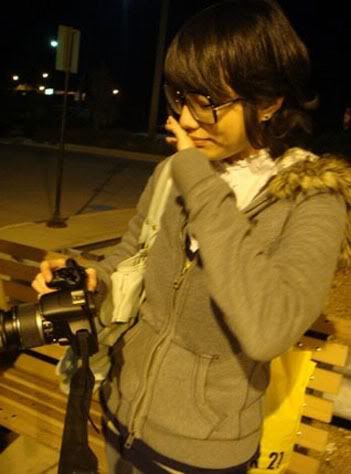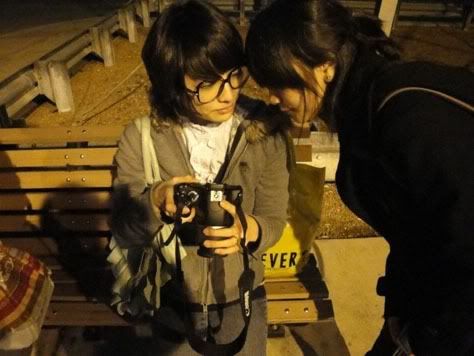 lesbian moment #2

eva being a creeper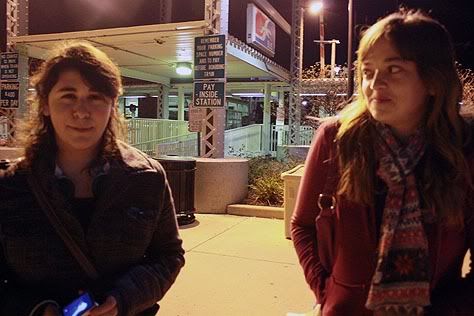 we somehow ended up by the signs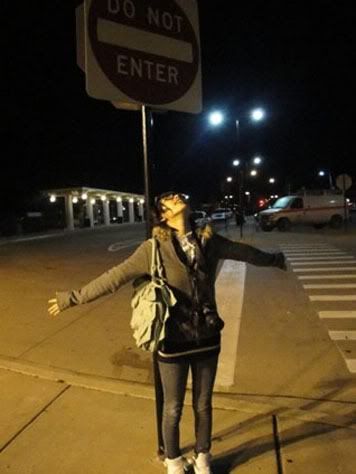 and we totally left our bags alone. poor sad lonely bags



so then we went back to them


eva catching me trying to take horrendous nerdy photos of myself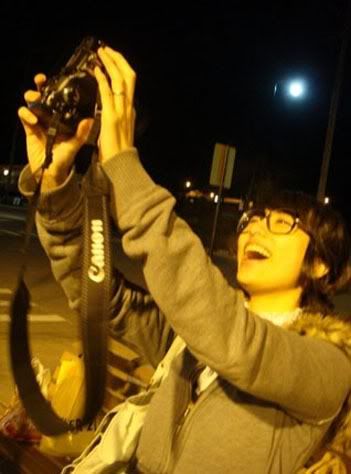 sandy getting me from the other side (i look like a boy here)

and my product. i accomplished my mission


LULZ NERD



sandys work. is this not the scariest thing youve ever seen in your life??

sandy getting me trying to take a creepy nerd photo this time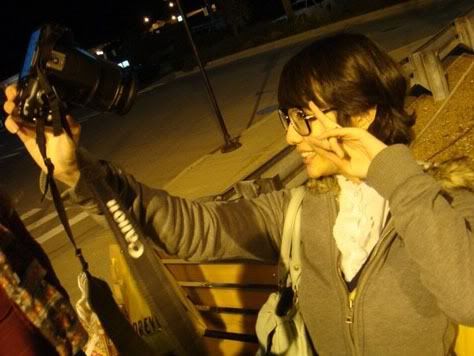 it actually came out a lot better than it was supposed to...i wish that always happened



so then kats brother came and we were dropped off :D
that was probably the funnest part of the day! XD
you all probably have seen more horrendous pictures of me than you can tolerate so i... give you another!
lulz kidding. i shall end heres~
be well and smile always~<3